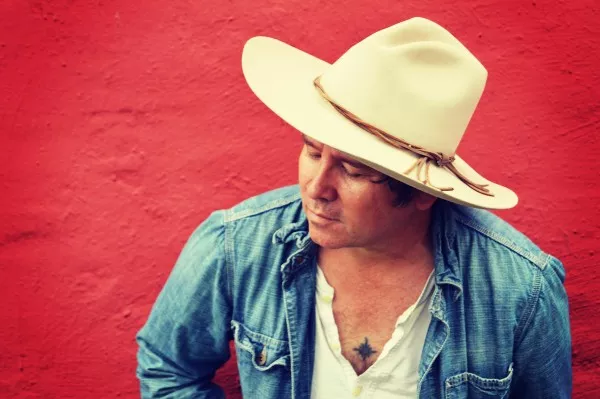 Press photo via official website
Grant Lee Phillips will perform at Old Rock House this Tuesday, February 16.
Now that all that gross "love" crap is outta the way — see you next year, Valentine's Day — let's charge right into this week with the thrash / death metal attack of Finland's Children of Bodom and Colorado's Havok on Monday night. Friday brings Aussie hard-rock superstars AC/DC to Scottrade Center — hopefully they play that one song. You know the one — with the three-four chord hook and lyrics about rocking and/or rolling. Yeah that one. That song is cool. Close out the week with Lil Wayne. Hopefully he plays that one song where he sounds like he has a bunch of phlegm caught in his throat. You know the one.
Check out our complete picks for the week below:
MONDAY, FEBRUARY 15
<!——StartFragment——>
Children Of Bodom w/ Havok
8 p.m., $20-$22. The Ready Room, 4195 Manchester Ave, St. Louis, 314-833-3929.
By Daniel Hill
Finland's Children of Bodom has been cranking out extreme metal for nearly 25 years now. With nine full-length records under its belt, the melodic death metal act holds the distinction of being one of its home country's best-selling musical acts of all time. Joining COB is Colorado's Havok, who has come quite a long way from its humble beginnings in 2004. Part of the early-aughts resurgence of thrash metal, Havok has gone from playing south-city basement shows to touring with the biggest metal acts in the world.
TUESDAY, FEBRUARY 16
<!——StartFragment——>
Grant Lee Phillips w/ Steve Poltz, Heather Maloney
7 p.m., $15-$18. Old Rock House, 1200 S. 7th St., St. Louis, 314-588-0505.
By Roy Kasten
Grant ­Lee Phillips' voice floats above his music — a blend of atmospheric folk, highly orchestrated acoustic pop and tense, often surprisingly muscular rock — as if he wished to be untethered from the world. And though he made a name for himself on the LA '90s scene with the band Grant Lee Buffalo, that world has been largely intimate, pastoral and spiritual. Even when recording an entire cover album of tunes from the '80s, he's remained a dark­minded seeker of mystical and social truths. His forthcoming album The Narrows pays at least partial tribute to his Native American heritage; his songs, and that soaring voice, continue to cast the spell of a shaman.

<!——EndFragment——>
WEDNESDAY, FEBRUARY 17
<!——StartFragment——>
Jason Isbell
w/ Shovels & Rope
7 p.m., $34.50-$49.60. Peabody Opera House, 1400 Market St, St. Louis, 314-241-1888.<!——EndFragment——>
By Jeremy Essig
From
this week's print edition
: As a touring songwriter, Jason Isbell's life may seem worlds apart from the exhausted but appreciative laborer he describes on the title track of his newest album
Something More Than Free
. Yet the two share one important trait: a willingness to do the work. Isbell's most recent batch of work found the artist writing from a different perspective. Where his previous output dealt with with darker personal issues like addiction and divorce, he's now clean, married to fellow musician Amanda Shires and raising the couple's first child.
THURSDAY, FEBRUARY 18
<!——StartFragment——>
Humming House
7 p.m., $13-$15. Blueberry Hill, 6504 Delmar Blvd., University City, 314-727-4444.
<!——EndFragment——>
By Christian Schaeffer
Justin Wade Tam leads the Nashville-based folk-rock outfit Humming House with a big, wiry, effusive passion that fits his tall, scruffy frame. Tam initially fleshed out his songs from players in the city's Celtic folk scene, but as Humming House grew into a formidable band, more emphasis was placed on driving rhythms and joyful group vocals. Last year's
Revelries
added booming drums to the generally all-acoustic act, while mandolin, upright bass and fiddle fill in the contours left by Tam's voice and guitar. This week's show at the Duck Room marks a return for Humming House, which has made fans through appearances at house shows, barroom gigs and outdoor stages on previous tours through St. Louis.
FRIDAY, FEBRUARY 19
<!——StartFragment——>
The Texas Room Album Release Show
w/ DJ Agile 1
8 p.m., $7. Blank Space, 2847 Cherokee St., St. Louis.<!——EndFragment——>
By Nick Horn
This Friday at Blank Space, producer Louis Wall will mark the culmination of two years of work by himself and a cast of more than 50 musicians hailing from fifteen different nations with the collaborative compilation album
Non-Fiction
. The release is the first tangible artifact of Wall's project, dubbed "The Texas Room," wherein the producer sought to pair immigrant and refugee musicians in the St. Louis area with other local musicians of both the native and transplant variety. In keeping with the ethos of the Texas Room, the show will be a thoroughly collaborative affair, featuring installations by the Clothesline and additional visual art by Basil Kincaid, who provided artwork for
Non-Fiction
, as well as live performances by some of the album's contributors.
SATURDAY, FEBRUARY 20
<!——StartFragment——>
AC/DC
7 p.m., $75-$139.50. Scottrade Center, 1401 Clark Ave., St. Louis, 314-241-1888.
<!——EndFragment——>
By Annie Zaleski
From the
RFT Music archives
: AC/DC arguably perfected hard rock, but such a generic term seems almost insulting to use — especially because the band so earnestly honors and assimilates the deep boogie of the blues. But the band's songs feel preserved in amber, as sleazy and full of vigor as the day they were recorded. Perhaps that's why the entire show felt ageless. The legendary Australian band played for 100-plus minutes — including a two-song encore — and barely stopped to take a breath.
SUNDAY, FEBRUARY 21

<!——StartFragment——>
Lil Wayne
w/ Yo Gotti
7 p.m., $39-$159. Chaifetz Arena, 1 S. Compton Ave., St. Louis, 314-977-5000.<!——EndFragment——>
By Oliver Wang
From the
RFT Music archives
: When New Orleans' Hot Boys formed in 1997, few foresaw teenager Lil Wayne — the youngest of the four — as the group's eventual superstar. In a field of overbuilt masculinity, Wayne's punishingly scrawny frame projects a bizarre range of excitable flows, featuring slurred runs, overenunciated croaks and off-and-on faux-Jamaican patois. In body and voice, Wayne suggests a hip-hop Muppet. Yet in spite of (or because of) that, few contemporary rappers are more fun to listen to. Giddy fun. Giggling, "OMG, did he just say that?" fun. Wayne has a penchant for outrageous similes — on "Dr. Carter," for instance, he boasts, "Swagger tighter than a yeast infection/Fly/Go hard like geese erection." Even when not deliberately humorous, Wayne's myriad verbal "looks" and his joy of hyperbole convey a sense of play that's scarce among self-serious, scowling peers.