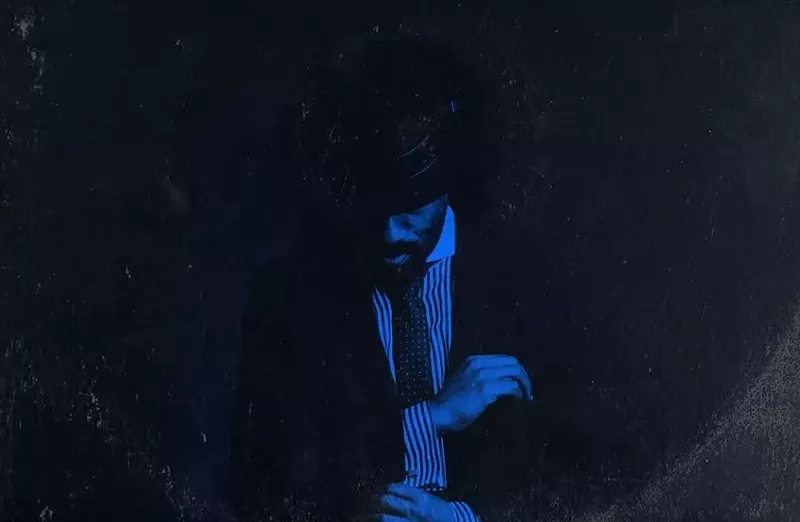 Photo via The Revolution Has Come album art.
Rev. Sekou & the Holy Ghost will release its debut album this Sunday at 2720 Cherokee.
Multiple release shows and festivals dot this weekend's musical landscape. Cavo returns after a four-year silence with
Bridges
. A Dark Orbit will bash brains and explode eardrums with
Inverted
. Then there's Rev. Sekou & the Holy Ghost's
The Revolution Has Come
, an expansive collaborative effort from St. Louis' FarFetched collective.
Like shows with lots of acts? Thrashamania 6 has the thrashamaniacs covered; Art, Beats + Lyrics has the whiskey-sponsored hip-hop set. Check out our full picks for this weekend below:
<!——StartFragment——>
FRIDAY
<!——StartFragment——>
Kowabunga! Kid W/ Trauma Harness, Soda Boys, Sunday Candy
9 p.m. Livery Company, 3211 Cherokee St., St. Louis, 314-643-8758.
<!——EndFragment——>
By Daniel Hill
Champaign Illinois' Kowabunga! Kid sounds like a pop-punk band that has taken to hanging around in cemeteries a lot lately, leading to the improbable genre tag of "Black Metal Pop." Sure to enrage black metal purists (which is generally a good thing), the end result is disgusting and punk while simultaneously hooky and fun. Trauma Harness and Soda Boys are among St. Louis' weirdest and best punk bands; rounding out the bill is newcomer Sunday Candy.
<!——StartFragment——>
Art, Beats + Lyrics
W/ Twista, DJ Wally Sparks, Sidewalk Chalk, DJ Needles, DJ Reminise, Sango, Joe Kay, Werc Crew, DJ 100K
7 p.m., Free. NEO on Locust, 2801 Locust Ave., St. Louis, 314-570-9218.<!——EndFragment——>
By Daniel Hill
Art, Beats + Lyrics is the travelling showcase of music and art sponsored by Jack Daniel's Tennessee Honey and Gentleman Jack whiskey. The event had relatively humble beginnings as an art show in Atlanta, but now in its eleventh year has become one of the largest tours of its kind. Visual artistry by artists including Dubelyoo and Zack Murray will be accompanied by a hip-hop bill headlined by motor-mouthed Chicago rapper Twista.
Cavo
8 p.m., $1.05. The Ready Room, 4195 Manchester Ave, St. Louis, 314-833-3929.
By Daniel Hill
St. Louis' Cavo, who flirted with major label success after signing a deal with Warner/Reprise late in 2008, is independently releasing
Bridges
, its first new album since 2012's
Thick As Thieves
at this show. The group seems to relish its new freedom: "For once, it wasn't about what someone else wanted. It was only about the four of them and what they wanted. No label, no producer, no agent, no manager, no one but them. And it felt right. So, they decided to try again, but this time, their way," reads the band's Facebook bio. This show will only cost a scant $1.05, but fans should arrive early if they want to get in — tickets will only be for sale at the door, with no advance sales.
SATURDAY
<!——StartFragment——>
A Dark Orbit Record Release W/ Alaya, Quaere Verum, Nolia
7 p.m., $8-$10. The Demo, 4191 Manchester Ave, St. Louis, 314-833-5532.
By Daniel Hill
<!——EndFragment——>If the first song off of A Dark Orbit's new album can be considered any indication, this record is going to be heavy as an aircraft carrier and twice as destructive.
"Floating Intact,"
released by the band last night through its Facebook page, is a plodding, dissonant example of the band's brand of progressive doom metal, priming the public for the Saturday release of
Inverted
.
<!——StartFragment——>
Railroad Earth W/ Cornmeal
7 p.m., $22.50-$27. The Pageant, 6161 Delmar Blvd., St. Louis, 314-726-6161.
By Kiran Herbert
<!——EndFragment——>Railroad Earth's latest album,
Last of the Outlaws
, is the next phase of the group's particular brand of storytelling. It debuted strong, earning the band the Billboard moniker "heatseekers." After thirteen years, the band's seventh studio album is finally generating some heat. That's the natural result of a large and devout fan base, but it's also a testament to the album: Railroad managed to find the middle ground between what it's known for live and what it's capable of creating in a studio.
<!——StartFragment——>
Thrashamania 6 W/ MRSA, Plagued Insanity, Smash Potater, Cryptic Hymn, Texas Toast Chainsaw Massacre, Bastard, Melursus
7 p.m., $12. Fubar, 3108 Locust St, St. Louis, 314-289-9050.
<!——EndFragment——>
By Daniel Hill
Ripping metal acts from Detroit, Minnesota, Chicago, Kentucky and Nashville join forces with some of St. Louis' finest for Thrashamania 6. With a pro-wrestling theme and a stacked bill of bands who subscribe to the principle of "play fast or die," you should know what to expect: Many beers will be chugged, more heads will be banged and the most tasty riffs will be delivered.
<!——StartFragment——>
Timbaland W/ Takeova
10 p.m., $15-$20. The Marquee Restaurant & Lounge, 1911 Locust St, St. Louis, 314-436-8889.
By Daniel Hill

<!——EndFragment——>Super-producer Timbaland is taking a break from helming the music behind Fox's
Empire
TV show to tour in support of his first-ever mixtape,
King Stays King
. Released on Christmas, the record features Young Thug, Migos, and the late Aaliyah as collaborators. Timbo will be performing a live DJ set of his hits, as well as tracks from the new release.
American Aquarium
8 p.m., $15. Off Broadway, 3509 Lemp Ave., St. Louis, 314-773-3363.
By Roy Kasten
Over a marching rhythm and piano chords that toll like old bells, American Aquarium's BJ Barham sets the opening scene for last year's excellent album
Wolves
: "Every day's an uphill battle, staring down the barrel of the choices that I've made." And then everything collapses into some kind of twangy free-jazz chaos, with horns and fuzz and guitars wiping the clichés away. This Raleigh, North Carolina band doesn't take its Wilco and Lucero records lightly, yet it is saved from alt-country slavishness by the resilience of Barham's imagery and the tough honesty of his bar-stool jottings. And this band can play, really play, with the lushness of pedal steel, the soulfulness of organ and harmonies, and the tight blast of crunching guitars.
SUNDAY
Yo La Tengo
8 p.m., $22-$25. The Ready Room, 4195 Manchester Ave, St. Louis, 314-833-3929.
By Roy Kasten
Yo La Tengo is omnivorous; in the annals of indie rock it's hard to think of another act that has so dedicated itself to the art of the homage, or found such a sense of who they are in the music they love and why they love it.
Fakebook
, the band's pivotal album of cover songs from 1990, was a modest and beautiful flare-up of folk and country, so twangy and fun and tender that it made the anti-avant-garde heroes they'd become seem like something else entirely. Yo La Tengo was clearly deeper and trickier than even its growing fan base had guessed. Read more about the band's latest in
this week's print feature
.<!——EndFragment——>
<!——StartFragment——>
Rev. Sekou & the Holy Ghost Album Release Party
<!——EndFragment——>10 p.m., $10. 2720 Cherokee Performing Arts Center, 2720 Cherokee St, St. Louis, 314-300-8831.
<!——EndFragment——>
By Daniel Hill
Born of protest and backed by the work of more than 30 musicians, engineers and vocalists from across the country, Rev. Sekou & the Holy Ghost's debut album
The Revolution Has Come
melds gospel, blues, soul and funk with protest anthem lyrics. The result is a goosebumps-inducing collaboration album released by St. Louis' incomparable FarFetched collective and featuring the work of San Francisco bassist and activist Jay-Marie Hill. Listen to the new album
here
in preparation for the show.