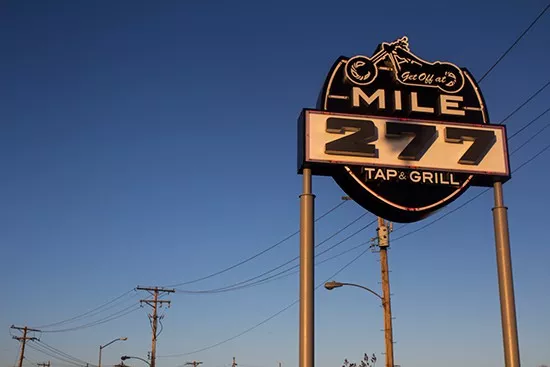 Photo by Mabel Suen
Mile 277 will close at the end of this month.
Mile 277 Tap & Grill (10701 Watson Road) and Harry's Restaurant & Bar (2144 Market Street) will both be closing at the end of this month. Each establishment lays the blame for its loss of revenue on the sprawling downtown entertainment complex known as Ballpark Village.
Mile 277 made the announcement with
a post
on its Facebook page.
"The development of other venues such as Ballpark Village, along with numerous lease terms, has significantly impacted the operations of Mile 277," management wrote. "The combination of these factors has resulted in significant losses of revenue and profits. Mile 277 cannot continue to sustain these losses."
Harry's, too, will close its doors at the end of the month. The restaurant shares a few things in common with Mile 277. Each opened in 2011, each offers food, drinks and live music, and each claims to have experienced a dramatic dip in business since Ballpark Village opened in March 2014.<!————EndFragment————>
<!————StartFragment————>"Ballpark Village was the nail in the coffin," Harry's co-owner
Tim Pieri told the Post-Dispatch
. "It shut down Washington Avenue and took 70 percent of our business. We thought it would be more like 10 or 20 percent. It took the people left who were coming to downtown."<!————EndFragment————>
The idea that Ballpark Village — a massive conglomerate of establishments that also serves up food, booze and live music — is cutting into the business of smaller local venues is not a new one. In November 2014
Riverfront Times
published a feature story about this exact issue
. The article illustrates how downtown establishments including Mike Shannon's, Joe Buck's, Copia Restaurant & Wine Garden, the Dubliner, Hiro Asian Kitchen, Lola, Jive & Wail and Paddy O's each suffered from declining business once the new kid moved into town. Copia manager Amer Hawatmeh said at the time that the "Ballpark Village effect" was being felt at establishments in as far as a ten-mile radius.
Since then, the Dubliner, Joe Buck's and Lola have closed, as has Jive & Wail's downtown location.
Mike Shannon's will shutter its doors
at the end of this month.<!————EndFragment————>
This downturn was predicted well before the entertainment complex even broke ground. As far back as 2002, the Missouri Economic Research and Information Center projected that the then-hypothetical development would cause Missouri businesses to lose $1.85 million a year for the next 30 years, owing to "reallocation of consumer spending."
<!—————StartFragment—————>
See also:
Downtown Bar Owners Say Ballpark Village Is Cannibalizing Their Profits
<!—————EndFragment—————>
Mile 277, however, is not located downtown — its is based in Sunset Hills, some fourteen miles away from Ballpark Village. This brought some criticism from the online commentariat.


Some jumped to Mile 277's defense as well:
Management, for its part, opted to take the high road in
a follow-up Facebook post
.
"It would be very easy to get defensive and feel the need to retaliate based off some of the comments following our announcement," they wrote. "But let's face it, that is seemingly what is wrong with the world today. Some people have the need to be heard for whatever reason based off their own opinion, which is fine. Mile 277 is in no way pointing a finger or making excuses outside of the nature of business and the struggles any business owner goes through on a daily basis."