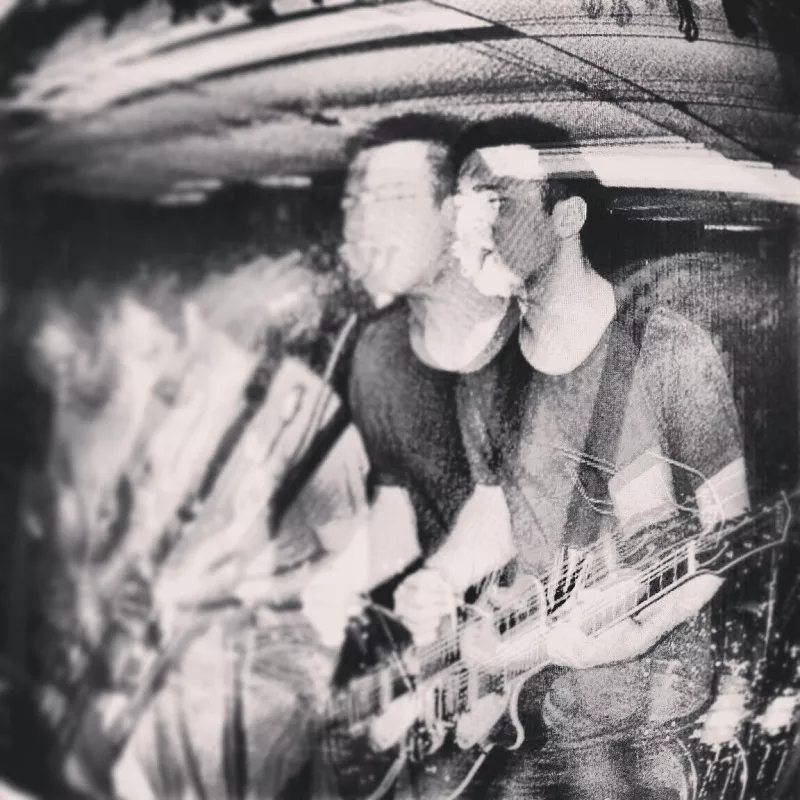 Promo photo via Windish Agency
American Wrestlers will perform at Off Broadway this Friday.
The Rams are gone, but St. Louis' unparalleled music scene remains. We'd prefer it that way anyway. This weekend's top picks include a healthy mix of local and national talent. American Wrestlers, Story of the Year and Ethan Leinwand & Mat Wilson represent some of the former, with the likes of San Fermin, Wale and AK1200 showing up for the latter. Check out our full list of show picks below.
<!—StartFragment—>
FRIDAY, JANUARY 15
<!—EndFragment—>
American Wrestlers
W/ Bo and the Locomotive
8 p.m., $8-$10. Off Broadway, 3509 Lemp Ave., St. Louis, 314-773-3363.
By James C. Kane
From the RFT Music archives: It's been a wild couple of years for American Wrestlers. The band began 2014 as the unheralded solo project of Gary McClure, a Scottish native now living in St. Louis' Benton Park neighborhood. McClure's self-recorded, self-titled record — made with found gear, inexpensive pawn shop guitars, a smartphone beat machine and a TASCAM eight-track — hit a nerve with the blogosphere, and the revered Fat Possum Records soon got in touch. The one-time label of Andrew Bird, the Black Keys and many others offered McClure a two-record deal and the support of a team, a live band was put together, and the group has been touring ever since. Hometown shows are rare; you'd be wise not to sleep.
<!—EndFragment—>
<!—StartFragment—>
G-Eazy
W/ A$AP Ferg, Marc E. Bassey, Nef the Pharaoh
7 p.m., $36.50. The Fox Theatre, 527 N. Grand Blvd., St. Louis, 314-534-1111.<!—EndFragment—>
By Evan C. Jones

From the RFT Music archives:
For most musicians, it can take a village to create everything that goes into a strong career, but most musicians aren't rapper G-Eazy. Early in his career, the young Bay Area native criss-crossed the country on tour multiple times, shared the stage with such industry heavyweights as Drake and hit number three on the iTunes Hip-Hop Chart with his 2013
Must Be Nice
...all as an independent artist. Signing to RCA Records in 2014 has meant bigger and bigger heights for the rapper, though it is clear he would have been fine all by himself.
<!—StartFragment—>
San Fermin
W/ Andy Shauf
8 p.m., $14-$16. Old Rock House, 1200 S. 7th St., St. Louis, 314-588-0505.<!—EndFragment—>
By Blair Stiles
From
this 2014 LouFest review
: Brooklyn's San Fermin could have whistled out of its collective asshole and still played the most composition-savvy set in the early hours of Day One. The band, spearheaded by classically trained composer Ellis Ludwig-Leone, is an amalgamation of contemporary classicism and well-crafted pop sensibility. At the end of the set, an audience member waltzed up to me, her eyes so large they peeked over her sunglasses, and enthusiastically announced, "They gave me chills!"
<!—StartFragment—>
Wale
7 p.m., $25. The Marquee Restaurant & Lounge, 1911 Locust St, St. Louis, 314-436-8889.
By Daniel Hill
Washington, DC rapper Wale has been one of underground rap's rising stars ever since he got his start after being discovered in 2006 by producer Mark Ronson. His third and fourth LPs,
The Gifted
and
The Album About Nothing
, each reached No. 1 on the
Billboard
200 chart, earning him nominations for awards from BET and MTV to the Grammys. All this attention brought Wale an unlikely collaborator: Jerry Seinfeld. The comedian has been a recurring theme in Wale's career ever since 2007's
Mixtape About Nothing
, which used a lot of dialogue from Seinfeld's television program, followed by 2010's
More About Nothing
. In 2013 Wale actually got in contact with Seinfeld himself and, yada yada yada, Seinfeld participated as a narrator on his 2015 record.


<!—StartFragment—>SATURDAY, JANUARY 16
Torres
W/ Palehound
8 p.m., $12-$14. The Firebird, 2706 Olive St., St. Louis, 314-535-0353.
By Mike Appelstein
Throughout
Sprinter
, Torres' second and latest album, there's a recurring theme of renewal — or, more specifically, a search for clarity. Mackenzie Scott, Torres' lead signer and core member, grew up in Macon, Georgia, and comes from a Southern Baptist background. She has been outspoken in interviews about how she left the church but not Christianity itself.
Sprinter
seems to reflect that ongoing experience. (Read more about Torres and the new record
in this interview, published last week
.) <!—EndFragment—>
<!—StartFragment—>
Split Lip Rayfield
9 p.m., $20. The Ready Room, 4195 Manchester Ave, St. Louis, 314-833-3929.
By Roy Kasten
From the RFT Music archives
: When Bill Monroe died in 1996, he had never heard Split Lip Rayfield, and if he had, he probably would have caught a faster flight to bluegrass Elysium. "That ain't no part of bluegrass," Big Mon is reported to have said of another newcomer. "That ain't no part of nothin'." Split Lip Rayfield is no part of nothing — which, in a world where nose-singing Chippendale's dancers are mistaken for country stars and jam-band doodling is mistaken for inspired improvisation, may be the very best thing to be after all.
<!—StartFragment—>
Hometown Takeover III
W/ Story of the Year, Fivefold, the Hush List, Make Room
8 p.m., $17-$20. The Pageant, 6161 Delmar Blvd., St. Louis, 314-726-6161
By Jordan Harper
From
the RFT Music archives
: Everything lasts forever when you're a teenager, until that shattering moment when you realize that nothing lasts at all. When you're going to live forever, it's easy to make promises that last "Until the Day I Die." Couldn't you use a trip back to those dazed and confused days? Squeeze into that one outfit from high school still hiding in the back of your closet, be it an oversize-flannel-and-Doc-Martens combo or a skinny-tie ensemble, head down to the Pageant and wait for the music to start.
<!—StartFragment—>
Ethan Leinwand & Mat Wilson
7 p.m., $5. BB's Jazz, Blues & Soups, 700 S. Broadway, St. Louis, 314-436-5222.
<!—StartFragment—>
By Christian Schaeffer

When the
Riverfront Times
counted down the
100 most essential songs of St. Louis
last fall, we included no shortage of piano geniuses. Scott Joplin made the top ten, of course, but a deeper dive into our city's musical heritage reveals names like Thomas Turpin and Henry Morgan, players who helped develop the ragtime style and molded it to fit the burgeoning style of rhythm & blues after the turn of the century. Local pianist Ethan Leinwand knows these names, their stories and their songs: at saloons around town, he evokes the spirit of these players with boogie-woogie panache. Leinwand will be playing alongside the might Mat Wilson, the studious and strident guitarist and singer whose work with the Rum Drum Ramblers and the Loot Rock Gang has given our town a constant supply of thoroughly modern versions of pre-war blues and jump-up R&B.
<!—StartFragment—>SUNDAY, JANUARY 17
<!—StartFragment—>
AK1200
W/ Cryptonix, Brandon S, Dent b2b Liminy
8 p.m., $5-$10. Upstairs Lounge, 3131 S. Grand Blvd., St. Louis, 314-773-3388.<!—EndFragment—>
By Alison Sieloff
From
the RFT Music archives
: AK1200 is bringing his jungle way of life back to the Gateway City. This show promises to please not only hardcore drum & bass heads but also newcomers to the breaks — he'll give you enough of a taste to make D&B digestible and dig-able. Make the trek to Upstairs Lounge to see (and hear) the accomplished one up close and in action. Maybe even buy him a beer; we hear he likes Heineken.
<!—StartFragment—>
Torn at the Seams EP Release
W/ Caducus, Hazer
6 p.m., $10. Fubar, 3108 Locust St, St. Louis, 314-289-9050.
<!—EndFragment—>
By Daniel Hill
St. Louis metalcore act Torn at the Seams played its very first show one year ago this week. To celebrate (and to build anticipation for its upcoming debut EP, to be released at this show), the group released a new track off the record. Head to
the band's Facebook page
to check it out.