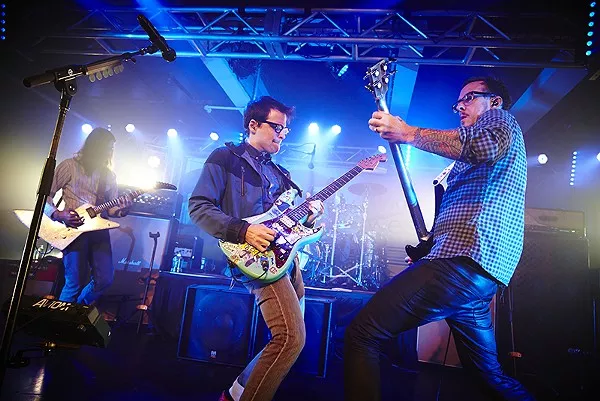 Photo by Steve Truesdell
Weezer photographed at Plush in 2014
The Peabody Opera House's gold-accented halls were decked with pine garlands and red bows for 105.7 The Point's Ho Ho Christmas show featuring Weezer this December 8th — there were even a few Santas wading through the crowd of flannel, cardigans and hoodies, handing out gifts. The crowd was diverse, if diversity could be measured in age alone. Whole families showed up for Weezer — a band that, like the Star Wars franchise, produces art to be enjoyed by the most impressionable of their followers, along with the older ones who remember its origins fondly.
Before introducing the opener, Wavves, The Point's MC gushed about Weezer's first two albums, saying that "
The Blue Album
and
Pinkerton
were huge, huge albums" in his formative years — a sentiment Weezer must tire of hearing after so many albums and years have been placed between themselves and
Pinkerton
, their 1996 sleeper classic. The phrase is most often repeated by music fans of a certain age, immediately followed by disparaging remarks regarding every studio release from
The Green Album
on. Weezer's live show keeps these grumpy old-heads in mind, with classics from
The Blue Album
and
Pinkerton
strategically placed in the setlist to keep their bearded and beer-bellied fans from losing interest.
The night began when the velvet curtain raised to reveal Weezer's signature light-up logo, blazing brightly as frontman and lead guitarist Rivers Cuomo chugged out the unmistakable opening riffs to the first song on their first album, the hopeful, earnest "My Name is Jonas." The whole crowd sang along, which was typical of every pre-
Green Album
song performed last night —- every post-
Green Album
song was emphatically sung-along to by people under 25, mostly teenagers.
Cuomo teased the packed crowd throughout the set with tongue-and-cheek exclamations like "Enjoying the kick-ass Weezer show?" and "How could anyone not like Weezer, man?" He also commented on what a great album
Pinkerton
was before playing "El Scorcho," perhaps in response to the MC's earlier comment. His bizarre, hilarious commentary on his band and his work shows that Cuomo is aware both of the criticism regarding Weezer's new albums and his continued ability to construct a perfect pop melody with formulaic precision.
The band's newer catalog may not be as brilliant as those first two albums, but Weezer can sure as hell still write a pop song, and Cuomo knows it. After the euphoria from "Jonas" passed, they dove into "Hash Pipe." They played it perfectly, but the drums sounded hollow and lackluster. As a friend said, "it's like he's hitting sheets of loose-leaf paper." This was disappointing because Patrick Wilson is an incredible drummer and the wimpy sound resulting from how his kit was mixed with the rest of his band was distracting.
The drums were especially well-placed at the beginning of "El Scorcho," a fan favorite from
Pinkerton
that began with a gurgle from guitarist Brian Bell and the slow, deliberate beating of the toms by Wilson. The song was still extremely satisfying to hear live, perfectly adapted to an enthusiastic audience — lyrics like "I'm a lot like you" are a beautiful thing to hear sung by a room full of strangers. They followed with "Back to the Shack" off their newest album,
Everything Will Be Alright in the End
. The song's dueling guitar solos and perfect harmonies are reminiscent of Weezer's earliest work. That's no accident — the record was produced by Rik Ocasek, former lead singer of the Cars and producer of
The Blue Album
.
This was followed by "Troublemaker," then "Do You Wanna Get High," one of two brand-new songs played at the Peabody last night. During the chorus, Cuomo sang about how he'd "never get tired of you," letting his guitar hang over his waist so he could point at his loving audience. "Pork and Beans" was a clear favorite among those in the crowd who are too young to vote. Adolescent girls sang and shimmied while their fathers awkwardly tried to dance along. How many '90s alternative bands can bring fathers and daughters together like Weezer can?
"Hats off to Weezer!" Cuomo exclaimed before playing "Thank God for Girls." This was only the second time the song was played before a live audience, the first being on Conan O'Brien's show earlier this week. The end of "Thank God" faded into the opening bars of "Say it Ain't So," Weezer's finest emotional musical outpourings, followed by "The Good Life," a meta exercise in nostalgia that this critic cannot bear to wrap her head around. (Lyrics include "I don't wanna be an old man anymore... I wanna go back / and I don't even know how I got off the track.")
They ended their first set with the undeniably catchy "Island in the Sun" and the tremendously popular "Sweater Song," which was carried home by the audience's "woo oo oo's" for 24 joyful bars. Weezer returned to the stage after a brief break for a two song encore: "Beverly Hills" and, of course, "Buddy Holly," the song that launched their fame. Cuomo graciously thanked the audience and set his guitar up for some of his gorgeous, signature feedback while he took a bow with the rest of the band.
How could anyone not like Weezer?