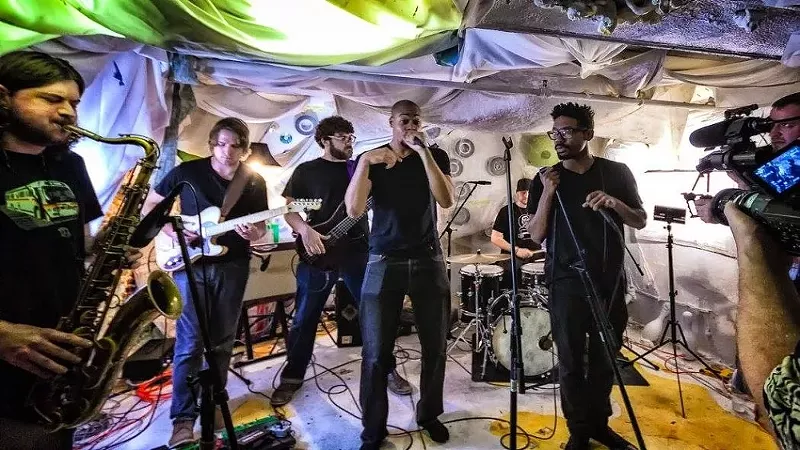 Photo by Dan Costello
Blank Generation will close out the night.
Benefit shows are a decent way to generate a little cash for those who may need it, whether for an organization or maybe just a friend who needs a little help with unexpected expenses. The drawback to the benefit show concept is that, while charitable, it is usually a one-night-only kind of thing. Even if there is a "fund" set up it is still mostly likely that donations will slow to a trickle after the initial chunk of change from the show itself has been raised.
St. Louis' Playing for the Cause has been looking to remedy this matter by keeping the effect of the benefit show going even after its initial introduction. In 2014 PFTC founder Lynn Cook and board president Michael Tomko began to alter the concept into something with more staying power.
See also:
Playing for the Cause Connects Bands and Their Fans with Charitable Causes
"Benefit shows are great. But if you want to consistently support something you'd have to throw a benefit show every month," says Jess Luther, a member of the board at PFTC. "I try to describe it at a facilitator and a platform," says board member Jess Luther. "Bands affiliate themselves for a year, then when they play shows during that time they can say, 'Hey if you care about this cause like we do you can go to this site and donate.'" PFTC provides a secure vehicle for donations from fans of various bands, then directs the funds to the intended non-profit, managing any taxes or credit card fees that pop up along the way.
"The idea is that a lot of musicians are socially conscious but don't necessarily have a lot of cash to throw around," says Luther. "So what they're doing is basically leveraging their talent to encourage their fan base to give."
In return for promotion of their organization, PFTC promotes all of the bands' shows on their site and on social media. PFTC also works hard to channel donations from city to city.
"If the cause of choice is Pet Rescue and someone is playing in Chicago, it can be set up for the funds given in the next two days to go to the Humane Society of Chicago," Luther explains. "[Cook] works with the tour manager, gets the schedule and then sets up with the organizations within the city that they are playing."
<!——StartFragment——>
This year's PFTC event, set to take place this Tuesday, December 1 at Off Broadway, was brought together through a community effort.
"A bunch of people gave a little bit to make this show come together," Luther says. "Steve [Pohlman] donated the venue, Ink Spot donated the posters, 4 Hands and Urban Chestnut Brewing Company are donating band beers." PFTC has also agreed to give a price break to industry people — musicians, writers, DJs, venue employees, — because the bands need to be seen and heard in order for this whole thing to work.
<!——StartFragment——>All four acts on the bill are locals, but that's nearly the only common denominator among them. "We're ebbing and flowing in types of instruments, genres — even the type of voice you're going to hear within one show," says Luther. "Instead of, 'Come to this show because I booked it and I want it to succeed,' I want it to be more like, 'Come to this show because you're going to have fun and see a band that you've probably never seen.' I'm guessing that if you're a fan of one of these bands you may not have seen all of the other three."<!——EndFragment——>
The night begins with the experimental electronic sounds of .e, a.k.a. Dottie Georges. Her music is self-described as "layers of sound with electronic pulses, gazing synths, lush chords, sequenced beats, vocal drifts and the occasional burst of fuzzed-out guitar freak out." Her debut full-length,
Of Crashing Symbols
, was released earlier this year on vinyl and CD.
"She's an artist who has been very active in this past year." says Luther, "Her set is largely improvised, so it's a different set every time you see her."
Shying away from backing one electronic band against another, PFTC chose Search Parties for the follow up. Search Parties' Alex Petrone, Danny Newgent, Chris Garner, Dylan Doughty and Elliott Pearson are charged with holding down the rock portion of the event.
"They're a straight-forward melodic indie rock/pop band," Luther states. "That's another band who works really hard, playing a lot of shows and trying to make some moves in St. Louis."
After the rock comes the folk, or "raunch folk" as River Kittens have described themselves.
"They are a folk band, for all practical purposes," says Luther. "But their songs are really funny, smart and unique in that the subject matter is not what you'd think a folk song would be."
Blank Generation will close out the night. Each member of this group is a powerhouse in their own right, and together Hearskra-Z, Loose Screwz, Andrew Gibson, Charlie Cerpa, Matt Lyons and Nate Gilberg create an incomparable force of nature.
"The Farfetched collective is a group of people who are all moving and shaking in town," says Luther. "They're doing really thoughtful things, and they also provide a rich roster to draw from. Blank Generation encompasses all of those things. They're a hip-hop act, they're a fusion act, there's a lot of different instruments involved — this is why they're headlining.
"Go see the band you want to see and then stay for the others. It's a great way to discover something new," adds Luther. "Give a little, and then we'll all have something fun to do together."
Playing for the Cause
8 p.m. Tuesday, December 1. Off Broadway, 3509 Lemp Avenue. $10. 314-773-3363.