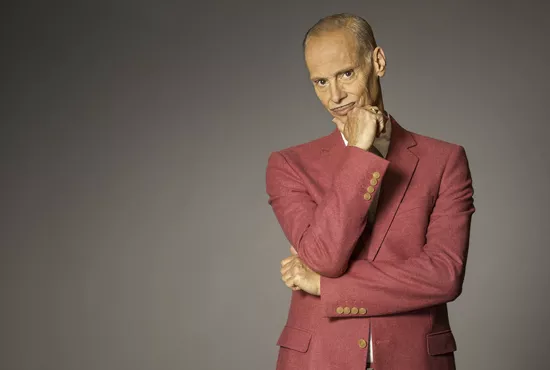 Photo Credit: Greg Gorman
John Waters will perform at the Sheldon at 8 p.m. on Thursday, December 3.
John Waters is the Renaissance man of weird. Some know him as a director, with 1972's Pink Flamingos being his most infamously well-known work. Or perhaps you've seen Hairspray (the '88 version starring Divine, not Travolta) and later learned just how diverse and twisted his stories are when you decided to check out his earlier, far stranger films. A master of attacking good taste and humor, whether on screen, in print or live on stage, Waters could simply be described as a purveyor of "shock value" — if only that term hadn't been watered down by big-budget buddy films whose idea of "shock" is a recurring dick joke. Waters, unlike those hacks, understands the best way to celebrate bad taste is to know good taste, and to appreciate the irony in exploiting it.
His current live show, "A John Waters Christmas: Holier and Dirtier," is a collection of stories for everyone, from those who anticipate the holiday season with the highest regard to those who dread it with every inch of their being. Above all else, it is for audiences who are ready to share a mocking laugh in the face of the pageantry of Christmas.
We spoke with Waters to preview his performance at the Sheldon Concert Hall on Thursday, December 3 and, just as you may expect, our conversation took some unexpected and entertaining turns.
Kelsey McClure:
I wanted to talk with you first about how you are able to move so fluently from medium to medium. Being a filmmaker, a writer and then also doing live shows and standup — you seem to transition flawlessly.
John Waters:
Because I'm a writer and I need to tell stories. I wrote my movies, I write my shows, I write my books, so it's not hard for me. It's just, each one is a little different way to tell a story. But I've been telling stories since I was thirteen years old. I wrote some horror novel about cereal that I read to all the kids at summer camp, who started crying and flipping out and their parents called and complained to the camp. I've always been doing this.
Where is the challenge for you in storytelling? What is it that you are going after?
I'm always trying to understand human behavior that I can't, and that's the reason I get out of bed everyday. I want to bring you into a world that you might feel a little uncomfortable. Come with me, and maybe together we can explore it and figure things out — why people act the way they do. If it's easy for me to understand, I lose interest quickly.
Nobody gets mad at what I say anymore. It seems like a lot of comedians are afraid to even go to colleges today because of political correctness. I am politically correct in a weird, fucked up way.
Photo Credit: Greg Gorman
Does it frustrate you at all that nobody gets mad?

No! I never wanted to offend; I wanted to make people laugh. To me, I'm offended now by these big $100 million Hollywood gross-out comedies that aren't funny. If you're trying too hard to be shocking, it never works. It's an old hat.
When I was trying to shock at the beginning, there were rules to break. There was censorship. [Lenny] Bruce went to jail for saying "Fuck." Could you imagine? It wasn't that long ago.
No, I can't. I've seen the rules of censorship come and go but that — I can't imagine that.

It just depends on what class you're in. That's the thing. The extreme politically correct... it's the rich-kid schools. It's not in the ghettos, I don't think. I mean, I think straight people should be marching in art schools. They're the ones they are discriminating now against. There's still homophobia in other places.
Oh, absolutely. A recent example being the Mormon Church denouncing gay marriage, yet again.

It's a losing battle. Even the Republicans have realized that it's a losing battle to be against gay marriage and stuff. Because their family's gay now. Because they knew people that were gay. They gave up on that. They were smart enough to know that's a losing battle these days because everybody, straight or gay, knows how hard it is to fall in love with anybody. And if you can find somebody, why would anyone care about that? The crazy religious right that says, "Being gay is a choice." And so what if it is?!
They think that's a choice like choosing political parties. Even though we know it isn't a choice, because you can ask any Alzheimer's doctor in the world — their patients forget everything. They can't recognize their family, they don't know their name — but they never forget if they're gay or straight.
This Christmas show that you're touring: It's a series of stories, yes? What can people expect?

They're about how to get through Christmas, really. Even if you're insane from it, if you're depressed by it, if you love it — I've got advice for everybody. Christmas is coming. You can't avoid it. I tell you what: You know what I want to get for Christmas? What you shouldn't get for Christmas. How to handle an insane family, how to deal with children, how is Christmas gay. Is it suddenly a gay holiday? I don't know. Is Santa erotic now, with the bear movement? It's quite complicated.
Is there one thing in particular that has irked you about Christmas, or is it just kind of all of it?

I hate fruit baskets. When someone sends me a fruit basket, I think, "I can buy a pear. How dare you send me this?" Even the poor — anybody can buy a pear. You know, gift baskets should have in it stuff that you'd never buy for yourself: cigarettes, poppers, porno, gun oil. I mean, things that you would never buy for yourself. That's what gift baskets should be. So don't insult me by sending me a goddamned pear.
You just described the most ideal get-through-Christmas gift basket.
Try it. You can do that right now. That's not that expensive. Well, gun oil isn't cheap. Gun oil is lubricant, by the way. It's not real gun oil for a real gun.
I'm glad you clarified. I wasn't sure.

I didn't want you to think I was pro-gun. I don't get why college students aren't rioting and burning down gun shops... I don't get why we aren't rioting about that.
Maybe that's the college tour that needs to happen: The "Anti-Gun College Tour."
Maybe. I don't understand why. You know, colleges are being very political again. They're rioting, they're shutting down. Why is gun-control not the number one thing? I don't understand that. Let's see if I'm going to get lynched for that!
John Waters
8 p.m. on Thursday, December 3. The Sheldon Concert Hall, 3648 Washington Boulevard. $35 & $45. 314-533-2958.