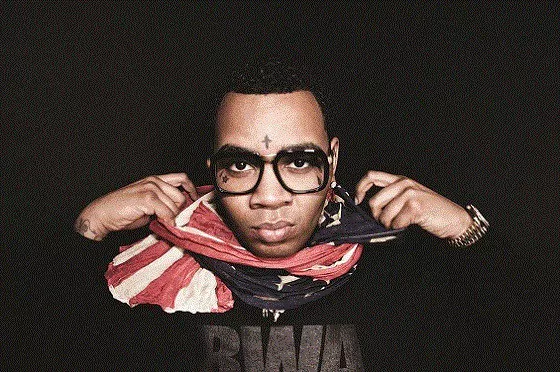 Photo by Jimmy Fontaine
Kevin Gates returns to St. Louis on Sunday, November 29 at Pop's Nightclub alongside Darius Hickman and Skully.
The last week of November brings a taste for what's to come. Family will visit only to return roughly one month later, and all those college students too. People tend to get nostalgic, and we wind up with reunion shows and cover-band tributes that go on for days and days. At least for now, forget Black Friday and crowd around reunion shows for local favorites such as Quief Quota on Wednesday and Give Her A Lizard at the Firebird on Saturday.
MONDAY, NOVEMBER 23


Glen Hansard w/ Aiofe O'Donovan
The Pageant
7:30 p.m. | $27.50-$35
By Allison Babka
From the RFT Music archives: Glen Hansard is a master manipulator. Oh, he doesn't toy with you intentionally, but with lyrics so tightly crafted and rhythms so expertly layered, Hansard can make you feel just about anything. He rips out your heart, uses it for dodgeball and pokes it with a machete before returning the organ to you on a silver platter surrounded by fruits of contrition and hope. You'll hate yourself for bawling during the sonic orgasm Hansard provides but then beg for more.
TUESDAY, NOVEMBER 24


Phantom Head w/ Lumpy & the Dumpers, Veil, Faultfinder, Jailbus
Foam Coffee & Beer
8 p.m. | $5
By Joseph Hess
Kansas City's Phantom Head is a post-acid trip fever dream that manifests every blood moon as a guitar-driven power trio. The sounds are sourced from grimy basement hardcore, then remixed into dive bar bangers at half-speed. Beats chop through with trashcan drums under gas-powered riffs while vocals are present but buried. That's sort of the point with Phantom Head, who embraces excess noise with cave-like reverb over ten tons of fuzz. Catchy songs are to be had, but this band wants you to work for them. Earplugs should help with that.


WEDNESDAY, NOVEMBER 25


Quief Quota Reunion Show w/ Eric Hall, Zak M., Sugar Rags
The Firebird
8 p.m. | $5
By Christian Schaeffer
Welcome Quief Quota back for its reunion with this classic review of the band's debut album from 2007: While you can't always judge an album (or book) by its cover, sometimes the liner notes give you a pretty clear impression of the music inside. Quief Quota's portrait features the band members in tighty whities being fed grapes, bananas and spaghetti by toga-clad ladies. It is a perfect complement to the songs on the disc — a sound that is classic in form but skewered with perversity and puerile humor. While the band is an offshoot of the beloved abrasive noise collective Skarekrau Radio, Quief Quota sticks to straight-ahead pop-song structures and a lo-fi aesthetic that is paired with dum-dum lyrics and charmingly off-key vocals.


THURSDAY, NOVEMBER 26


Tricounty Terror w/ Jamie Axton
Fubar
8 p.m. | $8-$10
By Joseph Hess
After force-feeding that gullet of yours with turkey and stuffing, southern-fried anything is probably a tough sell. Consider Tricounty Terror on Thanksgiving night to shock you out of that food-induced coma with its savage, whiskey-tinged punk. The leading ladies from Dallas sound like a revenge plot against the male-dominated heydey of hair metal, throwing down the gauntlet for years of repressed riffage. If you're like millions of Americans planning to spend the evening with family, considering bringing your loved ones to Fubar — invite them to gorge on all those tasty licks.


FRIDAY, NOVEMBER 27


Jeremy Davenport
Ferring Jazz Bistro
Fri., Nov. 27, 7:30 & 9:30 p.m. | $40
Sat., Nov. 28, 7:30 & 9:30 p.m. | $40
By Christian Schaeffer
With Thanksgiving upon us and Christmas encroaching at a furious pace, we're solidly in the season for annual concerts — some holiday-themed, others not — by familiar faces. Trumpeter and balladeer Jeremy Davenport makes his annual trek back to his hometown to play Jazz at the Bistro this week, taking a reprieve from his enviable residency at the Ritz-Carlton in New Orleans. His tutelage with various members of the Marsalis dynasty — along with a stint in Harry Connick Jr.'s big band — taught him the finer points of New Orleans' jazz heritage, and he remains a dependable purveyor of the craft as he pulls from well-loved tunes and his own songbook.


SATURDAY, NOVEMBER 28


The Bottle Rockets w/ Otis Gibbs
Off Broadway
8 p.m. | $20
By Ben Westoff
From How I Learned to Stop Hating Myself and Love the Bottle Rockets: That group had only a short run on a major label and never broke big. This seems tragic, and the idea of Henneman still having to hustle hard through middle age makes my stomach churn. But, given the choice, it seems better to have crafted enduring art than to have briefly shone bright. Too often, the latter seems to be the goal in hip-hop and in my own work as well. As a journalist and editor, I'm often tempted to set aside the enterprise pieces that take great effort in favor of blog posts that quickly go viral on the Internet (and are just as quickly forgotten). Hard work is no guarantee of any payoff. It has got to be its own reward, and I suspect that for Henneman it is.


SUNDAY, NOVEMBER 29


Kevin Gates w/ Darius Hickman, Skully
Pop's Nightclub
7 p.m. | $25-$30
By Charles Purnell
Baton Rouge's Kevin Gates has never been one to pull punches. Between his endlessly entertaining social media presence and puzzling media interviews, the XXL 2014 Freshman Class alumni has released a string of projects to an ever-growing fan base. With his latest mixtape Luca Brasi 2, Gates continues to separate himself from the latest generation of Southern rappers with his direct lyrics, infectious energy and unique brand of introspection that only he can provide.


Note: Though we wish we could, we can't feature every great show happening in town in just one post. Look for plenty more recommendations this Friday in our weekend shows post, peruse the St. Louis concert calendar for more ideas and let everyone know what else you're looking forward to seeing this week in the comments below. To be considered for coverage in RFT Music, submit show info online or drop us a line anytime.


RFT MUSIC'S GREATEST HITS
Remembering STLPunk.com — How to View the Site Today and Find Your Old Profile Page
"Where Did My Dick Go?" The Gathering of the Juggalos' Best Overheard Quotations
The Ten Best Dive Bars in St. Louis
The 15 Most Ridiculous Band Promo Photos Ever