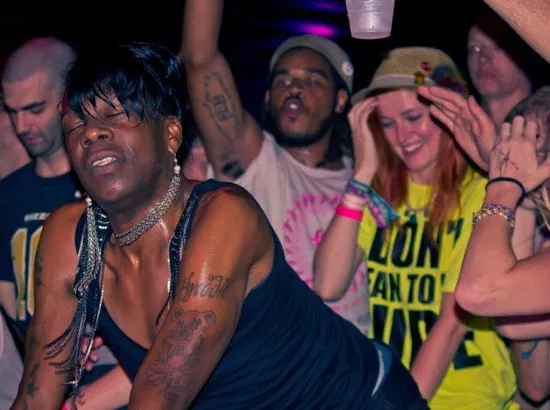 Photo by Alexis Hitt
Big Freedia returns to St. Louis on Friday alongside Boyfriend and local opener Black James.
Among the wealth of touring and local acts alike, no performer has caused more asses to shake than New Orleans native Big Freedia. Catch her tonight at the Pageant or enjoy a more low-key affair with Idaho songwriter Eilen Jewell. Punk fans should look into Free Pizza at Foam while fans of more subversive sounds can catch St. Louis ex-pat Brad Schumacher and his noisy dance jams over at Kismet Creative Center. Whether you're twerking or uncontrollably convulsing, there's something out there to get your body moving.
FRIDAY, NOVEMBER 13


Big Freedia w/ Boyfriend, Black James
The Pageant
8:30 p.m. | $20.50
Big Freedia cut her teeth on the streets of New Orleans, performing in small to mid-sized clubs for over a decade before hitting mainstream success. She specializes in bounce music, which is otherwise high energy hip-hop especially known for its raunchy style with frequent call-and-response. But honestly, all Freedia wants to do is make your ass shake, as made evident when she set the Guinness World Record for twerking.
Eilen Jewell w/ Kevin Gordon
Off Broadway
8 p.m. | $12-$15
By Roy Kasten
If there's one thing you never say on Jeopardy it's "Alex, I'll take Idaho musicians for $500." If you're a songwriter obsessive, Josh Ritter and Rosalie Sorrels might come to mind, but you'd likely miss Eilen Jewell, a country-folk musician who grew up in Boise and then got the hell out to find her own voice, somewhere between Loretta Lynn, Billie Holiday and Kate Wolf. Recently, Jewell returned to her native turf to raise a family and record a new album, Sundown Over Ghost Town. It's Jewell's finest distillation of hillbilly swing, honky-tonk and folk balladry that's less forsaken than it is purely, confidently beautiful.

See also: Kevin Gordon's Restless Creativity Knows No Limits


Free Pizza w/ Tubby Tom, the Vanilla Beans, Boreal Hills
Foam Coffee & Beer
9 p.m. | $5
Free Pizza sits on a list with "TBA" and every other terrible (great) band name that 30-something men who have never actually played in a band joke about using but never follow through. While I doubt anyone will wrongfully attend this show expecting free pizza pie, this band does deliver fresh punk by the slice with twee pop toppings. The local support is a mixed bag of late-night junk food in musical form. And if you're worried about the taste, just ask rapper Tom how he got so tubby.


KSHE-95 48th Birthday Party w/ REO Speedwagon
Peabody Opera House
8 p.m. | $26-$116
Usually we, as a people, stop celebrating yearly birthdays after 21. Except for those nice round numbers like 30, 40 and 50, we tend to glaze over the years until the next landmark. But for an institution like KSHE-95, the classic rock core of St. Louis, yearly parties are welcome — especially when the guest of honor is REO Speedwagon. Formed in Champaign, Illinois in the late '60s, the band is a group of gods among men in the modern rock mythology. Who better to help with KSHE's mid-life crisis?


The Langaleers w/ None the Wiser, Apex Shrine
Schlafly Tap Room
9 p.m. | free
We first talked with the Langaleers about their self-released, self-titled debut album in December 2014. Consider this show a progress report on the budding young rock band. If you're curious about how this group of Festus-natives formed, take a look back at this interview from our now-defunct column, "Fill In The Blank."


Tiny Bands Fest 4
Tree House
9 p.m. | free
At Tiny Bands Fest, Sam Clapp (of Strong Force, the Brainstems) encourages local acts to form for fast shotgun-style sets. The rules are fairly simple: A) This has to be the band's first show and B) Sets cannot last longer than ten minutes. While the event typically takes place in some south city basement, this edition has new, even more unorthodox setting: Tree House, a vegetarian restaurant on South Grand.


SATURDAY, NOVEMBER 14


Poe Fest 2015 w/ Tef Poe, T DubbO, Nick Menn, RT Faq & Heir Jordan, B Magic, Black Space, Saint O, Indiana Rome, Bo Dean, Legend Camp, Wave Chapelle
The Bootleg
10 p.m. | $7
By Daniel Hill
You may know Tef Poe for his activism in Ferguson in support of the Black Lives Matter movement. Maybe you've heard of his Hands Up United organization, which has participated in protests all over town. Or maybe you read the articles he has written on the subject for publications including Time, Huffington Post and Riverfront Times, or seen him being interviewed on CNN, MSNBC, BBC and BET. But did you know he is also a rapper? All kidding aside, it is understandable that his tireless activism might overshadow his artistic output at times, but it should not be forgotten that Tef Poe spits fucking fire on record — and has done so for many years in St. Louis' underground hip-hop scene. 2015 might be his biggest year yet. His highly anticipated War Machine 3 was released in July to thunderous critical acclaim, and recently he even popped up with a guest verse on Talib Kweli's "Which Side Are You On," the lead track from the New York rapper's latest album Indie 500. In short, if you aren't hip to Tef's music yet, now is the time and this show is the place.


Tommy Halloran's Guerrilla Swing Live Album Recording
Ferring Jazz Bistro
7:30 & 9:30 p.m. (Friday & Saturday) | $20
Be present for the live album recording of Tommy Halloran's Guerrilla Swing, who we declared as the Best Band in St. Louis in 2014:

<!——StartFragment——>Tommy Halloran and his backing band perform live almost every night of the week — every week of the year. You'd think that a schedule like that could become a wearisome drag, but day after day Tommy Halloran's Guerrilla Swing hits with power, versatility and — if you couldn't tell by the bandmates' smiling faces — absolute glee. Besides blowing through classic covers and standards, the band is distinct and original, teetering between jazz and blues. And, really, no two shows are the same as Halloran often brings in other players to expand on the band's already huge sound. Maybe Dave Stone will join to play saxophone at a small gig at Blues City Deli, or they'll bring on a marimba player at Herbie's Vintage 72. No big deal. Just the best band in St. Louis, doing its thing — and worth seeing every time.<!——EndFragment——>


The Wonder Years w/ Motion City Soundtrack, State Champs, You Blew It!
The Pageant
7 p.m. | $22.50-$25
The Wonder Years show that not only is pop punk en vogue once again but the genre has sky rocketed above making songs for nostalgia's sake. That is, the band is not retreading old trends. Rather, its members pick up the pieces that make modern emo so appealing and apply an unfaltering sense of optimism. Strong melody permeates each song with a sense of depth as the Wonder Years bring a heavier-than-thou style compared to its peers.


SUNDAY, NOVEMBER 15


America's Got Talent Live! All-Stars Tour w/ Blue Journey, Smoothini, Taylor Williamson, Emily West, the KriStef Brothers, Recycled Percussion.
Peabody Opera House
7 p.m. | $26.50-$62
Maybe your parents TiVo'd singer Emily West so they could show you her TV debut, because they know how much you just love original music. Or maybe you're one of those parents who want to help share the fresh new talent that you just discovered (protip: anything on national TV has already hit the mainstream). This is a variety show first and foremost, what with headlining comedian Taylor Williamson and the acrobatic KriStef Brothers at the helm, but Recycled Percussion is worth the ticket price alone. The self-proclaimed "trash-rock" band is a regular act on the main strip in Las Vegas. At least with this show, you won't have to deal with the overbearing sights and sounds of a city that never sleeps.

Note: Though we wish we could, we can't feature every great show happening in town in just one post. Peruse the St. Louis concert calendar for more ideas, and let everyone know what else you're looking forward to seeing this weekend in the comments below. To be considered for coverage in RFT Music, submit show info online or drop us a line anytime.


RFT MUSIC'S GREATEST HITS
Remembering STLPunk.com — How to View the Site Today and Find Your Old Profile Page
"Where Did My Dick Go?" The Gathering of the Juggalos' Best Overheard Quotations
The Ten Best Dive Bars in St. Louis
The 15 Most Ridiculous Band Promo Photos Ever
---