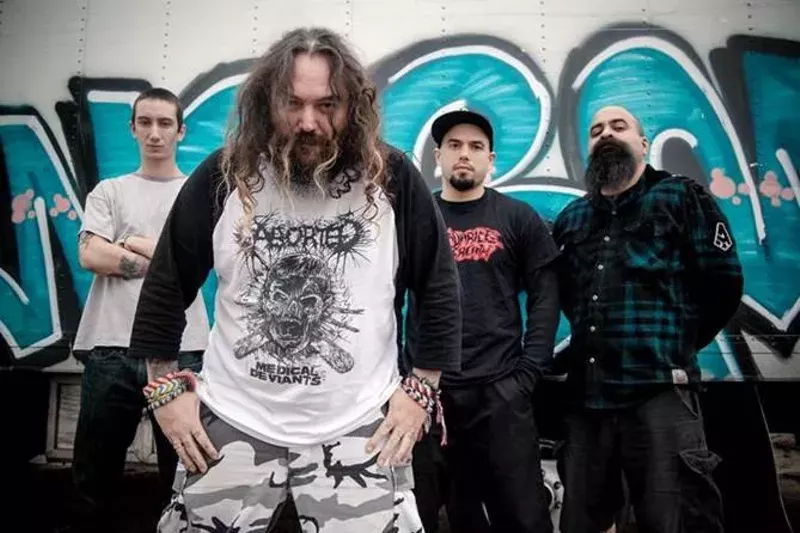 Photo courtesy of Nuclear Blast Records
Soulfly will perform at Fubar on Thursday, November 12.
Way back in the 1980s, Brazilian-born singer-guitarist Max Cavalera started Sepultura when he and his brother Igor were still teenagers. That band left an incredible legacy (and the group still exists, but without the Cavaleras). Max Cavalera explored his heritage with Sepultura and then with Soulfly. The latter initially formed in 1998 after Cavalera left Sepultura in 1996; Soulfly issued its self-titled debut in 1998, and it immediately caught fire.
"It's a classic now and people loved the record," says Cavalera via phone from his Phoenix home. "It went gold in America. It was back when people bought CDs. I just wanted to keep making music. That was my priority. I had a huge career with Sepultura and I wanted to continue to do what I do, which is create new music. It's what I'm here on this planet for. I didn't know at the time that I would have all these records. It's insane to think it's Soufly's tenth album. I'm so proud of it."
Calavera started writing the songs for its latest record,
Archangel
, in September of last year.
"It's the kind of dark and extreme metal album I wanted to do for a long time," he says. "I'm glad people are digging it. It's given Soulfly new life."
After he wrote the riffs, he laid down drum tracks with the assistance of his son. He decided to call it
Archangel
because of its biblical theme. As he puts it, the album details a "biblical apocalyptical atmosphere." The hoarse vocals in plodding tunes such as "Shamash" and "Bethlehem's Blood" speak to the album's dark theme. And the eerie bonus track "Soulfly X" recalls the work he did on
Roots
, the Sepultura album that explored his Brazilian background.
"As far as the music goes, it's really extreme metal like Behemoth and Watain," he says. "I listen to a lot of death metal in my spare time. The music is more in that area. Lyrically, there's both biblical stuff and non-biblical stuff like 'We Sold Our Souls to Metal.' That's just about being metal and going down this metal road. The album has everything that I wanted."
For the chanting you hear in "Sodomites," he and producer Matt Hyde collaborated to deliver the spooky vocals.
"We did it ourselves instead of using a sampler," he says. "We spent hours and hours on it. I think it's more original and more cool that we did it ourselves. It came out really cool. I'm happy with it."
He says his interest in biblical stories stems from his interest in history.
"I love history," he says. "The bible's stories are history tales from the past. I watch a lot of History Channel and I love those biblical shows they have with all the stories. I like the movies too, like
The Passion of the Christ
and
The Last Temptation of Christ
."
The title track features an array of twists and turns and time signature changes.
"That's just all part of the way I write," he says. "It starts with a riff and I turn that riff into a song. It starts at home. I record a CD full of riffs. I go into the studio and turn them into songs and we work on them in the studio to make them into real big songs. It's an exciting process. It takes a long time to get them right, but that's part of it. It's not a lot of fun making the record though I do enjoy my time in the studio. I think it's great when you come up with something like 'Sodomites' and you play it and it sounds killer. I prefer to play live. I like touring more than studio time."
After a fall tour which will stop in St. Louis on November 12, the band will head to Europe. Then Cavalera will turn his attention to writing tunes for the heavy metal supergroup Killer Be Killed.
"Soulfly records are all different," he says. "
Archangel
is more extreme, and I love the fact that the records are all so different from each other."
Soulfly
<!—EndFragment—>
7 p.m. Thursday, November 12. Fubar, 3108 Locust Street. $20 to $22. 314-289-9050.