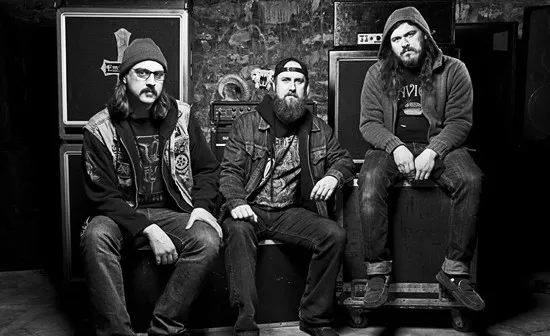 Fister hosts a DJ spin followed by a live show this Friday at Layla in the Grove.
Time to jog your memory, metalheads. Remember back in April when we published a piece on this city's thriving metal scene? If not,
read this
and quickly return, because this week brings two special shows that work as a solid introduction to some of St. Louis' best exports. On Monday, see the Lion's Daughter open for grind legends Misery Index, then hit the Grove on Friday night for Fister's free takeover of Layla. Pop punk fans delight with Beach Slang on Tuesday and New Found Glory on Sunday night.
MONDAY, NOVEMBER 2
Misery Index w/ the Lion's Daughter, Hallow Point, Absala
Fubar 8 p.m. | $12-$15
By Joseph Hess
Misery Index feels familiar, in the same way certain people already feel like old friends the first time you meet them. Their metal is slick and polished with deep, guttural vocals covered in enough bile to counteract the underlying melody. If there's an official checklist for extreme metal, Misery Index wrote the damn list, despite debuting in the early aughts about ten years after the classic death and grind heydey of the decade before. This show is especially stacked, considering St. Louis' own Lion's Daughter is one of three totally destructive opening acts.
TUESDAY, NOVEMBER 3


Beach Slang w/ Lithuania, Worriers, The Humanoids
The Firebird
7 p.m. | $10-$12
By Joseph Hess
Beach Slang hit NPR Music's Tiny Desk Concert earlier this year, but what actually appeared was the band's "quiet" alter-ego, songwriter and band leader James Alex. These stripped down songs show a tinge of Americana, which is a major contrast to the full band's glossy grunge rock. This bill is most definitely the loud version of Beach Slang, but don't be surprised to see Alex bring out one of his more mellow pieces, as this tour seems to be highlighting his duality as a songwriter. His new book Even Trash Has A Place was just released, so bring those extra bills to this smattering of brain matter in zine form.


WEDNESDAY, NOVEMBER 4


The Milk Carton Kids
The Sheldon
8 p.m. | $30-$35
By Christian Schaeffer
You may not realize it yet, but you don't go to a Milk Carton Kids show for the music. Not entirely, at least. You go for the bone-dry repartee between principals Joey Ryan and Kenneth Pattengale, as they riff off of (and rib on) each other in their peerless between-song banter, which can range from issues of grammatical minutiae to each others' hairstyles. But until they get a Comedy Central special, the pair's music is pretty divine — simple, partner-sung tunes that centers on Ryan's high harmonies and Pattengale's dulcet-toned, Dave Rawlings-inspired acoustic guitar leads. This May's Monteray follows a busy few years of moving from opening act to main-stage headliners, and it finds the duo sticking to the formula of two voices, two guitars and not an errant note between them.


THURSDAY, NOVEMBER 5


The Mavericks
The Pageant
8 p.m. | $35-$55
By Roy Kasten
Twenty years ago the Mavericks took over the country charts, if not the world. Led by a Cuban-American Pavarotti named Raul Malo, the band swept up awards and swept away country (and pop) fans, hungry for hooks and heart. No country-music force since Johnny Rodriguez had ever fully tapped into an exploding Latino market, though the band's initial success wouldn't see it through the '90s. Malo and company's recent return to performing and recording brings plenty of nostalgia but also new sounds, notably the driving, border-breaking material from Mono, its highest-charting release since its mid-'90s apogeo. If the band ever had a secret weapon, it wasn't Malo's wheeling voice; it was how damn fun it was, and is, to dance to.


FRIDAY, NOVEMBER 6


Fister
Layla
9 p.m. | free
By Rick Giordano
From Metal: Meet the 2014 RFT Music Award Nominees: Phil Anselmo wears this band's T-shirt. What else do you really need to know? Tour dates with Pallbearer, a split EP with Portland's Norska and a spot on NYC's first-rate Martyrdoom Festival this July are only part of Fister's impressive resume. The band's sound is an intricate mix of doom, doom and vomit-drenched doom, wherein Godzilla drums, chainsaw guitars and speaker-melting bass tones are all used more like weapons than instruments. It's the perfect soundtrack to something like a plane crashing into the Andes — and if you can't handle it, you'd probably be the first one to be eaten.


SATURDAY, NOVEMBER 7


Big K.R.I.T. w/ BJ The Chicago Kid, Scotty ATL, Delorean, Allen Gates
The Ready Room
8 p.m. | $22-$100
By Daniel Hill
Big K.R.I.T. is officially taking over. In the past year he's released the well-received mixtape See Me On Top IV, followed closely by his second album with Def Jam, last November's Cadillactica, which peaked at No. 1 on both the Billboard U.S. Rap and R&B charts. His song "Saturdays = Celebration" found its way into the trailer for the hit movie Sicario and the rapper even made his way down under for his first Australian tour. What's interesting is that he accomplished all this by relinquishing some creative control. Whereas in the past he handled everything about his music, from lyrics to production to mixing and mastering, Cadillactica saw him collaborating with a host of big-name producers, including DJ Khalil, Raphael Saadiq, Alex da Kid and Terrace Martin. The near-universal critical acclaim the album received just goes to show that sometimes it is a good idea to play with others.


SUNDAY, NOVEMBER 8


New Found Glory w/ Yellowcard, Tigers Jaw
The Pageant
8 p.m. | $25-$28
By Arielle Castillo
From The Glory of Love: Punk-pop lifers New Found Glory confound critics by continuing to stay relevant – and produce solid tunes: Its musical style — a fast, pop-punk hybrid with dashes of hardcore — has evolved, but rarely wavered. New Found Glory's success has come from working hard as opposed to trying hard — rather than chasing sub-subgenre trends, the band has mostly stuck to its guns. Consequently, New Found Glory occupies the rarefied privilege of moving units and packing bodies into its shows while still enjoying something of a cult status bolstered by healthy punk-scene cred.


Note: Though we wish we could, we can't feature every great show happening in town in just one post. Look for plenty more recommendations this Friday in our weekend shows post, peruse the St. Louis concert calendar for more ideas and let everyone know what else you're looking forward to seeing this week in the comments below. To be considered for coverage in RFT Music, submit show info online or drop us a line anytime.


RFT MUSIC'S GREATEST HITS
Remembering STLPunk.com — How to View the Site Today and Find Your Old Profile Page
"Where Did My Dick Go?" The Gathering of the Juggalos' Best Overheard Quotations
The Ten Best Dive Bars in St. Louis
The 15 Most Ridiculous Band Promo Photos Ever