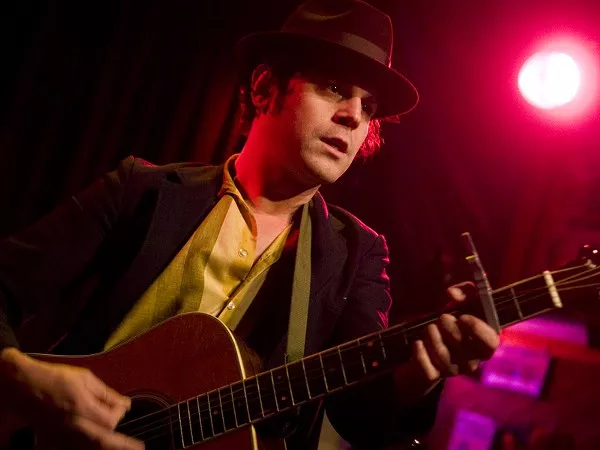 Photo by Jon Gitchoff
Langhorne Slim returns to St. Louis with a show this Friday at the Ready Room.
Halloween is this Saturday, but don't be surprised to see a few ghoulies testing out their digs throughout the week. Concerts are a good place to dress up — after all, most genres have a "uniform" already. Just ahead of their latest record, St. Louis' own Little Big Bangs performs in-store at Vintage Vinyl on Monday. Maybe you like your songs played through a Nintendo Gameboy? Fret not, a chiptunes showcase on Sunday provides the perfect post-Halloween bender.
MONDAY, OCTOBER 26


Little Big Bangs In-Store Performance
Vintage Vinyl
6 p.m. | free
By Christian Schaeffer
From Little Big Bangs Brings Punk Intensity with New Album Star Power: In the two years since Little Big Bangs' self-titled debut, the punk-leaning quartet has only intensified its grasp on how to wrest life from two- and three-minute rock songs. On its second LP, Star Power, the band detonates snide, tuneful bombs that are pressure-loaded with errant melody and lyrical fearlessness amid topics both blasé and bold. Across these twelve tracks, the band works through proto glam-rock, sludgy Pavement riffs, perverted surf-rock jams and many songs that occupy the grungiest corners of pop-punk. Working with Brian Scheffer at Firebrand Recording has given the songs a certain sonic directness while retaining the right amount of grit; this batch of tracks has an expansiveness that's missing from earlier recordings.


WEDNESDAY, OCTOBER 28

Tok w/ Tesla Rossa, Apex Shrine
The Demo
8 p.m. | $10
By Joseph Hess
From Celebrating Twenty Years of Tok & Roll: Modern-day Tok tears through sets with its tongue planted firmly in cheek. Almost every song follows a pattern of classy hooks leading to big buildups that ultimately pay off with an obligatory bitchin' guitar solo. Tok makes its way within rock clichés, still managing to sound distinct despite the genre's trappings. The band doesn't veer off the beaten path, but it certainly blazes a trail.


THURSDAY, OCTOBER 29


Mod Sun w/ New Beat Fund, ALLDAY, Benny Freestyles
The Firebird
7 p.m. | $20
From our interview with Mod Sun published in March:

"I've been touring forever. I started playing drums in bands since I was sixteen years old, playing in front of people, but this is the first time I've ever toured and been able to say a few words and hold the mic. It's incredible, man. It's called the Look Up Tour; it's supporting the album, which [was released] on my birthday, March 10. I'm playing a bunch of new songs out here, but I have an hourlong set, so I'm definitely playing songs that I wrote eight years ago. It's a wonderful mix, but the new album is the music that I always thought I could write. People have been able to watch me develop from when I didn't know what I was doing. It's breathtaking, man; it's been wild. All the new ones, they love them the most already. The reaction to the new ones is definitely what I wanted. It's like the first material of mine that is everything I've wanted it to be."


FRIDAY, OCTOBER 30


Langhorne Slim
The Ready Room
8 p.m. | $15-$18
By Roy Kasten
Settled in Nashville, Tennessee, and newly sober, Langhorne Slim has made the best album of his career in the recently-released The Spirit Moves. From the opening title track, a Pogues-meets-Salvation-Army-band attack that conquers rhythms (and hearts that might fear kicking the juice means kicking his punk past) to the banjo-heralded, restless farewell that closes the album, Sean Scolnick (Slim's birth name) tackles breaking up both with a lover and with his ghosts. He's never feared tears-on-his-boots sentimentality, but now his craft washes all that away. His incorruptible verses and wild, rasping voice remain.


SATURDAY, OCTOBER 31


Twiztid w/ Blaze, Boondox, Prozak, The R.O.C., Wolfpac, Kutt Calhoun, Scum, Trilogy, Freaks R Us, & Kommon Groundz
Pop's Nightclub
6 p.m. | $20-$25
By Daniel Hill
Missed the Gathering of the Juggalos this year? Morbidly curious about wicked clown rap? Well, you're in luck: This Halloween, juggalo favorite Twiztid will bring Blaze Ya Dead Homie and several other Psychopathic Records-affiliated artists to St. Louis for a full night of Faygo and facepaint. Twiztid is generally thought of by fans as the "cool" version of the Insane Clown Posse, if such a thing can be said to exist, so you'll find yourself in the company of the hippest juggalos in town. Bring your mom and dad, and tons of small children.


SUNDAY, NOVEMBER 1


All Saint's Day: A Live 8-Bit / Chiptunes / Retro Synth Experience w/ Solid State Disaster, Awesome Force, Atman, Player 2, Dr. Vinnie Love Groove, Techwood
Cherry Lounge
8 p.m. | $2
By Joseph Hess
Chiptunes tend to get dismissed by the general show-going crowd as "video-game music," and while that's not entirely inaccurate, people who pass off an entire genre of music for its most well-known application are only cheating themselves. Sure, some acts sit behind a simple sequencer and hit play, but many actually perform live with Nintendo Gameboys, jumping through hoops just to achieve that distinct retro-tone. Simply put, the artists here work with the kind of limitations that would scare most songwriters away. Think of these 8-bit songs as abstractions put under the sonic magnifying glass of a large P.A.


Note: Though we wish we could, we can't feature every great show happening in town in just one post. Look for plenty more recommendations this Friday in our weekend shows post, peruse the St. Louis concert calendar for more ideas and let everyone know what else you're looking forward to seeing this week in the comments below. To be considered for coverage in RFT Music, submit show info online or drop us a line anytime.


RFT MUSIC'S GREATEST HITS
Remembering STLPunk.com — How to View the Site Today and Find Your Old Profile Page
"Where Did My Dick Go?" The Gathering of the Juggalos' Best Overheard Quotations
The Ten Best Dive Bars in St. Louis
The 15 Most Ridiculous Band Promo Photos Ever