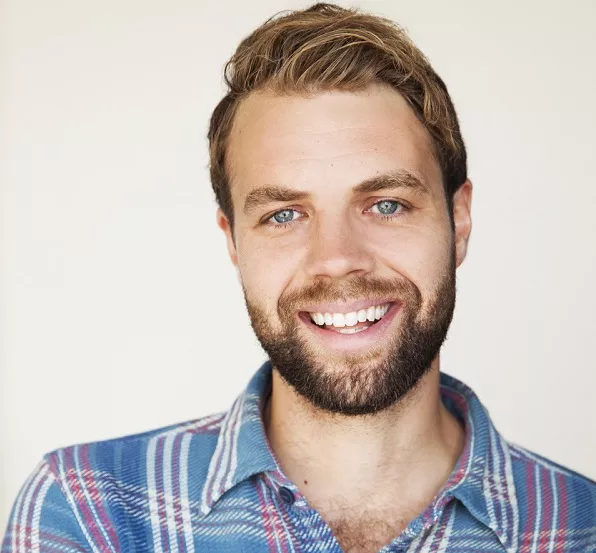 Press photo via Avalon Management
Brooks Wheelan will perform at the Firebird on Sunday, October 18.
Since being fired from
Saturday Night Live
last year, after just one season, Brooks Wheelan has been on a roll. First the funnyman released his debut comedy album
This Is Cool, Right?
in January to considerable acclaim. The album was soon followed by a half-hour special on Comedy Central, a hilarious stumble thru Wheelan's spastic childhood in rural Iowa. Now Wheelan is heading back to "flyover country." Not a man to let himself become stagnant or relish in his accomplishments too long, his "Central American" tour is set to hit the cities and towns in middle America that are too frequently overlooked (or simply ignored).
Fine-tuning his material for a brand new hour, Wheelan won't be delivering a
NOW
compilation of his finest jokes. What you'll see at the Firebird on Sunday, October 18 is the foundation for yet another special. In advance of the show, Wheelan spoke with
Riverfront Times
from his new home in LA about his brief stint in New York as a writer for
SNL
and the doubt that plagues him as a comic.
Kelsey McClure:
Is LA easier for you than New York was?
Brooks Wheelan:
Yeah, but at the same time I'm not on an insane TV show out here in LA — it's much more calm. I moved to New York with the most stressful job I've ever had.
You moved to New York for the job with SNL?
Yeah. I was living in Los Angeles. I still had a day job as a biomedical engineer. They called me to go write there. I moved there in three days and started work. I got off the plane and went to 30 Rock and started writing. It wasn't the easiest transition.
So it wasn't like you had a romantic idea of New York — like a lot of people do — and then it just destroys you. You went because you had a job and just had to accommodate, rather than settle in?
I went there and lived in a hotel. Then found the first apartment I could find, which was in the lower east side of Manhattan. I lived above a methadone clinic. It was gnarly. It was real gnarly.
That does sound tough.


It was great. Now that I don't live there, I have nostalgia for it. Same thing with Iowa. When I lived there I didn't like it. Then when you move, you're like, "It's actually not that bad."
Were you doing comedy while you were living in Iowa, or was that something you started once you moved away?
I was doing comedy. When I turned nineteen I did my first open mic. The goal after the first time I ever did stand-up was to move to New York or LA and become a stand-up comedian. That was always the goal. I did comedy for three years while in Iowa before I moved to LA. I would drive to St. Louis and Kansas City and Chicago to do shows. When I moved down to LA thinking I was a pretty good comedian. Then once I got to LA, I was like, "Oh, no. You're still garbage."

How long did it take you to feel like you were like at par with the other comics?
Five years in. Then I started feeling really confident and started talking about myself. That's when Comedy Central, they pick their "ten comedians to watch," and I got picked. I know I'm funny. There's still a lot of doubt that I don't think ever goes away.
What is your doubt about? Is it about being able to appease a nationwide audience and put out a special, and know that people are going to be into it, or is it that you're going to put out a special and that's going to be the end of the road?
I really don't care about the nationwide audience. You know what I mean? I want to try to get the people I like liking my comedy. Some people don't like my comedy. That's totally OK. I just worry more about the guys I look up to — would they respect what I'm doing? If I saw my own show, would I think it's funny? That's all that I write for.
I bomb sometimes. If there's two or three people in the crowd afterwards that say, "That was the funniest thing we've ever seen." I'm like, "Yes!" That's what I'm going for." People who get it really get it. All I really want is just... I was telling my fiancé the other day; I just hope that if there's ever a room of just comedians, that they'd say, "Yeah, this is funny," as opposed to being like, "That guy sucks." Just respect from your peers is all anybody should ever want at their job.
Brooks Wheelan
8 p.m. Sunday, October 18. The Firebird, 2706 Olive Street. $15. 314-535-0535.