Press photo via Partisan Records
Sarah Versprille and Daniel Hindman, a.k.a. Pure Bathing culture, will perform at the Demo on Monday, October 12.
Don't think because Sarah Versprille and Daniel Hindman have a history performing in the modern folk outfit Vetiver that they don't know how to get their groove on. Kindred musical spirits, the pair left the hipster environs of Brooklyn in 2011 in favor of the more-spacious hipster environs of Portland, and to concentrate on their own band, Pure Bathing Culture. In 2012 the group released its self-titled debut EP, followed by the eddying dizziness of "Pendulum," the lead single from 2013's
Moon Tides
.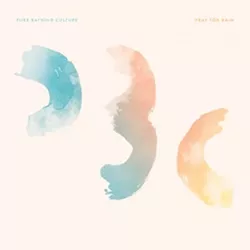 With its second full-length,
Pray for Rain
, the duo has taken the momentum generated from its introductory chapter and built on it, establishing a more organically grown analog maturation. Two tracks in particular cut a swath of melody and harmony: the skippy title track and the thumpy "Palest Pearl," a catchy synthpop tune that takes its inspiration from H.D.'s poem "The Walls Do Not Fall."
Pray for Rain
sees Pure Bathing Culture vacating the textured guitars and ethereal vocals of its first record in favor of bouncier beats seasoned with a tightly paced nostalgic '80s sound, leading to a more robustly uninhibited second effort.
PBC is in the midst of a six-week tour, boldly test- driving its new material before the album drops on October 23. In advance of the group's show at the Demo on October 12, RFT Music spoke with Hindman about making the new record.
"We're really proud of it. We recorded it with John Congleton [St. Vincent, Swans, The Walkmen] in Dallas, Texas," he says. "It's a lot more direct-sounding than our last record. The vocals are a lot higher in the mix. I think it's more of a pop record than our last record was."
While PBC's shift in sound is not seismic, Hindman credits Congleton's involvement for the musical progression.
"[Congleton] really had a vision for it that Sarah and I really responded to," he says. "Him wanting to do it meant a lot to us. We respected his work, so it really started that way and went from there."
Hindman elaborates further on the band's creative process this time around: "Sarah and I really co-write the songs together," he says. "It's not a situation where one of us is a songwriter and the other is a producer, for example. We write everything from the music to the lyrics together. Usually I'll start with something musical and I'll show a fragment to Sarah and we'll move from there. That's how we wrote this record. Pretty much every song works that way."
Interestingly, both Pure Bathing Culture albums sound fundamentally the same, yet different at the same time. This notion is not lost on Hindman.
"It makes complete sense to us. I think it was really interesting making a second record because you hear the different version of the band. And it's still your band, but it's absolutely a different version of your band," he says. "I could see a totally different record for our third record. I don't think we're trying to refine one thing to a final point. I think we're a band that can grow and change.
<!—StartFragment—>"There were a lot of things we really did different with this record," he elaborates. "I didn't layer any of the guitars, and the first record is very layered. There's a lot more reverb on the first record. The drum and bass sounds are a lot bigger on this record with John. That's something that he was wanting from the beginning, was kind of a more powerful, more bigger low end. But there are tracks on this record with a lot more space because of that, because John was strongly sticking to this idea of not having layers, reverb and things like that.<!—EndFragment—>
<!—StartFragment—>With this release, Versprille and Hindman reaffirm their adamant refusal to be labeled, with a strident belief in moving forward freely without compromise or hesitation. The dichotomy of sounds found on their first two albums signals an innovative resiliency that ensures this act is not getting stale anytime soon.<!—EndFragment—>
"It is a different version of us, but it's still us," Hindman says. "And the songs still retain the spirit that is Pure Bathing Culture."
Pure Bathing Culture
8 p.m. Monday, October 12, The Demo 4191 Manchester Avenue. $8 to $10. 314-833-5532