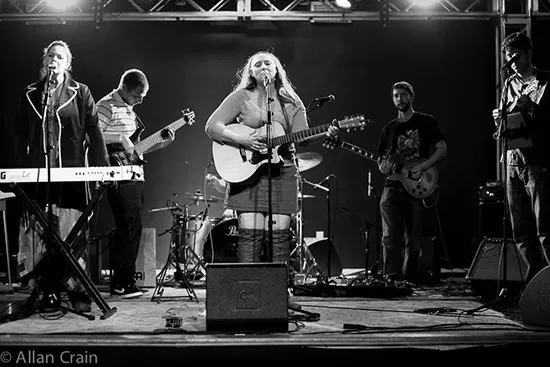 Photo by Allan Crain
The Defeated County releases its new album Bar Tabs and Baby Names this Friday at Foam.
Halloween is more than three weeks away, but Belleville starts the spooky season early with a full weekend of slasher flicks with We Bite! A Tribute to the Misfits at the Skyview drive-in. Between the music video showcase on Friday and four album release shows across the next three days, there's enough local flavor to wash down that horrid pumpkin-spice whatever. Those things are for carving (or smashing), not drinking.


FRIDAY, OCTOBER 9
Alex G
w/ the George Twins
Off Broadway
8 p.m. | $10-$12
Alex G just came through St. Louis in support of grunge rock revivalists Speedy Ortiz, but this night offers the singer-songwriter in a more intimate venue as a headlining act. In 2015, the young artist has gone from Youtube to "you, too" by asking her fanbase to submit their stories. With that broad request in mind, Alex G received well over a thousand submissions and selected five as the basis for each song in her latest EP
Share Your Story
, set to release at the end of this month.
The St. Louis Music Video Showcase
The Luminary
7 p.m. | free
Presented by the brains behind local dubwave band CaveofswordS, this showcase offers music videos from more than 30 local acts ranging from electronic and hip-hop to rock in all its many forms. While the event starts early at 7 p.m., some videos are expected to run at least twice (after the first full cycle, of course). Arrive on time to check out this city's music scene in a nutshell then head out to any of the other shows on this list, or just show up fashionably late. This event is focused on the community first and foremost, with all donations and proceeds going to 88.1 KDHX.
The Defeated County Album Release for Bar Tabs and Baby Names w/ Kid Scientist, Middle Class Fashion
Foam Coffee & Beer
8 p.m. | $10
With the release of its latest record, the Defeated County will have trouble staying our city's best kept secret in Americana. After tonight the truth will be out, so come grab the album for half price and see a stellar local lineup to boot. Astute music fans can sample the new tunes at this link.

Dibiase Album Release for When Everything Means Nothing w/ Ashes And Iron, Path of Might
The Demo
8 p.m. | $8
Both Dibiase and Ashes And Iron share a founding member in David Miller, who returns to the stage on this night to perform one song with each band. Path of Might opens the show with its back-breaking brand of hyperactive metal.

Optimus Rex Album Release for Embers w/ Living Room Lava, Jen Galinski & Taradiddle, Fly Method
Fubar
7 p.m. | $8
The ticket price of eight bucks also includes a copy of Embers on CD. Hear it now ahead of release day at Optimus Rex's bandcamp page.

Slashfest 2015 w/ We Bite! A Tribute to the Misfits
Skyview Drive-In
Oct. 9-11, everyday at 7 p.m. | $10
Several Halloween classics will be shown at the Skyview in Belleville across all three nights this weekend. Family films such as Hocus Pocus will have screen-time alongside classic slasher flicks Halloween and Nightmare On Elm Street. But this is a music guide, right? We Bite! A Tribute to the Misfits lends their stage antics to each night, providing a spooky live show to go with all your fake blood and rubber masks.


SATURDAY, OCTOBER 10

Helmet
The Firebird
9 p.m. | $18-$20
By Daniel Hill
We are officially living in the era of the Twentieth Anniversary Tour. Though the concept is certainly not a new one, it seems like we are approaching critical mass — '90s artists from across all genres are hopping on the trend as their time arises. Earlier this year Raekwon brought Ghostface Killah to the Ready Room for the Only Built for Cuban Linx tour. Garbage started its tour celebrating the release of its debut album (twenty years ago) this week. Even the Spice Girls are getting in on the action, teasing a potential outing next year for the twentieth birthday of "Wannabe." Add alt-metal darling Helmet to the list — Page Hamilton and Co. will be performing the band's 1994 album Betty in its entirety at the Firebird this weekend. Math buffs will note that this is technically 21 years, but will have neglected to realize this is the second year in which the band has embarked on the tour. Sometimes laurels are pretty comfortable, eh?

Trigger 5 Album Release for Am Band
BB's Jazz, Blues & Soups
6:30 p.m. | $10
Vintage country isn't a genre most new bands like to sport (even if they do fit the bill), but Trigger 5 proudly wears that label on its sleeve, which is connected to a blue-collared shirt, no doubt. Ten bucks is a little more than the going rate for a packed show at BB's on the weekend, but early birds can grab the new CD for the price of admission alone. AM Band is the third original studio record from Trigger 5, who gains hard-earned praise every week here in the river city. After this release, the band could earn its accolades beyond the midwest. After all, AM waves can travel farther than FM.


Vibes w/ Arshad Goods, Bryant Stewart, TheePharaoh, Brock Seals, Lottie Denise, Father Phigures, 4Deep, Eddie
2720 Cherokee
7:30 p.m. | $15
Vibes is the brainchild of local artist Jarrel Lawrence, showcasing art and music on the margins of the St. Louis scene. For the event's fourth installment, Lawrence features Zero Fatigue, a creative collective out of Chicago to which he is a member. Read more about the group, its beginnings and goals for the future in this extensive interview by RFT Music contributor Tara Mahadevan.

SUNDAY, OCTOBER 11

Destroyer w/ Jennifer Castle
The Ready Room
8 p.m. | $18-$20
By Christian Schaeffer
Has it really been four years since Destroyer's Kaputt came out? That was the album that managed to solidify Dan Bejar's peculiar genius for lyrical obfuscation amid sensuous, seemingly zeitgeist-tweaking instrumentation. In 2011 that meant Roxy Music synths and Spandeau Ballet saxophones, and this year's excellent Poison Season doesn't so much abandon that palette as it burrows deep inside it. Bejar and his Destroyer cohort array these songs with strings, unmoored synths and horns both brassy and muted, but Bejar's sometimes-laconic, sometimes-stalking delivery remains the undisputed centerpiece. He's a cagey performer — don't look for much banter or fan interaction at this week's show — but it will be fascinating to see the band translate these tapestries in a live setting.

Note: Though we wish we could, we can't feature every great show happening in town in just one post. Peruse the St. Louis concert calendar for more ideas, and let everyone know what else you're looking forward to seeing this weekend in the comments below. To be considered for coverage in RFT Music, submit show info online or drop us a line anytime.


RFT MUSIC'S GREATEST HITS
Remembering STLPunk.com — How to View the Site Today and Find Your Old Profile Page
"Where Did My Dick Go?" The Gathering of the Juggalos' Best Overheard Quotations
The Ten Best Dive Bars in St. Louis
The 15 Most Ridiculous Band Promo Photos Ever
---