Robert Rohe
Pokey LaFarge took the Bud Light stage on Sunday with his trademark, Americana throwback sound.
<!———StartFragment———>
Each year since 2010, LouFest has attracted top-flight national and international acts to St. Louis for a two-day, mid-September music festival in Forest Park — a nearby, less-hellish alternative to big-name festivals such as Lollapalooza, SXSW and Bonnaroo. But the prominence of LouFest's headliners can sometimes obscure the handful of high-quality local acts lucky enough to make the bill. Past entrants include such regional heavyweights as Sleepy Kitty, Tef Poe, So Many Dynamos and Pretty Little Empire.
This year there were three homegrown invitees: the young St. Peters-based pop-rock power trio Clockwork, American Wrestlers — formed barely a year ago but immediately signed to Fat Possum on the strength of its debut self-titled release — and Pokey LaFarge, the elder statesman of the St. Louis delegation. The three acts diverge in history, style and approach, but performed admirably on one of the biggest stages our fair city has to offer.

Riverfront Times spoke to each after their respective sets this weekend.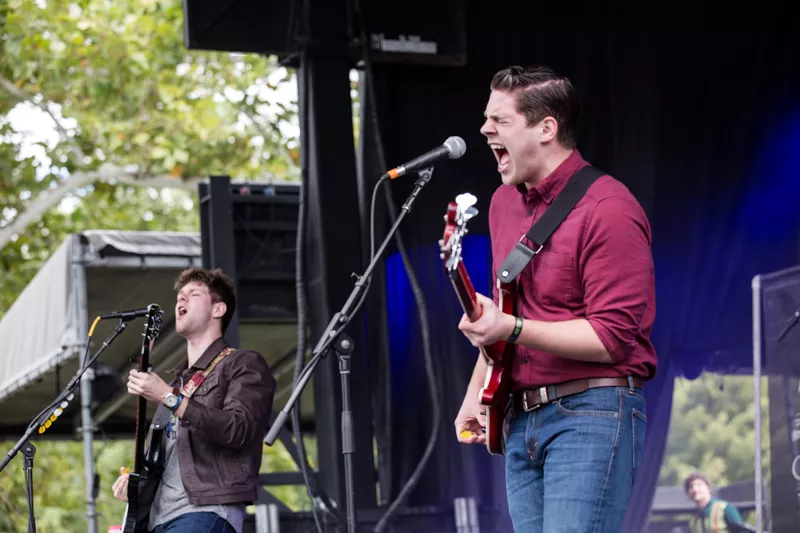 Robert Rohe
Clockwork performing on the Shade Stage on Saturday.
CLOCKWORK


In the last three years, Clockwork has cut two full-length records and made in-roads on the national festival circuit. Former regulars at Blueberry Hill, Old Rock House and the Firebird, the group's spent less time in St. Louis over the last year and only recently returned from the road. For them, LouFest felt like a homecoming.
"Starting out, we'd play St. Louis every weekend," said Jordan Sloan (guitar, vocals), one half of the group's sibling front-line with brother Logan (bass, vocals). "Because we've been playing so much out of town, being able to bring out our family and friends and people we haven't even seen in a year or two was really awesome."
Rounded out by Logan Mohler on drums, the group took the stage Saturday at 2 p.m. (with dueling Rickenbacker six-string and bass guitars) like a young Beatles-Weezer hybrid — full of energy, buzzing distortion and strong vocal harmonies.
"This is a really cool step for us as a band," said Logan Sloan of Clockwork's inclusion in this year's lineup. "We went from playing complete dive bars that no one's ever heard to playing a stage like this over the last three years. And that's just a really, really cool thing for us as a band, is seeing ourselves growing."
Brushing off some early acoustic guitar-related technical difficulties, the band pressed forward with a forceful, all-electric set.


"You never know what's going to happen," said Jordan of the technical snafus. "In the studio, in practice, you can control things so much more, but when you're on stage, you're in the heat of it — you have to just make decisions."
After the set, the band said they looked forward to seeing a number of other festival acts.
"I'm really excited to see Ludacris — I never thought that I would ever be able to say that I was on a bill with Ludacris," said Jordan. "And Jessica Hernandez. I was really excited about that. I actually got nervous when I went to introduce myself because it's a band that I'm really excited to see."
"We fangirl so hard," Mohler said laughing. "We'll open for bands and I'll see someone in the band and be like, 'Do I look OK, do I look OK?'"
And once LouFest ends, what's the next step for Clockwork?
"We have to decide what our real direction is because we're at this crossing point," says Jordan Sloan. "We need to decide if we're getting ready for another record, if we're getting ready for just heavy touring, and are we solid with the way that our sound is? Or do we have some things that we need to do some fine tuning with."
"It's not going to be until we release this third record that it truly shows who we are," adds Mohler.

Click through for American Wrestlers and Pokey LaFarge.

Robert Rohe
American Wrestlers played the Shade stage on Sunday.
AMERICAN WRESTLERS


As previously reported by Riverfront Times' Christian Schaeffer, it's been a wild year for American Wrestlers. The band began last year as the unheralded solo project of Gary McClure, a Scottish native now living in St. Louis' Benton Park neighborhood. McClure's self-recorded, self-titled record — made with found gear, inexpensive pawn shop guitars, a smartphone beat machine and a TASCAM eight-track — hit a nerve with the blogosphere, and the revered Fat Possum Records soon got in touch.
The one-time label of Andrew Bird, the Black Keys and many others offered McClure a two-record deal and the support of a team, and a live band was quickly pieced together via Craigslist ads, Facebook messages and marital connections — his wife Bridgette Imperial plays keyboard and guitar along with bassist Ian Reitz and drummer Josh Van Hoorbeke. They've been on the road since, and only got back to town after a show in Cleveland at 6 a.m. the morning of their 1:45 p.m. LouFest set.
"It's strange. I think our last show was at Foam," McClure said afterward. If you aren't familiar with the Cherokee Street favorite, their coffee's great, but it's tiny (or shall we say intimate?) for a venue. Even early in the day, LouFest was packed. Did the larger setting make a difference for the freshly minted Wrestlers?
"The whole thing is a challenge," said McClure. He's quick to answer with a joke, but admits it's not your average show. "Festivals very rarely work. Every time it just sounds bad and is received badly and feels terrible. But this time, it felt like one of the best shows we've played."
"You just never know what you're going to get," agreed Imperial. "And it's a little bit different just because we're not used to playing for people that we know; we're used to playing for strangers."
Still, they had fun with it and played a tight 45-minute set. The band has seen six drummers come and go in its brief lifespan and is admittedly a work in progress, but their songs, instrument tones and McClure's high-strung, warbly vocals and guitar licks are undeniable. If it's experience the group needs, it will soon get it, as they're on their way to MidPoint and Pygmalion Music Festivals before another venturing out on the band's first tour of the West coast. A contractual blackout period for shows in St. Louis three months before and two months after LouFest means they'll be back in town next on on October 29 at the Billiken Club.
"I think it's an all-ages show. It's only $5, so there's no excuse for people not to come unless they just think we're crap," McClure laughs.

They're not crap — check that out.


Continue on for Pokey LaFarge.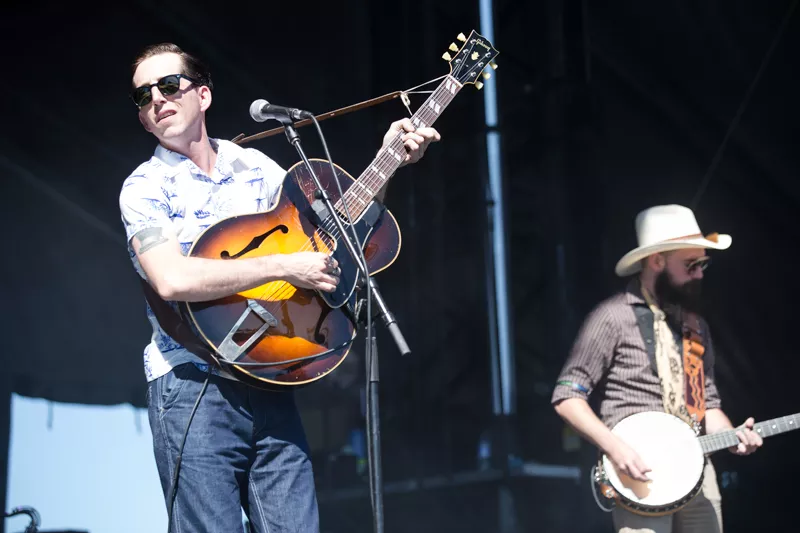 Robert Rohe
Pokey LaFarge
POKEY LAFARGE
Unlike the other two local groups at LouFest, Pokey LaFarge played the festival's main stage and proved his act deserved to be there with a confident, raucous performance to one of the largest crowds of the weekend. Pokey & Co. have been rambling along across the globe for years now, and if you're not familiar with their brand of countrified, hot jazz originals and standards, please take note — Riverfront Times spoke in-depth with LaFarge after the release of his fourth album, Something in the Water, earlier this year. Experienced studio players and festival circuit standbys in the U.S., Europe and Canada, its members are no strangers to this kind of thing. But that doesn't mean it's routine.
"It's certainly not any other gig," said LaFarge after the performance. "Every show can be different, but a festival's different than an indoor show. It's not so much based around listening, so you really have to bring the energy to keep people engaged. You've got pretty ladies walking by, the beautiful day, you've got other stages going on. You have to bring a different approach."
In front of a huge hometown crowd, LaFarge knows there are special circumstances to take into account.
"The fact that it's a local show also just kind of makes it a special occasion," he said. "I think what makes it a different show for us and me in terms of preparation, is also that you know that there's going to be a number of people that have seen you perform before. And that's becoming a nice challenge, actually.
"You have to continue and try to do different things. I'm also a person that wants to play new songs a lot, but I'm also hesitant to do that currently — play new songs in the current format — just because I want to save that for records to come. So you mess with the old songs you've been playing with for a while so that they're new."
LaFarge and his seven-piece group gave a command performance. He was full-throated, sure of himself and constantly engaging the crowd. The horn section blew a wide emotional range, from angry to sweet or funny — some of the melodies literally made the crowd laugh, as if they're being told a joke. Ryan Koenig (harmonica, vocals and washboard) elicited roars of applause with his lightning lip-work. His homemade, Inspector Gadget-inspired washboard breastplate clinked and clanked in time with all manner of apparatus. If he and the band's music is outside of the mainstream of the festival, Pokey's not concerned.
"I don't really want to represent any kind of style. I certainly don't attempt to, because my music is always changing and is going to change even more in the next year or two. You have plans, but some things aren't planned, it has to be natural.
"With that being said, people have only a fraction of my creative side and my voice. It's been successful, whatever it is I've done, but I do want to get involved and get deeper — even more so now that people think they have my classified in this certain thing. I'd want to work even harder to come become even more original and break those classifications down."
So is LaFarge ready to head back to the studio? What's next?
"The act evolves, the show evolves, the music evolves, we evolve as people, and it's important to stay in tune with all that," he said. "Next year we're taking a lot of time off. This year's been insane, a lot of shows. So next year's going to be only like 50 shows the whole year with festivals — writing and recording the whole year, a new record — and really just taking time off and trying to be a regular schmo. Ride my bike, work out, eat right, spend time with family, do all the stuff I never have time to do… And watch a lot of ballgames!"
<!———EndFragment———>