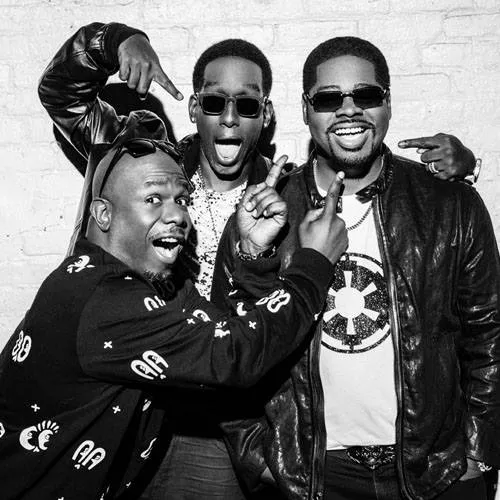 Boyz II Men peforms this Saturday in the third annual Ozzie & Friends concert at the Peabody Opera House.
Something to consider: We are as far away from LouFest as we'll ever be, but stemming post-fest depression is easy with Josh Rouse on Friday or a more intimate show with Horse Feathers Sunday night. This week brings enough nostalgia to kill horse, what with Ace Frehley (of KISS) on Wednesday or Boyz II Men later this weekend. Looking for a party? The Mentors hit Fubar this Thursday with Bonerkill. To those still in recovery mode: Punk rock goes the singer-songwriter route with a dialed-back affair led by the Haddonfield's Daren Gratton on Tuesday — more on that show and more in our guide for the week ahead.


MONDAY, SEPTEMBER 14
The Lighthouse and the Whaler
w/ Born Cages
The Firebird
8 p.m. | $10-$12
By Roy Kasten
With a name as cumbersome and precious as a rejected Hemingway story, the Lighthouse and the Whaler is actually the opposite of rugged minimalism. The Cleveland-based band, led by songwriter Michael LoPresti, wouldn't exist as a strum-and-whoa-oh band without the likes of Arcade Fire, let alone the Lumineers, but onstage the band's unpredictable sense of grandeur can be as fun and freaky as a Flaming Lips show (sans confetti and fake blood). The band's rhythmic shifts, hooky dynamics and pure sense of play dare you to not dance your twee ass off.
TUESDAY, SEPTEMBER 15
Daren Gratton
w/ Bobby Stevens, Matt Harnish, Miles Long, Dan Blake
Foam Coffee & Beer
8 p.m. | $5
By Christian Schaeffer
Sometimes we all need a change of scenery and a break from routine. Songwriters are no different, and every now and again they ditch their bandmates for a chance to stretch outside of their normal gigs. This multi-dude bill at Foam offers a coterie of rock frontmen stripped of their normal trappings. Daren Gratton is best known for his work in the Haddonfields and the Winchester, but his two solo EPs from 2015 pair his punk energy with dialed-back acoustic strums. You know Matt Harnish as the leading force of scene godfather Bunnygrunt, but expect deep cuts and some genre-hopping covers. Bobby Stevens plays alongside Dan Johanning in the Wilderness, but his own compositions (last heard on 2012's winsome
Come One, Come All!
) hew towards Springsteenian rock heroics and dusky twang.
WEDNESDAY, SEPTEMBER 16
Ace Frehley
w/ Divine Sorrow
Pop's Nightclub
7 p.m. | $35
By Michael Alan Goldberg
From
the RFT Music archives
: When I spoke with former KISS drummer Peter Criss last year, he expressed hope that his lifelong pal, former KISS guitarist Ace Frehley, would put out a new album and hit the road because "success really bothers
certain people
" — alluding to Gene Simmons and Paul Stanley. Criss also added, "I'd like to hear him make some noise." Indeed, although the 56-year-old Frehley has been somewhat reclusive since finally parting ways with KISS in 2002, he's making some noise now: He recently revealed that he's finishing up his first solo disc since 1989's
Trouble Walkin'
, and is out touring for the first time in ages. If you go, you'll almost certainly hear some new tunes mixed in with songs from his highly underrated solo career — and maybe a few of the KISS classics he penned (like "Cold Gin"), too.
THURSDAY, SEPTEMBER 17
The Mentors
w/ Adriyel, Bonerkill, Without M.F. Order
Fubar
8:30 p.m. | $10-$12
By Daniel Hill
This show is going to be a bloody fucking mess. Each band on the bill — the Mentors, Without Mother Fucking Order and Bonerkill — subscribe to the G.G. Allin school of thought, which is to say total shock is the order of the day. An over-the-top live show heavy on self-inflicted violence is to be expected. WMFO has played this game in St. Louis to a T for more than a decade; its singer, Captain Perverto, is a former wrestler who encourages audience members to attack him with a staple gun and a variety of other painful implements. Bonerkill is similarly fronted by a wrestler, one Alex "Gunboat" Rudolph, a towering figure with long hair and the overall look of a viking. The Mentors rose to prominence in the mid-'80s when the band's offensive lyrics came under fire by Tipper Gore and her Parents Music Resource Center. Shock rock is an understatement, and Gore's protests only brought the band more attention and a career that has spanned nearly 40 years.
FRIDAY, SEPTEMBER 18
Josh Rouse
Blueberry Hill
8 p.m. | $25
By Roy Kasten
For a brief time, Josh Rouse seemed a safe bet to give Ryan Adams a run for his Westerbergian hopes and despairs. A Midwesterner with a rock-meets-country-meets-folk plaintiveness and a golden, grainy voice, Rouse recorded his first album in a living room on an eight-track. In 1998
Dressed Up Like Nebraska
was the right bummer at the right time, and every album since — including the beautifully textured
Under Cold Blue Stars
and this year's back-to-psychoanalytical-basics
The Embers of Time
— are required late-night, post-whiskey, reflective listening.
SATURDAY, SEPTEMBER 19
Boyz II Men
Peabody Opera House
7:30 p.m. | $38-$78
By Daniel Hill
You have a near-impossible decision to make, fan of radio-ready '90s R&B. Two of your all-time favorites are performing in town tonight, and you must choose wisely or forever live with regret. On the one hand you have Ginuwine, rider of ponies — he will be performing at Lumiere Place. On the other hand there's Boyz II Men, Motownphilly's finest, who will take the stage at the Peabody Opera House as part of the third annual Ozzie & Friends concert. The price of each show is comparable; there will be no easy decisions here. However, one thing tips the situation in favor of the Boyz: All proceeds will benefit the PGA REACH (Recreation, Education, Awareness, Community and Health) initiative, which aims to help keep kids in school and provide recreational and educational facilities for St. Louis-area youth. Go with the good cause. Ginuwine's saddle will still be waiting for you next time around.
SUNDAY, SEPTEMBER 20
Horse Feathers
w/ Scarlet Tanager
Old Rock House
8 p.m. | $13-$15
By Christian Schaeffer
From
the RFT Music Archives
: Singer, songwriter and bandleader Justin Ringle took over a year off from writing, recording and performing in between Horse Feathers' 2012
Cynic's New Year
and the just-released
So It Is With Us
. The time off gave Ringle and his compatriots time to burnish their acoustic-folk roots while deepening the group's approach, specifically with the addition of a full-fledged rhythm section. Ringle maintains his beautifully featherweight vocals but divines a more soulful spirit on the new LP. Note: Though we wish we could, we can't feature every great show happening in town in just one post. Look for plenty more recommendations this Friday in our
weekend shows post
, peruse the
St. Louis concert calendar
for more ideas and let everyone know what else you're looking forward to seeing this week in the comments below. To be considered for coverage in RFT Music,
submit show info online
or
drop us a line
anytime.
RFT MUSIC'S GREATEST HITS
Remembering STLPunk.com — How to View the Site Today and Find Your Old Profile Page
"Where Did My Dick Go?" The Gathering of the Juggalos' Best Overheard Quotations
The Ten Best Dive Bars in St. Louis
The 15 Most Ridiculous Band Promo Photos Ever