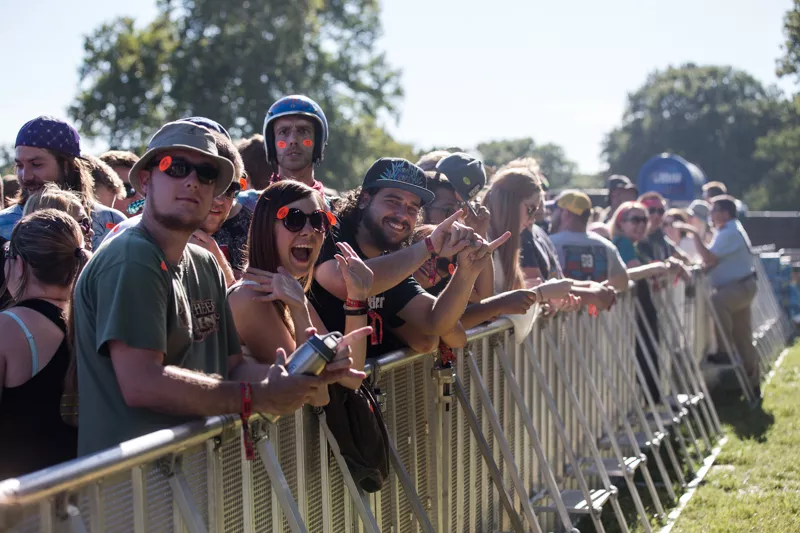 Robert Rohe
You'd hear no lineup complaints from these LouFest fans.
Much ado was made about this year's LouFest lineup, with many complaining that there weren't enough big-name acts or familiar bands on the bill. Those people are unadventurous whiners. Those eager for new music and willing to dig found plenty to get excited about. Here are some of our favorite acts from the festival.
1. Colony House
After a hectic Saturday morning involving double-booking Forest Park for both a high school track-and-field event as well as our own LouFest, things were getting off to a weird start. Thankfully, Colony House was there to help. A fresh-faced band with a U2-emulating sound, Colony House was the first surprise hit of LouFest proper. Not that it should have been a shock, since the group's debut album
When I Was Younger
made a splash last summer and earned it a spot on
Late Night with Seth Meyers
. All the same, due to the stage's location and the band's breezy, effortless indie pop, this Nashville trio was the gentle rocking balm to soothe the frayed nerves of late-arriving festival-goers.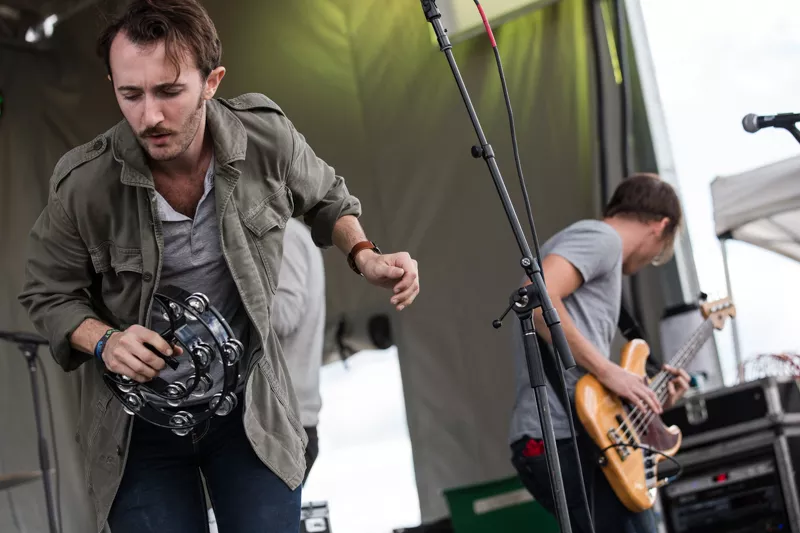 Robert Rohe
Will Horton and Phillip Anderson of the Black Cadillacs. The Black Cadillacs got a late start Saturday but made up for it with a spirited performance.
<!——StartFragment——>
2. Black Cadillacs
It has to be mentioned that Black Cadillacs were 30 minutes late to an hour-long set. Its members managed to still make it, despite a flat tire and the aforementioned track-and-field traffic, as well as getting set up and churning out some dark blues-rock within a few minutes of arriving. The six-piece Tennessee band was in fine form, throwing licks and riffs like confetti and feeding off the impatience of the audience. This meant cutting out the usual pleasantries — less pandering, more guitar-driven rock & roll. And thank god for that.<!——EndFragment——>
3. Blue October
For some megafans, putting this band in the "suprisingly good" list might be akin to heresy, but it'd be a solid wager that most of the festival's attendees couldn't tell you a thing about the twenty year old Houston rock band. When it started making records — an era when "alternative" had a very specific meaning — Blue October began amassing a slow but steady following without much mainstream fanfare. Over the past two decades the group has only released seven albums, and is currently touring in advance of its eighth. As for the performance, it was a full-throated set of fan favorites, overflowing with vigor thanks to lead singer/guitarist Justin Furstenfeld. The mix of grunge-era guitars, unique vocals and gorgeous dynamic shifts was more than enough to grab a sizeable crowd during the early hours of the first day.
Robert Rohe
Steve Stevens and Billy Idol on the Bud Light stage on Sunday.
4. Billy Idol
Again, this might make some people a little angry, but c'mon, Billy Idol (formerly William Broad) has been around the block more times than most. He's pushing 60, his last big radio hits were decades ago and his last good album was probably
Cyberpunk
(and even that is debatable). And yet, Idol continues to sell out tours, make records and make audiences his playthings. His cracking band, including longtime guitarist Steve Stevens, was in fighting shape, blasting out new tunes from Idol's latest record
Kings and Queens of the Underground
and hitting all the right places on the hard-to-define hit "Eyes Without A Face."
5. MisterWives
You can see why this New York pop band's material might not translate into a live setting. Its album
Reflections
has this kind of kitchen-sink approach that would require so many band members on stage to pull off, and its songs are the perfectly skewed kind of on-point indie version of pure pop music that's hard to make happen live. Despite all these seemingly huge obstacles, the band nailed every single song. If you listened closely, you can tell that there was quite a bit of reinvention on the instrumentals, which made the songs different enough from the record to be intriguing. Lead singer Mandy Lee is a born entertainer and damn well owned the stage for an entire hour. <!——EndFragment——>