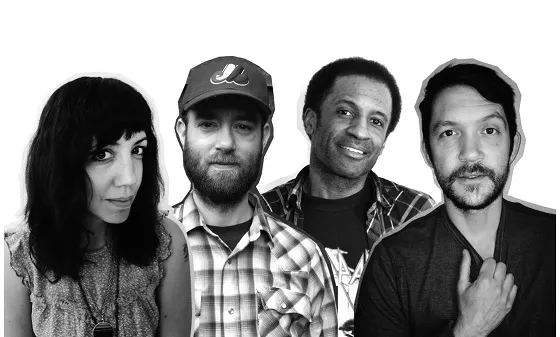 Press photo via official website
The Good Life will perform at Off Broadway this Saturday, September 5.
Tim Kasher never wants to be bored. It's a simple desire, one that keeps him bouncing from project to project, whether its the start-stop punk-meets-whatever thrashing of Cursive, the feel-good pop-rock of the Good Life or the pair of dynamic solo records under his own name. (Not to mention years upon years performing with past projects including Commander Venus, Slowdown Virginia and Polecat.) You can always recognize a Kasher song by its brutally honest, sometimes-dark lyrics and his unique vocal delivery, which always seems to hit the emotional notes like a brick between the eyes.
On the Good Life's new album
Everybody's Coming Down
, the harsh self-critic of old is letting loose a bit and, despite his reputation as a songwriter who wallows in misery, actually having fun. The record has a wispy haze of '90s nostalgia about it, as though Kasher is singing over a lost Pavement record, down to the blissful squeal of the guitars on lead single "Everybody."
Thankfully, Kasher was able to set aside some time to answer a few questions about life on the road, the inspiration for bringing back a band from an almost decade-long hiatus and just what keeps him moving.
Jason Robinson:
So first, the most obvious question : Why bring back the Good Life after a near-decade hiatus?
Tim Kasher: No, that's a good question! And a common question. We've been meaning to get back together, but with all of us having other plates spinning we just had to pick a time to do it. But it took us a little too long to pick that time, I guess.

What does writing a Good Life record entail versus writing a solo record or a Cursive record?

Well, I didn't differentiate much between solo and Good Life when I was writing solo records, but once I came back to this Good Life record I recognized that Good Life might want to be more of a full-blown rock band at this point. Everyone loves playing loud and getting weird with their music in the Good Life, so we decided to roll with that [instead of] creating what might feel like another solo record. If that makes any sense.

This record, in particular lead single "Everybody," has a '90s-alternative sound, even down to your vocal delivery. Was this an intentional callback to a different musical era or purely a function of the tunes as written?



I grew up with '90s alternative — that was my high school and college years, so it has a huge influence on me. I recognized "Everybody" fit that bill fairly well — though I personally think "Forever Coming Down" fits it even closer — so we continued writing the album with that early influential sound in mind. I think I've been trying to get away from that sound for most of my life, as I initially didn't want to overdo it, but for this record it simply felt like a lot of fun and the right thing to do.

On the same note, the album sounds like a just a handful of people who are genuinely friends making music in the same room. How close is the album to what it sounds like in rehearsal?

Well, that may not be too far off. What I hear is each member addressing their respective instrument with a lot of confidence, contributing as much of their own style as possible. I love it, and I think that confidence stems from us being old friends and fully trusting each other with ideas both good and bad.

You're on the road with the Good Life now. What is the worst thing to happen on tour?

Complacency can be a problem. Play too many shows and it can become rote. I desperately want to avoid feeling that way.

If you were offered a large sum of money and told to pick one musical outlet — solo, Cursive, the Good Life or something else — which would you choose to be in for the rest of your life?

Well, I guess I would pick me, as I plan on being with myself until I die anyway.

What's your favorite lyric you've ever written? Conversely, is there one that you look back on now and say, "Oh my god, what was i thinking?"

Favorite lyric? That's a tough question to answer, as it feels boastful. As a full song, I like how the story comes together in "Strays" off of The Game of Monogamy. And sure, there are some bad lyrics out there! Especially in my earlier band, Slowdown Virginia, back in the '90s.

The last time St. Louis got to see you was a while back, about Halloween of 2012 [at Plush with Cursive, opening for Minus the Bear]. Are you looking forward to anything in particular on this trip through?

Quite simply, looking forward to playing Good Life songs there again, as it's been awhile. And it's always exciting to perform the new songs.

<!—————EndFragment—————>
The Good Life
8 p.m. Saturday, September 5. Off Broadway, 3509 Lemp Avenue. $15. 314-773-3363.