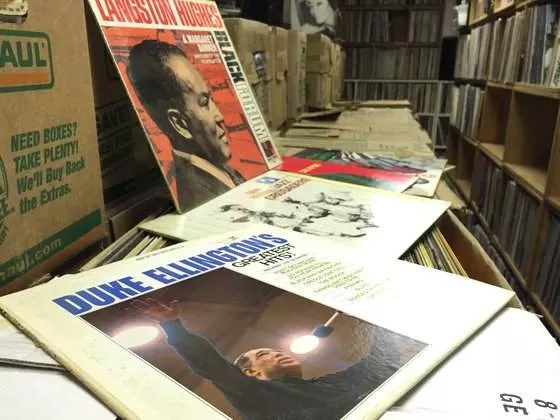 Kevin Korinek
The "Red Vest Sale" will feature thousands of classic jazz records.

Dave Brubeck. Dexter Gordon. Dizzy Gillespie. Grant Green. If you don't know who any of these musicians are, your score at trivia during the lightning round might take a serious hit.
For sixteen years, radio DJ and jazz aficionado Leo Chears hosted a show on Southern Illinois University Edwardsville's 88.7 (WSIE-FM), known as the Jazz Station, during the overnight hours between midnight and 5 a.m. If you lived in St. Louis and tuned in to the lower half of the dial, chances are Leo's husky, baritone register was on your speakers, professing the greatness of the next record he was set to spin.
Chears was so popular in his time he was even featured in ads for Budweiser.

<!——StartFragment——> Known far and wide as "the man in the red vest," Chears collected nearly 30,000 albums during the course of his 40-year broadcasting career, many of which he used to help supplement the station's existing collection. By the time he passed away in 2006, he was a widely-respected authority on the genre, having interviewed Ray Charles, Billy Eckstine, Clark Terry and many more. He was all jazz, all the time.





For years, the Chears estate held on to a majority of his vinyl collection, donating a large portion to the SIUE Lovejoy Library. But now Euclid Records owner Joe Schwab has acquired the remainder, and plans to get it back into the hands of music fans this Saturday. In an event dubbed "The Red Vest Sale," thousands of classic jazz, swing, soul and blues LPs will be priced to move — $2 apiece or three for $5.


"It's really just to give everybody the chance, who is interested in learning about jazz or building up their jazz collections, to do it on the cheap," Schwab says. A longtime fan of the music with a self-described "good ear," Schwab hates to see the collection go to waste. He hopes the sale of Chears' record collection will be a siren call to those who are interested in more of a deep-dive of the American genre.

"We've been seeing a slow decline in jazz sales overall, but I think it's just because more young people aren't getting into it," he says.

Though you won't find any original Blue Note pressings, the entire collection is still a sight to behold — nearly 7,000 records collected by one of St. Louis's most beloved music historians, ready to be picked over by jazz and vinyl enthusiasts. Go and find a stackful of wax that belonged to the man in the red vest and spin it till dawn, then sign off the way he used to at the end of every show: with a "Good night and good morning."




The Red Vest Sale begins Saturday, September 5th at 10 a.m. Euclid Records is located at 19 North Gore Avenue in Webster Groves.



<!——EndFragment——>