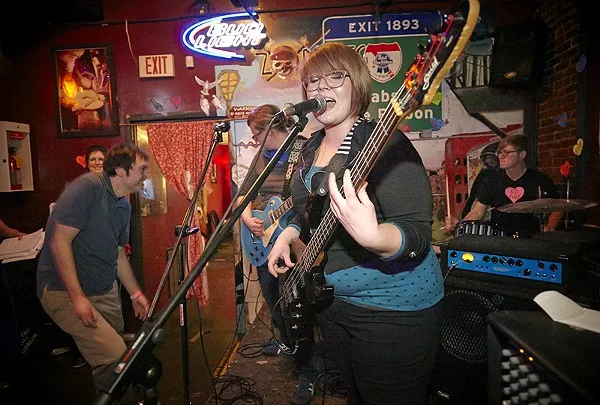 Photo by Steve Truesdell
Local power-trio DinoFight! performs twice this week: Monday at Foam and Saturday at the Ready Room as part of Rock U Fest 2015.
The week brings a solid lineup of touring acts at smaller venues around town such as Dana from Ohio, who bring sewer-born garage rock to Foam on Monday. Hard Working Americans might be the pinnacle of dull band names, but the group is practically a dream team of jam band vets with members from Widespread Panic and Great American Taxi. If your brain isn't worn to a fine dust by 7 Seconds on Thursday night, the weekend ahead brings two festivals with Rock U Fest and Heatwave over at Pop's.
MONDAY, AUGUST 24
Dana

w/ Dinofight!, The Ultraviolents
Foam Coffee & Beer
8 p.m. | $5
By Joseph Hess
When Dana isn't calling on the backlogs of bands like Pere Ubu and Gun Club for covers, its own songs drive discordant rock through the dirt. Bits and pieces of no-wave stick to otherwise catchy licks, owing mostly to guitarist Bobb Hatt, whose own work as a noise artist precedes Dana by several years. This is the first of two Dinofight! shows in the week ahead — arrive on time for the power trio's pop-infused punk.
TUESDAY, AUGUST 25
Hard Working Americans

w/ The Steepwater Band
Old Rock House
8 p.m. | $25-$28
By Roy Kasten
Supergroups tend to take themselves too seriously or too blithely. Hard Working Americans — a band featuring Nashville outsider Todd Snider, Widespread Panic's Dave Schools, veteran alt-country guitarist Neal Casal, Great American Taxi's Chad Staehly, steel guitarist Jesse Aycock and drummer Duane Trucks, kid brother of Derek — takes itself for what it is: six buds who mostly cover artists they admire. That includes everyone from Randy Newman to Gillian Welch to the Bottle Rockets. The populist streak of the group's stoned, rootsy rock & roll never sounds preachy. The band has far too much fun — and far too much weed — to succumb to political grandeur.
WEDNESDAY, AUGUST 26
Trauma Harness

w/ Health Problems, The Crisis
Foam Coffee & Beer
8 p.m. | $5
By Josh Levi

From
Punk: Meet the 2014 RFT Music Award Nominees:
Trauma Harness may just be one of St. Louis' best-kept secrets. For years now the angular trio of Jenkins, Peterson and Birkner has produced an infectious brand of downer post-punk that would send any fan of the Fall or Wire running for the merch table. Through excellent musicianship and a crystallization of its power-pop and art-punk influences, Trauma Harness has proven to be one of the most interesting (if not overlooked) acts in the city. Whether ripping a virulent set of original songs or entering uncharted territory with an all-synth set, the band continue to set a new standard for creativity and sonic communion.
THURSDAY, AUGUST 27
7 Seconds

w/ Bishops Green, Success
The Demo
7 p.m. | $15
By Daniel Hill
When legendary Reno hardcore band 7 Seconds came to St. Louis this time last year, Kevin Seconds was nursing a bum knee – an injury that occurred onstage in LA when the frontman jumped in the air and landed funny. The 53-year-old singer suffered a torn meniscus (not his first) and some broken cartilage, but against his doctor's orders he carried on with the tour that would bring his band to Fubar — all he asked for was a little mercy from the band's notoriously rowdy fans. This time around the band is touring with a clean bill of health — though maybe you should still cut him some slack. "Young 'Til I Die" is a nice thought and all, until your body starts failing you.
FRIDAY, AUGUST 28
Pretty Little Empire

w/ The Lonesome Heroes, Town Cars
The Bootleg
9 p.m. | $8
By Christian Schaeffer
Justin Johnson never sits still for too long. The singer, guitarist and songwriter of Pretty Little Empire has made three albums with his bandmates while finding time to start two side projects: the Jump Starts (with drummer Sarah Ross) and the Fog Lights (with guitarist and vocalist Jim Peters), the latter of which just released its debut album. But Pretty Little Empire remains Johnson's most direct vehicle for his heart-on-sleeve, sweat-soaked songs. Credit goes to his bandmates — guitarist Will Godfred, bassist Wade Durbin and drummer Jason Potter — for painting these songs with broad, rich strokes of Midwest twang, rock swagger and pop dynamics.
SATURDAY, AUGUST 29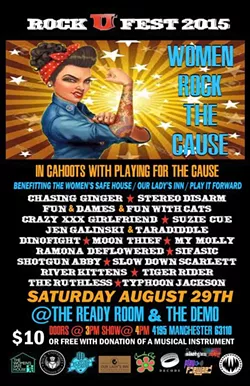 Rock U Fest 2015
w/ SIFASIC, Dinofight, Crazy XXX Girlfriend, Suzie Cue and many more
The Ready Room
&
The Demo
4 p.m. | $10
By Joseph Hess
An all-inclusive benefit for the Women's Safe House, Our Lady's Inn and Play It Forward, Rock U Fest brings nearly 20 bands together across two stages at the Ready Room and Demo (connected on Manchester Avenue by Music Record Shop). A collaboration with
Playing For The Cause
, this event aims to raise money for women in need while highlighting female artists across many genres.
SUNDAY, AUGUST 30
Tropical Storm (Final Show)
w/ Axe Ripper, Bong Threat, Piss Machines
Fubar
7 p.m. | $10
By Joseph Hess
Maybe the polar opposite of the night before, this event promises a drunken, knock-down, drag-out show of thrash metal and stoner rock. Tropical Storm's singer Justin Poole, otherwise known as the
self-proclaimed "King of Thrash,"
helms a sinking ship for his own band's burial at sea. His own
Youtube page shows a list of videos
that haven't quite gone viral, but hey, A for effort, right? Regardless, Tropical Storm brings a tight metal mess to the stage for one last time while stand-up comics Brandon Judd and Stryker Spurlock break up the action — possibly to roast the King himself.

Note: Though we wish we could, we can't feature every great show happening in town in just one post. Look for plenty more recommendations this Friday in our weekend shows post, peruse the St. Louis concert calendar for more ideas and let everyone know what else you're looking forward to seeing this week in the comments below. To be considered for coverage in RFT Music, submit show info online or drop us a line anytime.


RFT MUSIC'S GREATEST HITS
Remembering STLPunk.com — How to View the Site Today and Find Your Old Profile Page
"Where Did My Dick Go?" The Gathering of the Juggalos' Best Overheard Quotations
The Ten Best Dive Bars in St. Louis T
he 15 Most Ridiculous Band Promo Photos Ever