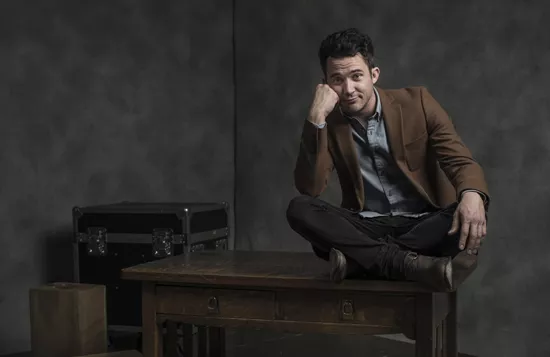 Brian Kelly
Justin Willman will perform at the Pageant this Saturday, August 22.
Comedy and Magic are usually kept in two separate boxes, never to be combined. But why?. A joke, in a sense, is an act of magic. The setup is the reality of a situation and the punch line is the carefully crafted illusion— just as a magician holds a handkerchief, explains it's just like any other handkerchief, and then shakes a canary out of it.
As a kid, seeing your uncle (seemingly) remove his thumb was fascinating — but then you learn a thing or two and the novelty wears off. Magic prevails in the unknown, just like comedy. A chicken can only cross the road so many times.
Magician Justin Willman believes the barrier between comedy and magic should be more of a line to dance across, as opposed to a wall to climb.

"It's a paradox, because in comedy you want to be authentic and honest, yet with magic there's always a lie being told," he says. "However, comedy is often specific and can cater to certain tastes, while magic is a universal language. I like the audience to think of me as a that funny friend of theirs who also happens to know a bunch of crazy-ass magic."
Entertainment comes in many forms and quite often humor is both the driving force and means to an end. But as Willman alluded, pigeon-holing an act into a genre or category leaves a lot of opportunity for missing out. However the means to its end, whether you want to call it standup, sketch or improv, laughter is the goal. From a small circle of friends to a sold-out theater, the vehicle to laughter ranges from an untimely bodily function to a meticulously crafted joke — or in Willman's case, a trick.

And yes, we asked: Willman prefers the word "trick" as opposed to "illusion" even though "trick" can embody the negative connotations of a power relationship. (Plus, Will Arnett's character on Arrested Development, the aspiring magician Gob, has monopolized the term "illusions.")

"All an audience wants is a great show," Willman says. "And that can come in so many forms. There are so many brilliant comics who can spellbind an audience with nothing more than a microphone. And the fact that guys like Louie, Gaffigan and Aziz can sell out a stadium solo is just a testament to how big comedy is these days.

"I'm a little different, because people know I'm a magician as well as a comic,' he adds. "So they expect to see a little more than just a man and a microphone. But they don't really know what to expect other than that, and I prefer it that way."


The process by which laughter becomes pure entertainment is a daunting task, and only the resilient prevail. Comics will bomb for years, relentlessly attending open mic after open mic to tailor their craft. For a magician, though, it's another game entirely.

"Sadly there's not really a magic open mic — you just have to get out there in the real world and hone through trial and error," Willman explains. "When I'm working on new stuff I'll often pop into comedy open mics to get routines up on their feet. Trying out new magic is different from trying out a new joke though, because if a joke bombs or just doesn't work, you just move on to the next bit, get the laugh back and no big deal. But if you're trying out a new trick and it doesn't work, or the method is accidentally exposed, it's as if your dick fell out of your pants. It sucks the air out of the room, gets super awkward, and is hard to recover from.

"Which means the magic side of a new bit has to be super tight and honed well before it gets on stage for the first time," he continues. "Then the next task is working out how to make the bit funny and tight. It's a two-fold process."


Willman's goal is to take you back to the time when labels, genres and categorizes weren't so much of a concern — when a joke was either funny or not, and a trick meant nothing more than being fooled but not being made a fool.

"There's certainly an emotional element to my show as well. As a magician my job is to give the audience moments of wonder and mystery, and that often takes them back to the feelings they felt as a kid," he says. "The juxtaposition of childlike wonder with edgy comedy is my sweet spot. You'd think they'd be conflicting emotions, but they coalesce nicely."


Justin Willman
8 p.m. Saturday, August 22. The Pageant, 6161 Delmar Boulevard. $25. 314-726-6161.