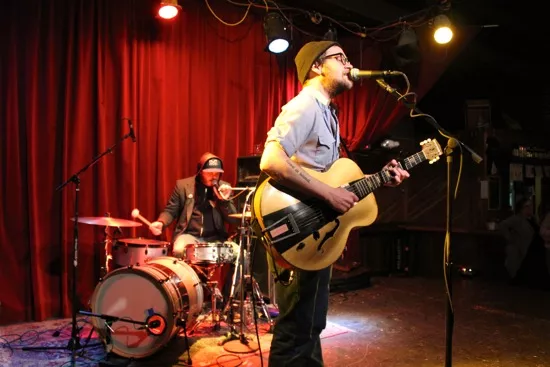 Photo by Kiernan Maletsky
Water Liars returns to St. Louis this Wednesday alongside locals Bo and the Locomotive.
Though I'm sure there are scores of RFT Music readers out there, I doubt many of you noticed my absence last week. Well, I was on a much needed vacay (that's shorthand for "vacation"), crashing concerts and surfing couches. In my travels I saw two bands of special note: Lair and Animal Lover. Hit the links for music, but be warned Both bands sit firmly in the weirdo-rock realm. In local news, punk bands are uniting this Saturday for a fundraiser show for a skatepark embedded within an old hollowed-out church.
MONDAY, AUGUST 17
NOTS w/ Trampoline Team, Blind Dog, Veil, Soda Boys Monday, August 17 Foam Coffee & Beer 8:30 p.m. | $7 By Joseph Hess NOTS takes the trash from the garage (rock) to the back alley and makes treasure out of golden riffs. The formula is fairly simple, but that's kind of how this works. There's not a single ounce of pretension, only good hooks and rhythmic shrieking that recalls a young Lydia Lunch, but thankfully not to a fault. This band keeps things flat and two-dimensional, making for songs that are sharp and biting yet easy to read for all levels of music literacy.
TUESDAY, AUGUST 18
Peter Frampton Tuesday, August 18 River City Casino & Hotel 8 p.m. | $49.50-$100 By Alex Weir Peter Frampton was an early bloomer. In 1969, at eighteen, he was a founding member of Humble Pie. After a couple successful years the Essex rockers were increasingly becoming Steve Marriott's hard-boogie vehicle, whereupon Pete split. He did premium session work; he cut a few solo albums. None did much sales-wise. Then the 800-pound gorilla crashed into the room. The animal in question, 1976's Frampton Comes Alive, was famished. It ate record buyers' money. It never stopped eating. Comes Alive sold 6 million copies, and Peter Frampton became a household name -- because his frickin' album was in every American house. It's easy to overlook how good this famous record is, and how tasteful, melodic, and song-serving a guitarist Frampton always is, but listen to it again and get reminded.
WEDNESDAY, AUGUST 19
Water Liars w/ Bo and the Locomotive Wednesday, August 19 Off Broadway 9 p.m. | $10-$12 By Roy Kasten As much as some may dread the admission, Justin Kinkel-Schuster, primary songwriter and singer of defunct St. Louis band Theodore, has truly found his voice and vision by leaving this city behind and starting over in the South as one half of Water Liars. Along with drummer Andrew Bryant, and now-bassist GR Robinson, Kinkel-Schuster tempers his literary inclinations (the band is named after a Barry Hannah story) with savage rock rhythms and skewed noises, without losing the lyrical grace or melodic allure that's always distinguished his music. Water Liars is a true band now, and it's one of the most potent live trios on the road today.
See also: Water Liars Return to St. Louis, Where It All Began
THURSDAY, AUGUST 20
Skarekrau Radio w/ Okendo, Strong Force Thursday, August 20 Schlafly Tap Room 9 p.m. | free By Joseph Hess No-wave tends to work as anti-music, a reaction to pop music slathered in classy hooks. The wondrous prog of yore dared not mix with the rough edges of hairy music from the outer crust. Skarekrau Radio is a cult under the pretenses of fantastical rock and experimental sludge. Calling on the shrieking feminine voices of the New York underground, this Midwestern troupe is as whimsical as it is appalling, with soundscapes balancing the inane and bizarre.
Okendo is the solo effort of one J.J. Hamon, the solid bedrock under such bands Demonlover, Magic City and the aforementioned Theodore. Sam Clapp's brainchild Strong Force can be a one-man act or a full on band, depending on the show. Either way, his songs permeate through wiry psych-riffs and enough reverb to drown a horse.
Read on for the best shows in town this weekend. FRIDAY, AUGUST 21
Party Time at the Church of Sk8tan Friday, August 21 Sk8 Liborius 7 p.m. | $5 By Daniel Hill This is one of those shows for which the venue itself is half the appeal. Sure, the entertainment is solid -- artists from as far as New Zealand, Texas and Tennessee will perform alongside up-and-coming St. Louis-based acts, the majority of them punk-influenced in on way or another -- but the Church of Sk8tan (or Sk8 Liborius, as it is sometimes called) is a true gem. An actual, legit church that has been taken over by skateboarders. Sk8 Liborius has ramps built in the area that would have once held the congregation, stretching all the way up onto the altar. Brought to you by the same folks who converted the space beneath the Kingshighway bridge into a guerrilla skate park, it is a one-of-a-kind space that must be seen to be believed.
SATURDAY, AUGUST 22
Michael McDonald w/ Brian Owens Saturday, August 22 The Sheldon 7 p.m. | $79 By Christian Schaeffer Up until about a year ago, Michael McDonald was the most famous export to come out of Ferguson, Missouri. His history as a vocalist in Steely Dan, the Doobie Brothers and his solo work is written all over rock radio of yore, and his late-career covers of Motown and soul classics underlined why his are the only blue eyes that matter in blue-eyed soul. Expect an intimate, career-spanning set with, hopefully, some tributes to the sounds (and the city) that formed him.
SUNDAY, AUGUST 23
Tunic w/ Skin Tags, Ish,Cadenaxo Sunday, August 23 Foam Coffee & Beer 8 p.m. | $5 By Joseph Hess Before calling Tunic noise rock, it's important to note that the genre has two pretty distinct schools of thought. The first being noise rock, where the former half is emphasized, bringing atonal sections either through guitar or some other kind of electronic accompaniment. Bands in this camp emphasize the way everything sounds with less focus on structure or traditional songwriting. The band in question, Tunic, is of the noise rock ilk, which drags otherwise heavy riffs through an audible muck, slotting its bursts of sound into tight, discernible tracks. While we could sit here and educate you on the nuances of the whole genre, we recommend just seeing Tunic live and in-person.
Note: Though we wish we could, we can't feature every great show happening in town in just one post. Look for plenty more recommendations this Friday in our weekend shows post, peruse the St. Louis concert calendar for more ideas and let everyone know what else you're looking forward to seeing this week in the comments below. To be considered for coverage in RFT Music, submit show info online or drop us a line anytime.
RFT MUSIC'S GREATEST HITS
Remembering STLPunk.com -- How to View the Site Today and Find Your Old Profile Page "Where Did My Dick Go?" The Gathering of the Juggalos' Best Overheard Quotations The Ten Best Dive Bars in St. Louis The 15 Most Ridiculous Band Promo Photos Ever