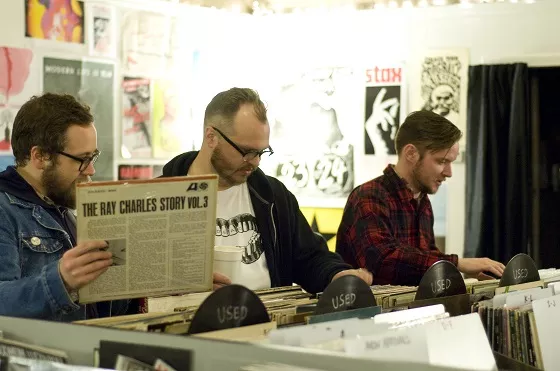 Press photo via Cobra Camanda Publicity
Water Liars will perform at Off Broadway on Wednesday, August 19.
Water Liars is what would happen if you took a band from fabled D.C. punk label Dischord, ran it through a whiskey distillery and then force-fed it a steady diet of Americana.
That is to say, the group is a sometimes-jarring combination of punk ethos and fragile folk, all wrapped around lyrics which are, like the music itself, partly graceful and party brutal. The influence from Dischord is not a coincidence, according to lead singer/songwriter Justin Kinkel-Schuster, who says all the members of the band grew up on the likes of Fugazi, Minor Threat, Lungfish and "a ton of other stuff from that vintage."
That said, how does one reconcile such disparate influences when writing a record? Kinkel-Schuster makes it seem easy.
"It's usually just that the song comes in the form it needs, and we are sort of drawing from the mental Rolodex of our influences and experiences, and whatever impulses toward originality we may possess to put together the right clothes for the naked song," he says.
"That may be a record for mixing metaphors, right there."
Water Liars got its start with Kinkel-Schuster, who was in beloved St. Louis folk-punk band Theodore in the mid-2000s. Theodore opened a show for drummer/backup vocalist/producer Andrew Bryant's band the Gunshy, and the two immediately connected, which led to a few shows as Water Liars.
The name Water Liars is the title of a short story by Barry Hannah full of paranoia, lust, pain and longing, and which ends with the phrase "We were both crucified by the truth." Inspired, the duo set out to create music to match. Kinkel-Schuster traveled to Bryant's hometown in Water Valley, Mississippi, to write some songs. Those efforts coalesced in the gritty, warts-and-all record Phantom Limb, which was recorded in three days with only one microphone. That following year, Water Liars opened for beloved bookish folk-rock band the Mountain Goats at Washington University's venue the Gargoyle.
"I remember that show," Kinkel-Schuster recalls. "It was one of the first shows we did after our first record came out. We had done the first tour in March, and then that show was in April."
When asked if he was intimidated to be on the same bill with a band whose fan base has such slavish devotion, he says, "I don't recall feeling intimidated. We're all just people."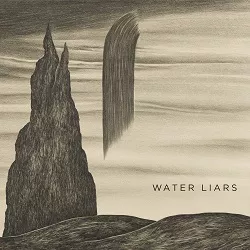 With that experience under their belts, Kinkel-Schuster and Bryant followed up Phantom Limb with an expansive suite of two records: 2013's Wyoming, which featured Drive-By Truckers bassist Matt Patton, and 2014's Water Liars, which is the first of the group's albums to include touring bassist GR Robinson.
Each record widened the band's scope through new instrumentation and sounds. The records became less influenced by punk angst and more by the breezy AM Gold of America and the simmering quiet of Spain -- all the while expanding the group's use of haunting two-part harmonies, which sound effortlessly timeless.
No doubt, timelessness is achieved with heart-aching aplomb on the band's entire body of work -- which is growing steadily, according to Kinkel-Schuster.
"We're in the process of finishing post-production and all of the thousand details that need to come into place for the release of the next record, which we finished tracking in June," he says.
In the meantime, Water Liars will continue touring, including a St. Louis stop this week.
"It's always nice to come back to St. Louis, and particularly Off Broadway, as Steve and the gang over there have been kind and staunch supporters from day one," he says. "It's always an honor and a pleasure."
Water Liars 9 p.m. Wednesday, August 19. Off Broadway, 3509 Lemp Avenue. $10 to $12. 314-773-3363.
---