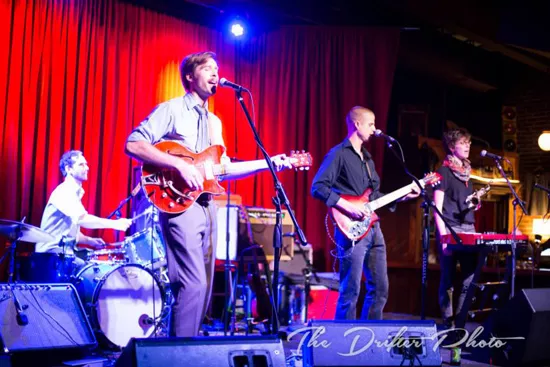 Courtesy of The Drifter Photo
Last to Show First to Go will play its last show this Friday at the Bootleg.
Another solid week of shows in St. Louis: Tuesday brings the twee stylings of LA's Girlpool to Foam, My Morning Jacket will stop by on Wednesday to pack the Peabody Opera House and Last to Show First to Go will make its last stand on Friday. Lots more to see and do as well -- click through for our full list of picks.
MONDAY, AUGUST 10
Soulard Blues Band Monday, August 10 Broadway Oyster Bar 9 p.m. | $5 By Roy Kasten One day, dear reader, the Soulard Blues Band will be no more. It's just a fact. And one day you'll wonder why, despite all the opportunities every other day of the week, you never saw this St. Louis institution in its prime -- and no, the band's prime ain't over. If somehow you've never danced your ass off when Art Dwyer lays down a bass line as smooth as crushed velvet, or when Marty Abdullah swings his phrasing on "Kansas City Blues" or "Dust My Broom," or when Tom Maloney plays a solo that would make his mentor (the late, great Benny Smith) smile, well you really should. Don't take this band for granted. Pay your respects soon; they've been earned.
TUESDAY, AUGUST 11
Girlpool Tuesday, August 11 Foam Coffee & Beer 7 p.m. | $5 By Christian Schaeffer You don't have to dig too deep to pull out the adjective "child-like" to describe Girlpool. The drummer-less duo of Cleo Tucker and Harmony Tividad titled its debut Before the World Was Big -- its title track is a paean to uncomplicated youth -- and the album's cover art depicts a boy and girl making their own universe of Lego bricks. But the pair's twinned vocals and open-hearted lyrics transmit a certain twee naivete that is matched with a keen eye for site-specific details and sharp ear for big-hearted, do-it-yourself pop.
WEDNESDAY, AUGUST 12
My Morning Jacket Wednesday, August 12 Peabody Opera House 7:30 p.m. | $55 By Kiernan Maletsky from this 2012 review My Morning Jacket has attained something of a legendary status as a live band. Its arsenal is impressive: A catalogue of diverse music bound by propulsive riffs and melodies with the strength and approximate effect of bong hits. And I -- not a huge fan of weed in general and absolutely not of stoner culture -- mean that in the best possible way. Why take drugs when you can just go to a MMJ show?
THURSDAY, AUGUST 13
Gillian Welch Thursday, August 13 The Sheldon Concert Hall 8 p.m. | $35-$38 By Roy Kasten The last time Gillian Welch and David Rawlings came to town was under the banner of the Dave Rawlings Machine, the guitarist's rotating cast of singers and instrumentalists who help prop up his collection of originals and inspired covers. Last June's show featured help from former Old Crow Medicine Show member Willie Watson and Led Zeppelin's John Paul Jones on mandolin -- an odd combo that combined for a night of spirited Americana. For Welch and Rawlings' return to the Sheldon's stage, her songs will be front and center once again, and Welch's peerless songbook (and Rawlings' inimitable guitar work) will no doubt ring out from the intimate, sonically lush venue.
Follow through for more concerts in and around St. Louis this weekend. FRIDAY, AUGUST 14
Last to Show First to Go Farewell Show Friday, August 14 The Bootleg 9 p.m. | $10 By Allison Babka Last to Show First to Go defies categorization. The band expertly shifts from folk to alt-country to rock during any concert, on any album and even during any song. It's a lot of ground to cover, but singer/guitarist Bredon Jones' lyrics about life's messes tie everything together. Under the layers of guitar, cello, percussion, harmonica and trumpet, Jones' words offer sadness, cautionary tales and doubt without being dreary. It's transcontinental, thoughtful road-trip stuff, and at its heart, it gets at what "Americana" means after all. See the band off for one last time at this show before it breaks up forever.
SATURDAY, AUGUST 15
Authority Zero Saturday, August 15 Fubar 8 p.m. | $13-$15 By Bob McMahon from this show review Authority Zero brought serious chops to the proceedings as drummer Chris Bartholomew and bassist Jeremy Wood shifted effortlessly between full-throttle, double bass-drum workout punk to up-tempo ska, sometimes mid-song. Brandon Landelius kept pace with solid guitar work and took advantage of two small opportunities to cut loose with skillful, head-banging solos. But singer Jason DeVore was the star of the night, running around stage spitting growly but tuneful lyrics at a superhuman rate (Twista would be impressed at how fast he sings). The band kept the tempo and energy kicking throughout the night, wowing a roaring pit with screaming renditions of such favorites as "A Passage In Time" and "Retreat," but the highlight of the set came in the slower desert skank of "One More Minute."
SUNDAY, AUGUST 16
Bad Taste w/ Lumpy & the Dumpers, Shitstorm, Cardiac Arrest Sunday, August 16 Foam Coffee & Beer 5 p.m. | $5 By Daniel Hill What a lineup! Carbondale, Illinois' Bad Taste plays straightforward punk that brings to mind classic Black Flag records, but with a subtle rock twist to keep things interesting. Joining the group will be Lumpy & the Dumpers (St. Louis' premier purveyors of slime-covered punk), Shitstorm (local garage-rock highly suitable for ass-shaking and head-nodding) and Cardiac Arrest (St. Louis' long-running hardcore band -- watch for a sick cover of Poison Idea's "Just to Get Away"), making for a rock-solid affair sure to leave you sweaty and satisfied. Frequent attendees of punk shows are well aware of the phenomenon that is "punk time," which is defined as "when the show starts a full two hours after advertised." This one is an early show on a tight schedule, though. Arrive on time or miss out.
Note: Though we wish we could, we can't feature every great show happening in town in just one post. Look for plenty more recommendations this Friday in our weekend shows post, peruse the St. Louis concert calendar for more ideas and let everyone know what else you're looking forward to seeing this week in the comments below. To be considered for coverage in RFT Music, submit show info online or drop us a line anytime.
RFT MUSIC'S GREATEST HITS
Remembering STLPunk.com -- How to View the Site Today and Find Your Old Profile Page "Where Did My Dick Go?" The Gathering of the Juggalos' Best Overheard Quotations The Ten Best Dive Bars in St. Louis The 15 Most Ridiculous Band Promo Photos Ever