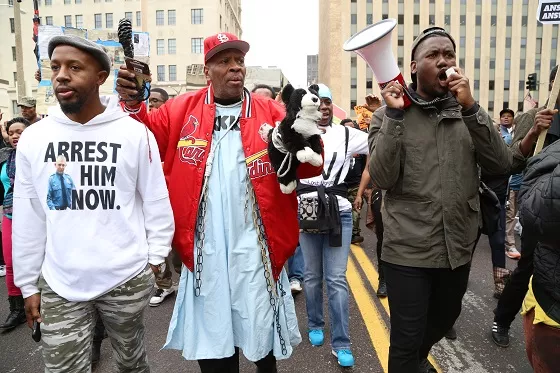 Christopher Hazou
Rapper/activist Tef Poe, right, helps lead protesters on a March through downtown St. Louis.
[Editor's note: Tef Poe is a rapper/activist based in St. Louis who has spent much of the last year on the frontlines of the protest movement in Ferguson. His activism has taken him to Geneva, Switzerland, to address the United Nations with the family of Michael Brown; he has penned pieces for publications including Time and the Huffington Post; and he's been interviewed by CNN, MSNBC, BBC and BET. As a regular Riverfront Times contributor, Tef was honored in 2014 with a Salute to Excellence Award by the National Association of Black Journalists. His most recent musical effort, War Machine III, was released by Delmar Records in July and is available on iTunes.]
The best way to start this story is with the truth. So here it is: Michael Brown Jr. did not deserve to die. I have nothing but animosity in my heart for anyone who would dare argue with this statement.
And here's another truth: Today in America black people are not liberated. We are not free, and Ferguson shows us that we must fight like hell to reject any notion that equality has entered into our lives through Barack Obama and his stagnant calls for hope and change.
A year after Michael's Brown's death and the protests that followed, my perspective has shifted. I can no longer force myself to chant the words "Hands Up; Don't Shoot." We chanted this phrase assuming that white supremacy actually gave a damn about our humanity. We were ignorant to the ways of the world.
Now things are different. Our youthful exhibition of peaceful protest has changed the dynamic. They fear us -- and our growing lack of fear of them.
---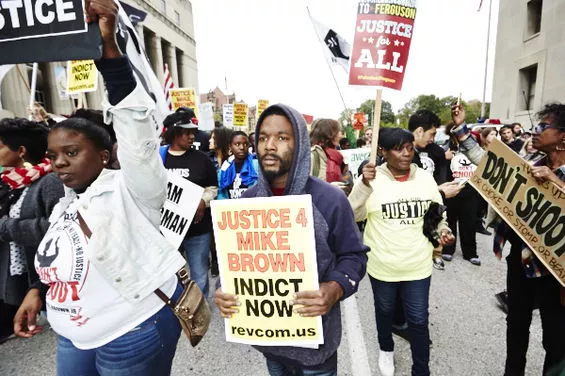 The violence in our city a year after the Ferguson Uprising has snowballed, centered on the devaluing of African American life. As the murder rate climbs, it is black people who are terrorized. When the rapists and the murderers are released from prison, they come home to north St. Louis and live in the same apartment buildings as we do. Nothing in this world can describe the psychiatric trauma attached to being born in the ghetto.
And yet, as a black man living in Missouri, I can die by the gun of a police officer just as quickly as I can die by the gun of a rogue "criminal." No one is as affected by the fears of white police officers patrolling our impoverished neighborhoods as we are. In terms of protecting our lives and preserving our human dignity, there is no safe haven from either party.
After Ferguson, some things have indeed changed for the better. Now that the community has openly challenged the racism of every police department in the region, a slight paradigm shift has occurred. A very small contingent of us has decided we believe in ourselves.
Black people in St. Louis have often been treated as if we can be quarantined, contained to very limited spaces. The history of this city is deeply rooted in the subjugation of African Americans. Blacks in Missouri were essentially reduced to staying in our place and understanding that we must never step out of line when dealing with a white person. Michael Brown Jr. died because he dared to challenge that practice and refused to stay in line when approached by a white male authority figure with a loaded gun and a heavy trigger finger. Because his story is not unique, his death resonated with thousands.
I remember seeing the multitudes of people from neighborhoods that were once rivals standing in solidarity for Brown on West Florissant as we gathered in the name of resistance. The world paused momentarily while we stood there and steadfastly endured the treacherous heat of the sun upon our backs last August.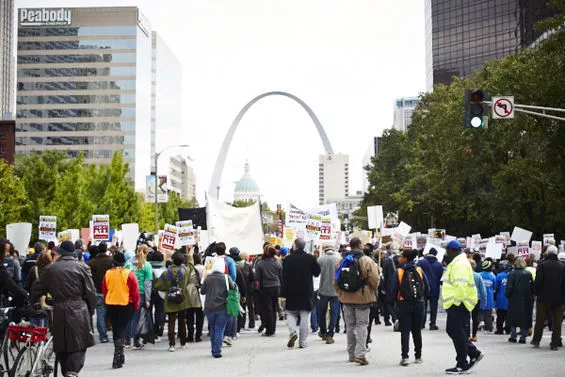 This is what happens when the black community no longer fears the power of its ordained police force. Thousands of black people nationwide are demanding inclusion into a system that was never designed to include us. In this generation, the fight our ancestors embarked upon was rekindled and sparked by St. Louis-area youth and their allies.
The movement, as many like to call it, was reborn in Ferguson after being incubated in St. Louis for many years. Then Freddie Gray's untimely murder caused the city of Baltimore to go up in flames as cries for justice filled the East Coast and beyond.
Many would say this is a story about how we as a community have continually suffered defeat, but I beg to differ. See, many people watching from afar did not realize how personally black people in St. Louis took Trayvon Martin's murder. Mike Brown's death triggered a collective voice of people, saying, "This is wrong, and we will not take it."
The sleeping giant has now risen, and the result is a movement for black lives that has spread across the world. Your system does not have to embrace us; we are simply asking to be released from the confines of your jaded perspectives. We do not want your food stamps or supplemental handouts. Hillary Clinton and the multitudes of white presidential candidates do not represent us -- and we do not seek representation within this government if it is only for symbolic value. Claire McCaskill suggested on national TV that young black leaders like myself should run for office. We say very candidly to people like Senator McCaskill that to work and fraternize with devils is to become one.
I stood at the Ferguson Police Department on August 10 and listened with my own ears to local authority figures attach the issues of police brutality to the issues of the ballot. Racism is evil, and I reject any notion that would suggest we are capable of voting it into oblivion. When the slave ships arrived with human cargo from Africa onboard centuries ago, the discussion of freedom was also connected to "voting rights." But we have attempted to vote ourselves off the plantation for centuries years now, and it still has not worked.
In fact, Ferguson did not occur under the order of a white president. Barack Obama, our beloved first black president, is also the first president in my adult lifetime to sit on his hands as a potential race war becomes the underlying narrative of America today.
Continue to page two for more.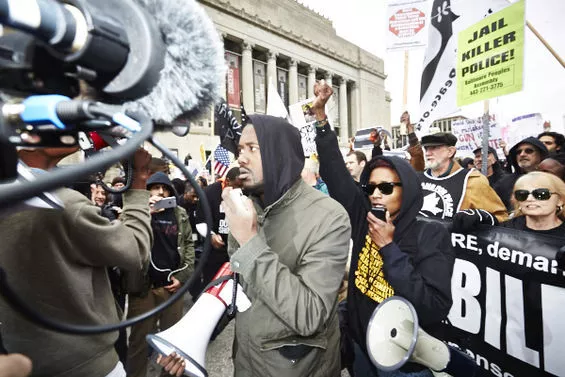 A year later, we still believe -- more than ever -- that Darren Wilson is a stone-cold racist killer cop protected by a system that offers zero accountability for his actions. The racism that extinguishes black lives in the present day -- the lives of Michael Brown, Eric Garner, Cary Ball Jr., VonDerrit Myers Jr., Kimberlee Randle-King and so many more -- is the same racism that shackled black people and sold us to the slave merchants in the early 1600s.
After all of the marching, chanting, singing and praying, the reality of fighting back when you are unjustifiably targeted must become a universal theme. A community that is often fragmented currently stands united in the pursuit of a radical theory of change. We may each have a different method of operation in mind, but we all agree it is time to move.
Once a month we gather in O'Fallon Park to host Books and Breakfast, an event mimicking the now-defunct 1960s Black Panther Free Breakfast for School Children Program. This event won't bring killer cops like Darren Wilson to justice, but God willing, it will help us implant a village mentality inside the hearts and minds of the children and adults who attend. There is a chance we will further extend the art of resistance by leaving its importance chiseled in the spirits of these children as they grow older.
My organization, Hands Up United, has started a tech program to teach black children to code as a means of being victorious through technology and education. We also have embarked upon a campaign to declare war against the food deserts plaguing our communities by starting a food pantry to help families in need.
Groups like the Lost Voices, Tribe X, Black Souljahz and the Ferguson Freedom Fighters -- all molded from the fires of Ferguson -- adamantly push civil disobedience as a module of political self-expression against the angst black people in St. Louis are forced to live with. Today's generation of freedom fighters refuses to allow victimization to be our calling card.
My parents do not completely understand, because they believe the racism they experienced has been dethroned. But my friends are still virtual moving targets for the police -- and anyone else who deems it acceptable to murder a black person.
I believe I speak for myself and any true organizer from the Ferguson movement when I say that we realize yelling at buildings and being abducted by the police while protesting is not a sustainable plan. The oath of the badge is so powerful that police officers will neglect the obligation they have to the human race once they put on their uniform. In response, the oath of the people must be created and reaffirmed by our love and admiration for freedom.
If you live in the city and you're black, you'll agree that things are out of control at the moment. St. Louis has never been a safe place for us to live, and right now it's more dangerous than it's ever been. Many of the movement's most visible individuals are growing increasingly more paranoid. I am, too. I fear for not only my own safety, but also for the safety of many other people I have grown to know and admire over the course of the last 365 days. We are all under some form of surveillance, and spending a night in jail has now become a regular occurrence.
I fear any interaction between the police and the people I ride with will result in one of us eventually sleeping in a casket. We have no desire to do anything violent, but our arrests are growing more and more aggressive.
I personally feel that one of my arrests will result in my funeral -- at home in St. Louis, or maybe abroad in a different city. Either way, I do not feel comfortable interacting with any form of law enforcement, as this fact still remains: All of the cards are always stacked in their favor. The police unions in America are arguably the most powerful criminal organizations in the world when dealing with minorities. There are hundreds of thousands of wonderful human beings working for law enforcement, but unfortunately, they are nothing more than a tool being used to maintain the lopsided power of the empire.
Look at Sandra Bland. She was recently stopped in Texas on a routine traffic violation. Illegally arrested by the police, now she is dead. The story they tried selling us is that she killed herself in jail. We know this isn't the truth. And if this movement were not alive and breathing, Bland's death would equate to the finale of her story.
Yet there is this movement. People are questioning Bland's death. The official police narrative has not been allowed to stand.
Our lives do indeed matter, and when we fight for ourselves we should be mindful that we are fighting for the basic freedoms of every man and woman in this society, regardless of their skin color, gender or sexual preference. When the establishment has proven that it is not capable of ruling the people it governs fairly and justly, revolution is the only option.
The Tea Party and other radical groups don't realize it, but we have more in common than meets the eye. Every human being on this planet has a right to preserve their existence. The challenge for any self-respecting citizen of any functioning society is to be bold enough to speak when everyone else is silent. America is different from many other places on this planet because this is a country founded primarily on action and imagination. When we combine these elements, we quickly discover that almost anything is possible. As young people, we seek to change the world in which we live for the better. This is our only goal.
We can not correct centuries years of oppression in one year. We will not outgun the police, and we do not desire to try. We simply search for the golden idea that will set us on the path of freedom and liberation. These are our peers and siblings being murdered at a rate that mimics an intentional genocide. We believe we are smart enough to defeat this evil and substitute its dominion over planet Earth with all-encompassing love and togetherness.
I don't fear the badge, a bullet or any other power mechanism of law enforcement. They can only kill us or lock us up. Going to jail for what you believe in is often embarrassing -- my mother has called plenty of times and questioned why I continually find myself in jail. But in this movement we wear each and every arrest on our chests as badges of honor. We are proud of each other, and we are supportive of any initiative that will add value to our hardships. We believe we are the generation that will create the energy that gives birth to an idea that will change the entire world.
We remain committed to the gospel of love. We invite you to join us.
---