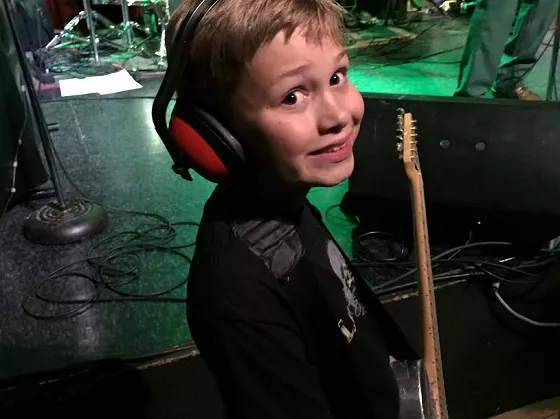 Jeremy Essig
Logan Hanner, proving that the kids are alright.
Fear not, St. Louis. The seeds of future rock & rollers have been sewn.
While the crowd of seventy or so who came to see the Ike Reilly Assassination on Monday night at Off Broadway may have seemed paltry -- shockingly less than deserved for one of the few bands that still embodies the attitude and songcraft that harkens back to the dirty soul of rock & roll -- at least ten of those in attendance were still years away from getting their drivers licenses. At least there were a few parents in the crowd who felt that legacy should be passed on.
Phil Puricelli, who first saw Reilly in Chicago years ago, brought his thirteen-year-old sons Aiden and Danny to the show.
"I've been playing his songs to them for years," the elder Puricelli said before Reilly took the stage. "If he plays 'Put a Little Love In It,' they can sing along."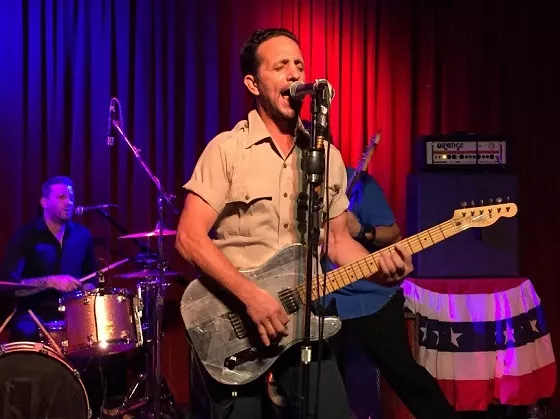 Jeremy Essig
Ike Reilly
Unfortunately, "Put a Little Love in It" did not make the night's setlist, which hinged strongly on Reilly's newest album Born On Fire. But while the Puricelli brothers were shut out, that did not stop the (extremely) young members of the crowd from being communised in the church of rock & roll. During the show's sixth song, "7 come 11," Reilly handed his guitar to Logan Hanner -- an eleven year old attending the show with his father Lucas.
"This is the most child-friendly place in St. Louis," Lucas Hanner said of Off Broadway. "Most shows here are not twenty-one and older. It brings me an opportunity to bring him here, but with earphones," he said, noting the almost airline-employee level earphones with which he had outfitted his son. "Two years before he was born I bought the first Ike Reilly CD [2001's Salesmen and Racists]. So he's heard the albums all along his life."
And while the children were both notable and included in the show by Reilly, the songwriter still maintained his darker side. One song after he handed his silver taped-up Telecaster to the younger Hanner, he played "It's Hard to Make Love to an American" -- a track from 2007's We Belong to the Staggering Evening which contains the lyrics "My left hand's up her skirt and my right hand pulls the oar."
Yet Reilly would bring family into the show once again. Excusing his band members from the stage by sarcastically quipping about a union-contracted break they must have, Reilly donned an acoustic guitar and spoke about his hometown of Libertyville, Illinois -- a place he's said in the past he wanted to leave yet cannot run from. Rage Against the Machine's Tom Morello is also a native of Libertyville and, according to Reilly, proposed the idea that he fund Reilly's run for town mayor -- an idea that Reilly said he both scoffed at and which inspired part of the song "Paradise Lane," on which Morello also played.
Continue to page two for more.
The other actors in "Paradise Lane," Jake and Max, are in a band with Reilly's touring merch guy Lloyd Chatfield, who Reilly brought onstage to sing back-up on "Paradise Lane." Their band, the Tribe, is also based in Libertyville and their debut album -- produced by Reilly -- will be coming out later this year.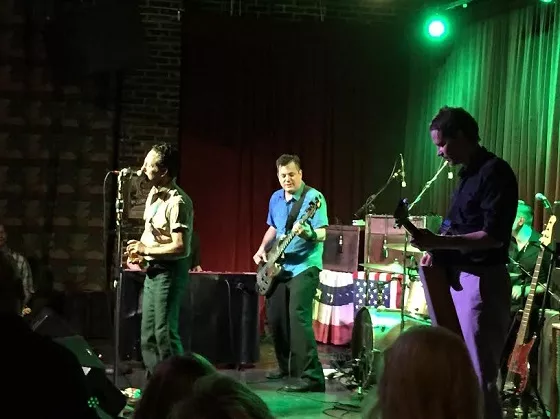 Much like the back story to "Paradise Lane," the beauty of Reilly's show was hearing the tales behind the tunes. Like a much more personal VH-1's Storytellers, Reilly shared the inspirations for a number of his songs, including the night with Joe Strummer that inspired "Hip-Hop Thighs #17" and his stint as a doorman at the Park Hyatt in Chicago that produced "7 come 11."
A show dominated by the sage Reilly sharing the stories of his unconventional life, it was not only the youth to whom the singer was preaching. Bruce Helmkemp, at sixty-one years old, was brought on stage for the show's finale after Reilly noticed his unique dance moves to "Do the Death Slide!"
"I've been coming here a lot over the last couple of weeks," Helmkemp said of Off Broadway a few songs before being pulled up on stage. "But this is the show people need to see."
Jeremy Essig
Bruce Helkemp -- turns out the grown folks are alright as well.
A show that proves no matter what your age, the spirit of rock & roll -- embodied by the Ike Reilly Assassination -- crosses all generations.
Set List: Two Weeks-a-Work, One Night-a-Love Hangin' Around The Black Kat Fish Plant Uprising The Boat Song (We're Getting Loaded) 7 Come 11 It's Hard to Make Love to and American Paradise Street Born on Fire Hip-Hop Thighs #17 Am I Still The One For You When Irish Eyes Are Burning
Encore:
Do The Death Slide!