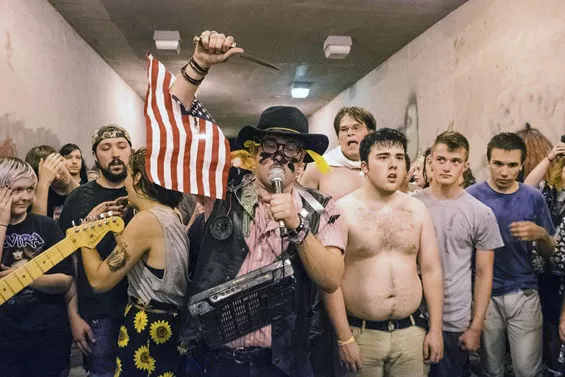 Maddie Rehayem
Austin Nitsua (center), Acid Kat founder, performing with Animal Teeth.
When Austin Nitsua was a kid, he would lie under the covers on Monday nights with his radio tuned to KDHX (88.1 FM), listening to Jason Rerun's now-bygone Scene of the Crime radio show. As a middle school student growing up in the suburbs, Nitsua had a hard time making it to the city for shows, but through Rerun he learned about classic St. Louis punk bands including the Welders and Max Load. Scene of the Crime was his window into another world.
Ten years later Nitsua is done observing from afar. In addition to singing and playing bass in Animal Teeth and the Soda Boys, he is the founder of Acid Kat Zine, a homemade publication featuring music reviews, interviews, art, comics and more. Next week Acid Kat will celebrate its third birthday with Acid Kat Fest III, a two-day music festival featuring nearly 50 bands from St. Louis and beyond. The show will get started on July 31 at 2720 Cherokee Street, and will include sets from the likes of 18andCounting, the Jockstraps and Beauty Pageant.
On a Friday afternoon Nitsua arrives at a coffee shop right on time to talk about the festival. As the interview is getting started, a loud clank breaks the silence. Austin Nitsua has just fallen out of his chair.
"Wow, that's a great way to start the interview off," he says from the floor, his arm propped against the stool.
He is dressed in black jeans, a black leather vest and two studded bracelets. He has round, sleek black glasses. A massive spider ring adorns one of his fingers; silver fangs reach toward his knuckle.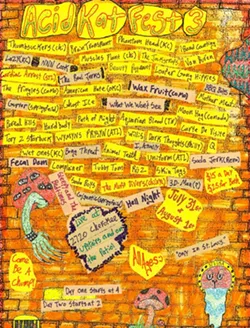 "I dress kind of old-school punk, which isn't really necessary, but I like dressing this way," he explains. "I think nostalgia is very important because you need to know your roots. It's kind of cool, it's vintage, it's a throwback. It makes you feel a connection to something you never were a part of."
Judging solely from his stage persona, one might suspect Nitsua is a madman. At a recent Soda Boys show, he spent a good portion of the set rolling around on the floor in the fetal position, clenching the microphone tightly with both hands as he screamed the lyrics. Eventually, he stood up and hurtled through the crowd before precariously jumping on top of a stool to look down on the people beneath his feet.
But in addition to being a musician, Nitsua is a substitute teacher and a history buff. Although he grew up in the dawn of the Internet, from listening to Scene of the Crime, he inherited a deep appreciation for '80s punk culture. With the zine, he hopes to pay homage to the rich and complex history that punk was built upon.
"I'm a big fan of classic punk. I just love it," he says. "Sometimes people come up to me and ask why I didn't just make a blog. It's like, I did make a blog, except this is for everybody. Anybody can pick this up. You read something like Flipside or Slash Magazine back in the day, or even St. Louis' Jet Lag, and it's just way neater than a blog."
Nitsua compares Acid Kat to a trashcan stuffed with garbage. He and his team have been heavily influenced by Robert Crumb and Zap Comix, and the zine overflows with drug humor and rock & roll stupidity.
"I want it to be foul; I want it to be in your face," he says. "If you look at classic punk, those guys were all about being offensive, and that's kind of what the zine's supposed to be. Its supposed to be like an eerie magazine from the '70s but with modern bands in it." On the xeroxed pages of each Acid Kat, the history and the future of punk are printed side by side. The Next Big Thing might share a page with a long-forgotten gem from twenty years ago. In the next issue, which Nitsua hopes to have released in time for the festival, readers can learn about the seminal St. Louis hardcore band Drunks with Guns, and then they can read a piece by Jeremy Kannapell about the local DJ scene.
Nitsua mostly listens to punk and garage rock, but his contributors come from all corners of the St. Louis music scene, as well as cities across the country. The other four core members, who go by Tubby Tom, Kyle Izded, Adam Luckz and Karl Franky, each bring their own musical preferences and perspectives to the zine. Tubby Tom, for instance, gravitates toward poppier artists like CaveofwordS or the Arctic Monkeys.
"When Tubby Tom writes about Drake or something, I don't listen to that, but I want that to be in my zine," Nitsua says. "A kid who would be at a Lumpy and the Dumpers show isn't normally going to be at a Ghost Ice show, and my whole idea is to mix those scenes together."
With the festival, Nitsua is hoping to continue uniting music fans from different scenes. In addition to punk and garage groups, Acid Kat Fest will bring together rappers, DJs, noise bands and more. There will be artists from across the city, as well as touring groups such as WYMYNS PRYSYN (Atlanta) and Moon Hag (Canada).
"What makes Acid Kat stand out is that we're not trying to get the coolest bands in the world to play the festival," he says. "We have some pretty solid bands, there are some bands that I'm super excited to see play, but the whole gist of it is to mix all these bands. Here's your chance to kind of get this sampler, this cornucopia of weirdness in St. Louis. "Because we're all freaks and weirdos, and we all have the same ideas," Nitsua adds. "We're all pretty much the same -- we just like different forms of music."
Acid Kat Fest III 4 p.m. Friday, July 31, and 2 p.m. Saturday, August 1. 2720 Cherokee, 2720 Cherokee Street. $15 to $25. 314-875-0233.