Photo by Jessee Rose Crane
Posture opens for L.A. noise legends Sissy Spacek tonight at the William A Kerr Foundation.
The science behind nostalgia is still hazy at best, but the term "good ol' days" exists for a reason. One thing is for certain: When we feel nostalgic, the past comes flowing back with the negatives washed out. South city trio Posture moves within the current, working to re-cut its old sound between semesters -- a seasonal worker of experimental indie-rock.
"I don't think I've ever been this busy in my life and not hated, like, everything," says singer and guitarist Nick Goldschmidt. In the past two months, Posture has written and recorded a six-song tape while playing shows in dive bars, basements and even a skating rink.
The band just returned from a short tour, but is already gearing up for its tape release show on July 28 at the Kerr Foundation with LA's Sissy Spacek, Yowie and Brain Transplant. Recorded in just three hours with little post-production or overdubs, Never Knows Best shows the band trailing down a dirt path between post-punk and garage rock.
"We've never felt like we were a straight up punk band, but we have punk ethics," says Alison Durham, who handles roughly half of all songwriting duties. Her twin sister Shawn takes on the drumset, scattering beats amid wiry cross-play between the two guitars. The driving force in Goldschmidt's rough strumming runs right along the edge of Alison's bright riffs, bringing out full-bodied songs, nevermind the absence of bass.
Alison and Shawn have been playing in the basement together for as long as they've had instruments. While not a fully-fledged band, the pair once performed the Strokes' "Reptilia" at their high school talent show.
Both first met Goldschmidt in early 2014 at the Lemp Neighborhood Arts Center, but they like to dispute how the band first came together. When asked, they all start teasing eachother, passing the blame for who really started Posture.
"We started going to more D.I.Y. shows around May. And Alison and I were going off to college soon, so we just wanted to be involved. We all had this sense that we wanted to play in front of people. None of us had never really done that before, with our own music," Shawn says.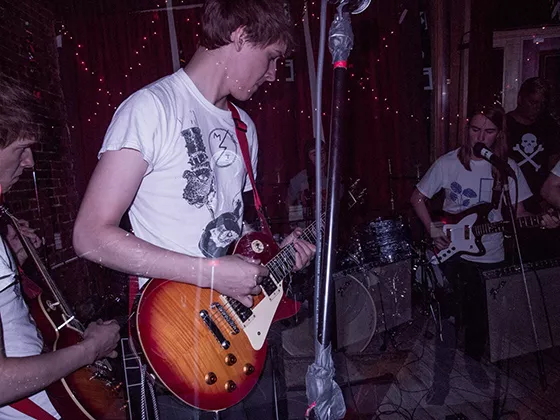 The band set a weekly schedule, made goals and cut its first demo tape. With two-thirds of Posture moving for school, the band now had a deadline and took the fastest route to playing shows. The first tape has its bumps and bruises but the songs take on a certain purity, filled with the drive to participate.
"Last summer we thought 'if there was anytime to do it, the time is now.' Initially it was just going to be a summer thing, and it was, but then we came home for winter break and thought 'why not do some more,'" Alison adds.
So the trio continues to play during breaks, keeping Posture on life support with just enough input to grow the next set of songs. Through the semesters, Alison sends chord progressions captured with voice memo while Goldschmidt draws up parts of his own and works on lyrics. Shawn sharpens her chops by sitting in on drums for Baltimore songwriter Morgan Murphy and her folk act Mothpuppy.
The breaks between give Posture a tight window to write, rehearse and record. Never Knows Best shows that their format works, but one wonders what the band might eke out, given more time to develop. Initially, the new tape was recorded over the course of two days by the Funs' Philip Lesicko, but his four-track kept eating tapes, forcing the three to re-record.
"Even though we didn't use the recording with Philip, it was still really good for us. We went through the songs so many times and even worked out a couple kinks when we were there. So even though we didn't finish the tape, it was still really helpful. And then we got in quickly with Ben Osbourne," Alison adds.
The new tape, released by Manic Static Records, takes bounds over last year's demo, bringing a more developed sound. But the band remains humble, almost to a fault.
"Last year we didn't even know how to write songs. This one is rushed, but now we sort of know how," Goldschmidt says.
"At least now we knew what we were getting ourselves into," Alison adds, pointing to the kind of foresight the band has used to re-shape its old sound. Ultimately, Never Knows Best brings old and new ideas alike, cut into short, solid songs.
Outside of his role in Posture, Goldschmidt helps to book shows, lending his time to traveling and local bands alike while organizing low cost events, typically taking place on Cherokee Street. He works two jobs between it all and probably never sleeps.
"They're at school while I'm here, running home base. As soon as they're ready to go, I can start working," he adds.
Posture Tape Release Show w/ Sissy Spacek, Brain Transplant, Yowie Tuesday, July 28 William A Kerr Foundation 8 p.m. | $10
RFT MUSIC'S GREATEST HITS
Remembering STLPunk.com -- How to View the Site Today and Find Your Old Profile Page "Where Did My Dick Go?" The Gathering of the Juggalos' Best Overheard Quotations The Ten Best Dive Bars in St. Louis The 15 Most Ridiculous Band Promo Photos Ever