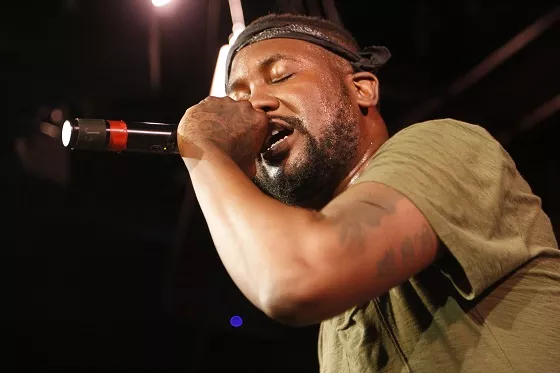 Chris Hazou
Tef Poe
On the morning of July 14 -- the day Tef Poe's War Machine III dropped -- the rapper, activist, sometime RFT Music contributed and all-around firebrand was being released from jail.
He and other protestors were charged with impeding traffic in front of St. Louis Metropolitan Police headquarters in the wake of the previous weekend's shooting of black teenager Brandon Claxton by police. Call it poetic injustice; on the intro to the new album, Tef Poe talks about just being released from jail after protesting in front of the home of St. Louis Circuit Attorney Jennifer Joyce in May. That his album cycle began with a civil-disobedience charge was a cruel bit of symmetry, given the subject matter in these songs.
See also: Tef Poe Releases New Album, Gets Arrested
If it weren't already clear, listening to War Machine III can't be divorced from the last twelve months of unrest, protests and hard conversations, specifically in St. Louis but with increasingly national resonance. Unpacking the composition of the album's cover art gives more than a few clues: weed and Hennessy, books on Martin, Malcolm and Tupac, a Guy Fawkes mask covering up the Holy Bible. Oh, and a pump shotgun resting across Tef's lap.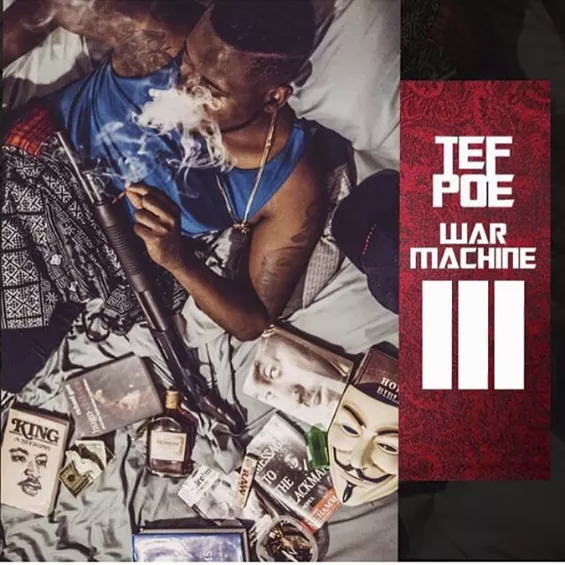 This is the third iteration of his War Machine series and a reminder that this is not a new struggle for the rapper; the difference is that the stakes have never felt higher. It's clear from the album's first few songs -- from the fury of "F.A.M.E. (Fuck All My Enemies)" to the self-actualization of "Prince" -- that Tef Poe is not interested in half-measures or mealy-mouthed debates. It's ride or die all the way through.
There is plenty of rage and righteousness in these songs, but some of the best moments on the album are the softest and most ruminative. He challenges misogyny and sexist language in the soul ballad "Say Her Name," a song title that harkens to recent hashtag activism that seeks to recognize female victims of violence. In the song, though, it's bigger than any one movement; it's a course correction for a millenia of entrenched sexism. The psych-soul track "Selena" and the hard-edged "Harriett" both take feminine wisdom of some of Tef's heroines, with "Selena" in particular finding the lyricist at his most poetic and bare. So it's a shame that he doesn't bring that same sense of equality and nuance to lead single "Hillary." There's much to be said, on this album and elsewhere, about the black community's abandonment by the Democratic Party (and last year's blistering "War Cry" made it clear how Tef feels about Governor Jay Nixon), but calling Hillary Clinton a bitch a dozen times feels retrograde, especially when that language is decried in the same album.
Given that this is Tef's first post-Ferguson album, he presumably had the option of including big-name guests. It's to his credit (and consistent with his political-is-personal beliefs) that the guest spots are filled by local talent. Tef's fellow Delmar Records artist T-Dubb-O drops in on the bellicose mission statement "Can't Control Us." Local pride is mixed with bemusement on "What It Do," a collaboration with local duo Family Affair that challenges the region's post-Ferguson awakening of our racial divides -- it's old news to Tef and his crew. Black Spade pairs up with Tef on the 808-fueled "Revolutionary Love," the closest this album gets to a slow jam.
These collaborations speak to the depth of the local hip-hop community without distracting from Tef's vision -- a vision that can't quite be condensed to a sound bite. It contains multitudes, contradictions and hard truths, and as Tef Poe has become the city's most visible force in both hip-hop and social action, we, as music fans and St. Louis citizens, don't have the option of tuning out.
Listen to the album for yourself below:
Want your CD to be considered for a review in this space? Send music c/o Riverfront Times, Attn: Homespun, 6358 Delmar Boulevard, Suite 200, St. Louis, Missouri, 63130. Email music@riverfronttimes.com for more information.
---