Abby Gillardi
Fog Lights' Justin Johnson and Jim Peters.
If it's known to anyone, Manhasset is known as the archetypal tony neighborhood of Long Island, New York -- picture polo fields, tennis courts, ritzy malls and school districts with budgets that exceed the GNP of Puerto Rico. To Justin Johnson and Jim Peters of the Fog Lights, Manhassett (with two "t's") is where they grew up -- the name of a 350-unit apartment complex in Brentwood, located near the Saint Louis Galleria, where the Magna Bank complex now stands.
See also: Premiere: Watch the Fog Light's New Video for "Lead the Way" Now
Manhassett Village was leveled ten years ago, but that's where the two musicians spent their boyhoods. It's where they discovered music. And it's the name the two have given to the first album by the Fog Lights.
"The reference is obscure to everybody but us," Johnson says. "It was a pretty cheap place to live and still be able to go to Clayton or Brentwood high school. We both came from families that didn't have a lot of money."
"It became this hangout place for my school," Peters remembers. "We put these couches up in the trees along the highway. We'd sneak beers back there and try to get chicks to hang out. When we started to work on music together, we talked about those old times in high school. We were thinking about it."
Supremely folky without being sentimental, delicately acoustic without sounding precious, precisely harmonized without seeming overwrought, the first album by the Fog Lights is a journey into the past, a meditation on loss and making something out of what remains. For Johnson and Peters, two musicians who've long been integral parts of bands -- Pretty Little Empire and Jump Starts for the former, Javier Mendoza, Upright Animals and the Provels for the latter -- it's a chance to explore musical strains and forms of collaboration that their primary projects never quite allowed.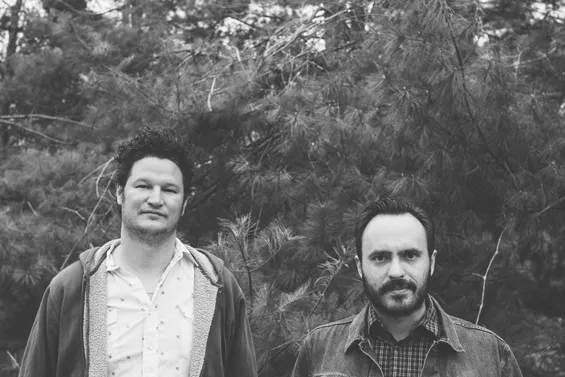 Abby Gillardi
Fog Lights.
"We went to Brentwood High School," Peters says. "We were friends for a million years, and we'd go to a million concerts together. We remained friends but never played music together. A year and half ago, Justin said he had a few songs that didn't fit with the other things he was working on, and he thought it would be fun to do a song together. It was just a couple of acoustic guitars; he sang and I sang. I immediately started singing a falsetto harmony, and it clicked in just a minute. Even though we had never played together, there was a sound there."
"Pretty Little Empire had moved on to a bigger sound," Johnson explains. "We were starting to work on another album, and it was going to be another big production, and so the songs I had just didn't fit. When Pretty Little Empire started we were going for a quiet sound, but that was something we never really achieved as a band. When we first started [the Fog Lights] I thought we'd work on a few songs for fun. When there's chemistry, it starts to expand. Suddenly we have five songs, and we recorded them, and then we had more songs, and then, shit, we have a whole record."
Johnson and Peters tracked Manhassett with engineer and bassist Wil Reeves in Columbia at Centro Cellar Studio, a space that has shaped the sound of scores of regional releases, including work by Joe Stickley, Bockman, the Thin Dimes and Dubb Nubb, as well as Spectator's most recent album, The Last Exchange. "There are some great studios in St. Louis," Peters says, "but getting away lets you shut down the rest of your life, and just get a laser focus to work."
Most of the new album was cut in six days, with just one session to mix, with Johnson and Peters harmonizing and playing live in the same room.
"I'm used to laying down a scratch track," Johnson says, "then everybody records, and then I have to lay down my vocals again and my guitar again. I'm recording everything twice. Oh, God.... It's like, 'I don't want to do this!' But this project was nice, though in some ways it was even more nerve-wracking. What we would lay down is what would stay, but knowing that if I mess up and Jim is not messing up, we would have to start again."
Though the core of the album is simply two acoustic guitars and two voices, the duo took advantage of Columbia's music community, players who would just drop by and lay down parts for the hell of it. Andrew Weir added keyboards, Peters' brother Ben added drums and guitar, and Joe Cosas played some banjo and bells.
"While we were recording we'd finish a track, and all these guys who do studio work would just drop by to say hi," Peters says. "We'd have them listen to a track and just lay something down. If we liked it we kept it. If we didn't, we'd drop it. There were no hard feelings."
The songs on Manhassett draw on previously unfinished or neglected material, old misfits and new keepers. Along with a single cover -- a surprising, almost Everly Brothers-esque version of Joy Division's "Love Will Tear Us Apart" -- the album includes "Never Had a Chance," a recent Pretty Little Empire track that the band has never performed live, another intended for that band's first album, as well as songs that Peters had revealed only fitfully, in solo gigs or failed attempts with alternative-rock band the Upright Animals.
New collaborations, however, are at the heart of the album and give it its ruminative soul, including the purely instrumental title track. The Fog Lights' fragile lyrics and acoustic music are not really nostalgic; loss can be purely beautiful, and it's the one thing that always remains.
"That song ["Manhassett"] evokes these feelings from our childhood that are gone," Peters explains. "There's this cyclical theme on the album, about things from your past coming back. Even though the song doesn't have any words, that feeling is there. I think about places that I worked at in high school, the houses, my dorm in college. They're all gone now. But yet they're still with you in some ways."
The Fog Lights Record Release Show 9 p.m. Saturday, July 25. Blueberry Hill, 6504 Delmar Boulevard, University City. $8. 314-727-2277.
---