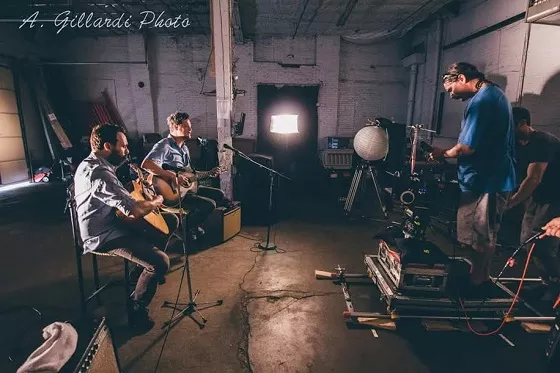 The Fog Lights, in the midst of the video shoot with director Justin Hayward.
The Fog Lights, the duo that comprises Justin Johnson (Pretty Little Empire, Jump Starts) and Jim Peters (Javier Mendoza, Upright Animals, the Provels), is debuting the new video for its song "Lead the Way," with RFT Music. Shot by Justin Hayward, a commercial director based in Chicago who grew up with the members of the band, the video is a spare affair, featuring long, unbroken shots in black and white, and few cuts.
"When coming up with the idea for the video, I wanted to do the opposite of traditional music videos, which often move fast with many edits and many shots," Hayward explains. "By using very few shots, each one boldly lit with dynamic compositions, my intent is for each edit to feel purposeful and important. Instead of burying the edits, they are showcased to highlight changes in the song. My hope is that the viewer really focuses on the beats of the music and the soul in the performances."
The piece was shot at a warehouse in the city, in which Johnson works.
"My boss was nice enough to let us take it over for a day and do whatever we needed for the shoot," he explains.
Johnson, who met Hayward in high school, says that working with Hayward was a terrific experience.
"He is always prepared, and though he can be creatively spontaneous on set, always has a clear vision of the big picture," he says. "Also, a huge shout-out to the director of photography, Dan Fisher, on this video. He was working on a big commercial the day before our shoot in Chicago. He had all this great gear checked out for the whole weekend already, so he willingly lugged it all down here so we could get the best looking video possible."
Peters, who met Hayward in grade school, echoes the sentiment.
"It was great working with Hayward. He had a clear vision of this video and knew how to execute it," he says. "He wanted to make something that focused on the song, not 10,000 jump-cuts. Almost an anti-video."
Watch the "anti-video" for yourself below:
---