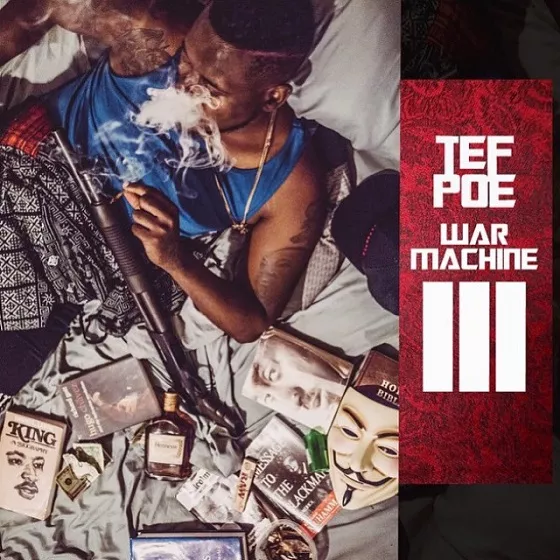 Album art for Tef Poe's War Machine III, released today.
Today marks the release of St. Louis rapper-turned-activist Tef Poe's highly anticipated War Machine III, his first full album since the death of Michael Brown and subsequent protests thrust him onto the international stage.

The day could have gone a little better, however -- for Tef, it started in a jail cell.

,
See also: How St. Louis' Hip-Hop Community Thrived in a Year of Social Unrest
The incident took place just before 7 p.m. last night in front of St. Louis Metropolitan Police headquarters during a protest action for Brandon Claxton, a sixteen-year-old who was left paralyzed after being shot by a St. Louis police officer on Saturday night. Police maintain that Claxton was holding a gun in his hand and running toward police when he was shot. The young man is still alive, but reportedly paralyzed below the waist.
"There are many misconceptions about the purpose of yesterday's protest," Tef tells Riverfront Times. "We primarily wanted to educate people about the treatment of these two minors through out this ordeal. To the best of my knowledge, I believe their mother hasn't been allowed to see either of her sons.
"The story is complicated between the police and this recent shooting victim -- we are simply asking for humane treatment of these young men," he adds.
Nine people were arrested at the scene, including Tef, Reverend Osagyefo Sekou and Tara Thompson -- all three prominent and persistent protesters at Black Lives Matter actions in the past year. The charge for all three was "impeding traffic," though Tef claims they were doing no such thing.
"I was in the car when I was arrested, and the other protesters were on the sidewalk," Tef says. "I went to the car because I honestly didn't want to bear the risk of being arrested for once. We're still deeply confused about how we ended up in jail."
Tef caught Sekou's arrest on video and posted it to Instagram -- it would be his last post on social media before being arrested himself as well:
Post-Dispatch reporter Valerie Schremp Hahn caught Tef's arrest on video:
Shortly after he was put in cuffs, the hashtag #freetefpoe started popping up all over Twitter.
Fellow rapper/activist T-Dubb-O was able to bail the trio out early this morning, but he says the protester bail fund that has been maintained by activist groups since August is largely depleted at this point, thanks to yesterday's arrests and those at a similar protest on Sunday.
We reached out to the St. Louis police; they had no comment except to confirm that nine people were arrested last night and each was charged with impeding the flow of traffic.
"I feel like we were illegally kidnapped and our friends were forced to pay a ransom for our release," Tef explains. "While I have zero control over certain variables, the methodology behind this arrest does indeed frustrate me."
Extra frustrating, according to Tef, was the timing of the arrest.
Stream the album in full below via 2DopeBoyz; purchase it on iTunes here.
---