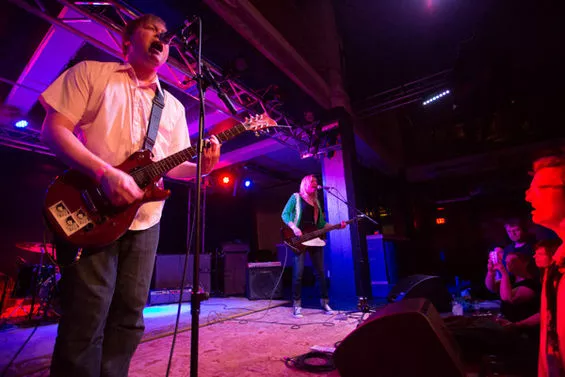 Photo by Theo Welling
Bunnygrunt celebrates the release of its new record with a show at Off Broadway on Saturday night. See more photos from the band's 20th anniversary in RFT Slideshows.
Bunnygrunt might be the only twee pop mainstay along the muddy river of Mississippi, what with twenty years of music and enough clout to merit an actual tribute album. The band was introduced to me as "having a song in that movie Bad Santa." You mean the one with Billy Bob Thorton? Yes, that's the one. The band kicks off both a European tour and a new studio album with a pair of shows on Saturday and Sunday. The latter will be a matinee in the very record shop at which lead singer Matt Harnish works: Vintage Vinyl.
Be part of the scene -- here's how you can help pack the room every night of the week.
MONDAY, JULY 13
Dead Shakes w/ Tjutjuna, Brother/Ghost, Tit for Tat, Loblolly, L Rad Hubbard Monday, July 13 Foam Coffee & Beer 7 p.m. | $7 By Joseph Hess There's an obvious formula to this whole garage-rock thing and Tulsa's Dead Shakes seems to adhere to that for the most part, but noisy breaks sneak in a musical wink and nudge, alluding to a deeper core. The band distills drippy rock & roll down to a pure white, owing to the straight ticking of 4/4 beats under the best kind of gruff riffs. Simple shouts cut through with tact and enough drive to sit deep inside the band's warbling tone. To its credit, Dead Shakes cuts the fat around solid little pop songs with a red-hot knife. Arrive on time for L Rad Hubbard, the electro alter-ego (and depository for harebrained ideas) of Shitstorm frontman Matt Stuttler.
TUESDAY, JULY 14
Kristeen Young w/ FEA Tuesday, July 14 The Demo 8 p.m. | $10 By Kiernan Maletsky From the RFT Music archives: Time to check in on Kristeen Young, the St. Louis native with a keyboard, big hair and a much bigger vocal range. After nearly a decade of playing every venue like it was the Pageant, she actually got there when Morrissey tapped her to open for a 2007 tour. One fan, observed by a reviewer for the RFT, succinctly summed up the city's general response: "God, I wish she would shut the fuck up." But it is no longer 2007, and she returns on the heels of another tour with Moz.
See also: Kristeen Young Performs With Dave Grohl and Pat Smear on Late Late Show
WEDNESDAY, JULY 15
Dave Matthews Band Wednesday, July 15 Hollywood Casino Amphitheatre 7:30 p.m. | $40.50-$85 By Joseph Hess From "I Took My Mom to the Dave Matthews Band Concert Last Night..."
DMB has no shortage of smiles on stage. Beauford can't hold back giggles, even when nailing down solid grooves. When he's not playing, saxophonist Jeff Coffin seems to be gleefully belting vocals, even off-mic. Bassist Steffan Lessard bobs, almost comically, to each beat. One gets the distinct impression that every man on stage loves these songs and loves to play. That vibrance no-doubt extends off-stage.

"You know why they're smiling so much, right?" my mom asked. "They're thinking, 'You know how much fuckin' money we just made?'"
THURSDAY, JULY 16
Ringo Deathstarr w/ Bantam Foxes, Strong Force Thursday, July 16 The Firebird 8 p.m. | $12-$14 By Joseph Hess Ringo Deathstarr might be the only cross-section of Star Wars and Beatles fans to worship at the church of shoegaze gods My Bloody Valentine. Maybe the comparison is a bit unfair (and to some, even a cop out), but the Austin trio is so deeply submerged in the musk of its forefathers that it can't help but drip with heavy psychedelics. Really, recreating a clap of thunder Is difficult, and Ringo Deathstarr knows just how to wrangle its own lightning in a bottle.
Read on for the shows in St. Louis this weekend. FRIDAY, JULY 17
Modern Life Is War w/ Coliseum, Xerxes, True Love Friday, July 17 Fubar 8 p.m. | $14-$16 By Daniel Hill Modern Life Is War has a bit of a thing for St. Louis. The Iowa-based hardcore band performed here more than a dozen times during its first six years of existence, before calling it quits with a farewell tour in 2008. Most of those shows took place at the Lemp Arts Center -- then a hardcore haven -- and its farewell stop in St. Louis took place at Building R, a short-lived warehouse space-turned DIY venue. Both spots featured plenty of room, which is good for a band whose performances inspire the kind of wall-to-wall mosh pits and frantic pile-ons for which MLIW is notorious. Fubar's venue side should work nicely as well, but fair warning to those who don't like people jumping on their heads: Stay away from the stage.
SATURDAY, JULY 18
Bunnygrunt Record Release Show w/ Eureka California, Royal Holland Saturday, July 18 Off Broadway 9 p.m. | $10 By Ellen Herget From "Bunnygrunt's Twentieth Anniversary Show: Review"
The members of the audience instigated a six-to-ten-person dogpile onstage, which may or may not have been planned, and the whole floor broke down into a waving, screaming dance party. For the last song, Bunnygrunt switched instruments with showgoers and each other, and bassist Karen Reid rode around on someone's shoulders and hung from the lights. All in all, so totally rock & roll.
See also: 26 Bands Pay Tribute to St. Louis' Bunnygrunt on New Compilation
SUNDAY, JULY 19
Vince Staples w/ Markoe, Vince Sega, Michael Jerome 8:00 p.m. July 19 The Firebird 8 p.m. | $15 By Daniel Hill The last time LA's Vince Staples came to St. Louis it was as direct support for Earl Sweatshirt, the Odd Future collective's premier wordsmith. Staples won over the crowd at the Ready Room with a tight, focused set -- the reception was warm at best in the beginning, but by the end of his time the young audience had been worked up to near-frenzied levels. That ability to sell himself carries over into his recorded output as well: His latest, Summertime '06, was released in late June to near-universal critical acclaim, with no less than Rolling Stone dubbing Staples "the most exciting man in rap."
Note: Though we wish we could, we can't feature every great show happening in town in just one post. Look for plenty more recommendations this Friday in our weekend shows post, peruse the St. Louis concert calendar for more ideas and let everyone know what else you're looking forward to seeing this week in the comments below. To be considered for coverage in RFT Music, submit show info online or drop us a line anytime.
RFT MUSIC'S GREATEST HITS
Remembering STLPunk.com -- How to View the Site Today and Find Your Old Profile Page "Where Did My Dick Go?" The Gathering of the Juggalos' Best Overheard Quotations The Ten Best Dive Bars in St. Louis The 15 Most Ridiculous Band Promo Photos Ever