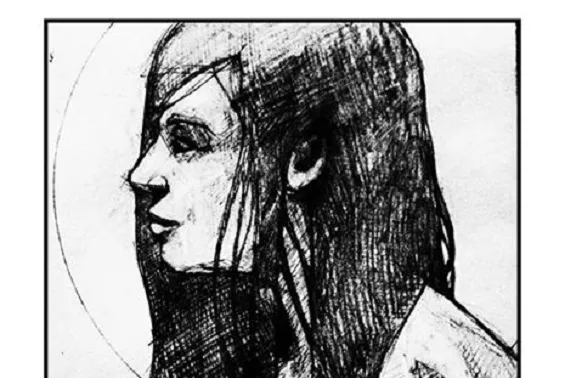 Seth Rogers and Leave Your Mark Printshop
A cropped version of the flyer for tonight's show. Full flyer below.
It is 10:45 on Tuesday night, and Jack Middeke is crouched over the cracked pavement in front of the Elite Medical Staffing Group storefront on Cherokee Street. The business has long since locked its door and closed for the night, but for the bars and venues that line Cherokee, the night is still young.
Up the block, a band has just taken the stage at Foam, and guitar chords echo down the street. Laika, one of the groups Middeke plays drums in, is set to perform there later tonight, but for the moment he sits on the ground, engaging in quiet conversation with his bandmates from another project, a post-rock group called Staghorn.
Staghorn's tone is a tough one to describe, partially because of how little of it has been heard. The band has only been playing together for a few months, and its Bandcamp page consists of just two tracks. The group's tone wanders across genres, building from clean, isolated guitar strums and spoken-word vocals to massive sonic battlegrounds.
The band has already played some shows on the road, and this Friday night it will make its St. Louis live debut at Melt, playing a stacked bill featuring local favorites Yowie, Hardbody, Laika and the Maness Brothers. The event, which Middeke organized himself, will benefit the Covering House, a local organization that provides refuge and restoration to young girls who have faced sex trafficking and sexual exploitation here in Missouri.
"I wanted to get some of my favorite bands to play, and I spent a lot of time trying to put it together," Middeke explains. "The goal was to bring as many people together as we could, and that would in turn raise money for the most genuine cause."
Across from him, Middeke's bandmates Lex Baron and Jared Sheurer sit cross-legged on the ground. They are also joined by Shawn O'Connor, who plays drums in Yowie.
"It was originally Jack's conception to put together a show that involved a human rights focus, and like I've seen so often in St. Louis, once there was an idea planted, everyone really came together," Sheurer adds. "To us, activism isn't about protest; activism is direct. It's directly donating, having Covering House at the door, placing money in their hand. There's no smoke and mirrors. It's all transparent."
Seth Rogers and Leave Your Mark Printshop
The first 25 people to arrive and donate will receive screen printed posters. 25 more will be available inside, and can be purchased with a donation of any amount.
Unlike Middeke, who has been playing in bands around St. Louis since he was fourteen, Sheurer and Baron are new to the city. The two of them moved here from South Florida this past March, and met up with Middeke soon after.
"The project had been in the works for a long time between Lexie and I," Sheurer says. "And then we moved to St. Louis and met Jack, and he played drums and was really into the project, and like-minded, which is really important because the project is more of an activist focused project."
Around the same time that Middeke met Sheurer and Baron, he had happened across a documentary about human trafficking and was completely shaken by the footage. Soon after, he started organizing a benefit concert to help survivors here in St. Louis.
Deidra Lhamon founded the Covering House five years ago, and since then, it has helped more than 36 patients. The organization works specifically with young girls, aged seventeen and under, providing outpatient care including individual counseling, group therapy and tutoring services. This past year, the Covering House also opened a large therapeutic housing facility, the first of its kind in Missouri, and now provides live-in care for up to five girls at a time.
"The house is on a big piece of land, and it's just a very homey feel," says Kasey Lucas, administrator of partner development. "It's a place where these girls can go and just be children again. The biggest thing we find is that these girls are almost being stripped of their childhood whenever they're faced with these situations, so we try to allow them to get that experience back."
In 2014, in addition to opening the therapeutic living facility and helping survivors across St. Louis and the surrounding area, the Covering House provided community education to approximately 2,700 people across the state. Still, despite everything they have accomplished, Lucas and her coworkers are hesitant to celebrate.
"In one way its amazing that we're getting all of these calls from people, but its also a shame because it's a shame that they need our services," she says. "People think it's happening overseas. A lot of people think that it's happening everywhere but here. Yes, it exists in Cambodia, and in third world countries and other places, but it's also right here in our own back yard. That's important for people to know and understand, because you really have no idea who could be involved in this."
As the Covering House continues to grow, they hope to expand their programming to include risk reduction classes for elementary school-aged girls, and eventually open another housing facility. Of course, growth requires money, and Lucas says that fundraisers like this benefit concert are absolutely crucial for the organization to continue to help these girls.
"Funding is a challenge, and its something that we're constantly working on, whether it be through the state, through grants, through fundraising, different things like that," Lucas says. "When things like [the benefit concert] come up, we love that, and are so appreciative of it. The neat thing about these different type of events is you're constantly getting different groups of people who become aware, so its not always that same group who already knows about the organization or about human trafficking, its different people that are being pulled in."
The five bands playing tonight's show at Melt come from different corners of the St. Louis music scene, and each appeals to a slightly different audience. They are not all bands that would typically share a stage. Yowie, for instance, plays most of its shows at the Schlafly Tap Room, and rarely venture out to Cherokee Street to perform.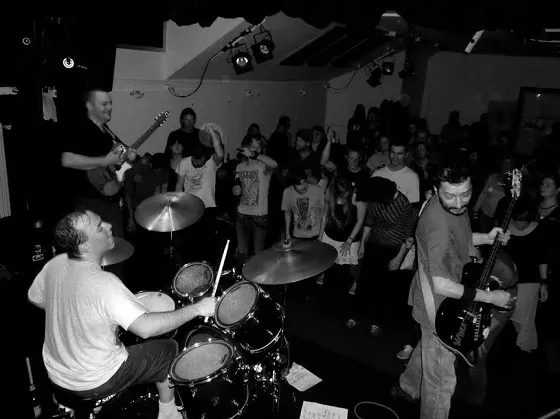 "This show goes from blues-rock to avant garde jazz punk stuff, and everything in between," says Sheurer. "All the bands have their own focus -- they're all diverse and unique but they all come together with the same goal."
"It's a community," Baron steps in, finishing his thought.
"I think a lot of times people fall into the trap of just getting a bunch of different bands together that are from a like-minded genre," O'Connor adds. "I think its cool that this is more about an experience and a community instead of a commercial event where people are trying to pair together things that might draw a big crowd just to make money for a club or a band or whatever."
In addition to being a musician, O'Connor works as a trauma therapist, and in the past has worked extensively with sexual assault survivors. Now, he works with the Department of Veteran Affairs, mostly treating combat trauma. When Middeke asked him if Yowie would play the show, O'Connor had agreed immediately.
"This show is more about an experience and community, and I'm very happy to be a part of it," O'Connor continues, turning towards Middeke. "This is something that is very dear to my heart, so thank you."
Tonight's show will begin at 8:00 p.m. and is open to all ages. The show is free, but attendees are encouraged to donate $5 at the door. The first 25 people to show up and donate will receive screen printed posters, courtesy of Leave Your Mark Print Shop and Seth Rogers.
---