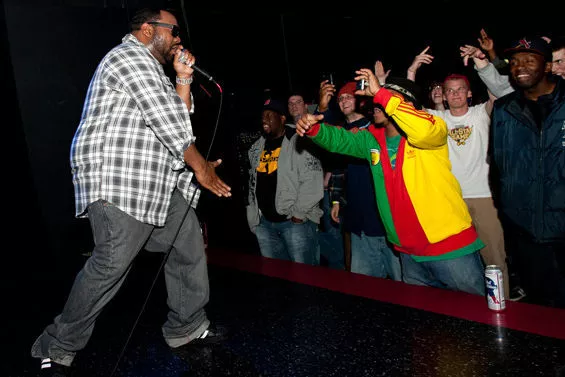 Photo by Jon Gitchoff
Raekwon returns to St. Louis alongside Ghostface Killah this Saturday at the Ready Room. See more photos from his 2011 show in RFT Slideshows.
St. Louis still stinks of fresh firecrackers, but who's complaining? Between a jam-packed Fair at Forest Park and the upcoming LouFest in September, now is the best time to be a music fan in St. Louis. The week ahead brings a stellar showcase via local label Boxing Clever Records, another installment of the Fresh Produce Beat Battle and two members of the Wu-Tang Clan -- and we're just getting started.
MONDAY, JULY 6
Onetimers w/ Magnets, Veil, Skin Tags Monday, July 6 Melt 8 p.m. | $6 By Joseph Hess At this point, punk isn't here to reinvent the wheel. Chattanooga's Onetimers is proof that the best tradition is no tradition, owing to fleeting bursts of snot-nosed riffs with sneering, bratty vocals. The group hits a nerve, dabbling in rock songs with enough indulgence to kill a jaded would-be hippie (or hipster, maybe?), but its brevity brings purpose. After all, too much of a good thing really is too much. Leave this show hungry for sunglasses at night -- oh, and real leather jackets.
TUESDAY, JULY 7
Vomitface w/ Little Big Bangs, Bastard and the Crows, Holy Doldrums Tuesday, July 7 The Firebird 8 p.m. | $4 By Christian Schaeffer Earlier this year we reported on the spate of new releases coming from an unlikely source: local ad agency Boxing Clever. The in-house label has issued attractive platters from locals like Bruiser Queen and CaveofswordS, though increasingly the release schedule is populated by out-of-towners. One such signing is Jersey City art-punks Vomitface, whose EP Another Bad Year came out on Boxing Clever Records in the middle of May. The five-track platter owes a little to bands such as Pavement, the Pixies and Sonic Youth, though the overall effect is more than mere re-tread.
WEDNESDAY, JULY 8
Eternal Summers w/ Wildhoney, Without Hazard Wednesday, July 8 The Firebird 8 p.m. | $10 By Roy Kasten From the RFT Music archives: The core duo of Eternal Summers -- guitarist and singer Nicole Yun and drummer Daniel Cundiff -- isn't doing anything its better-known, dreamy, lo-fi-inclined predecessors Pains of Being Pure at Heart and Dum Dum Girls (previous tourmates) haven't trademarked, but the Virginians have still rallied an exciting, darkly fuzzy array of hooks, beats and bad attitudes on this year's Correct Behavior. The sweet and wasted ache of Yun's voice on lines like "Happy is the man who understands that he's gonna burn" counters the smeared layers of feedback and arpeggios, but only hints at the punkish release that makes the Eternal Summers a band for any pop season.
THURSDAY, JULY 9
Fresh Produce Thursday, July 9 The Demo 9 p.m. | $5 By Charles Purnell From the RFT Music archives: After a four-year hiatus, St. Louis' Fresh Produce Beat Battle is back this week, with a new show called Fruit of the Boom. Known for showcasing the best new talent hip-hop talent in St. Louis, the Fresh Produce Beat Battle was held monthly for four years before taking its long break. In that time, it drew a wide spectrum of hip-hop fans in the region, impressed by the caliber of producers the contest brought into the scene.
Read on for more great shows happening this weekend. FRIDAY, JULY 10
Amy Black w/ Sarah Borges Friday, July 10 The Stage at KDHX 8 p.m. | $12-$15 By Roy Kasten The music that emerged from Muscle Shoals, Alabama, in the '60s and '70s -- and which surely still emerges, as evidenced by Drive-By Truckers and anyone who has fired up the Florence Alabama Music Enterprises (FAME) studio console -- is inseparable from that land and time. Legendary figures such as Rick Hall, Spooner Oldham, David Hood and all the Swampers, have been known to pick a song or two, but Southern soul is not provincial. Boston native Amy Black fell under the spell of the music and its back stories, and recorded some classic, if mostly lesser-known songs from that world on this year's Muscle Shoals Sessions. Black showcases that music when she hits town with the Muscle Shoals Revue.
SATURDAY, JULY 11
Raekwon and Ghostface Killah w/ Dillon Cooper, A-Game Saturday, July 11 The Ready Room 8 p.m. | $26-$30 By Daniel Hill No-brainer status achieved. Raekwon and Ghostface Killah are coming to town. Together. There is nothing about this that is not really fucking cool. The Chef himself, with your boy Tony Stark. Two of the most critically lauded Wu-sters. Expect lots of tracks off of Rae's Only Built 4 Cuban Linx albums, on which Ghostface was prominently featured. Expect classic Wu-Tang cuts. Expect billowing clouds of marijuana smoke.
SUNDAY, JULY 12
George Clinton & Parliament Funkadelic Sunday, July 12 Ballpark Village 7 p.m. | $9.55-$100.00 By Christian Schaeffer When demonstrators took to Busch Stadium last fall with chants of "Black Lives Matter," the resulting footage was presented as a stark picture of the city's racial divide: A passionate, largely black group of protesters were met with jeers and indifference from a largely white fanbase. To say it another way, if the demonstrators were out to paint Busch Stadium as a white enclave, their point was made. So it was a surprise, albeit a pleasant one, that the preeminent funk outfit of the '70s, George Clinton and Parliament Funkadelic, was booked to play Ballpark Village. But for a man who sang of the Chocolate City -- and its "vanilla suburbs" -- St. Louis in 2015 is the place for Clinton's consciousness-elevating funk, regardless of venue.
Note: Though we wish we could, we can't feature every great show happening in town in just one post. Look for plenty more recommendations this Friday in our weekend shows post, peruse the St. Louis concert calendar for more ideas and let everyone know what else you're looking forward to seeing this week in the comments below. To be considered for coverage in RFT Music, submit show info online or drop us a line anytime.
RFT MUSIC'S GREATEST HITS
Remembering STLPunk.com -- How to View the Site Today and Find Your Old Profile Page "Where Did My Dick Go?" The Gathering of the Juggalos' Best Overheard Quotations The Ten Best Dive Bars in St. Louis The 15 Most Ridiculous Band Promo Photos Ever