Courtesy of Foxing
Members of the band stand where their trailer once sat.
Last week, we reported on the recently returned trend of thieves targeting touring bands in the St. Louis area. As local group Foxing just proved, bands are no safer outside of city limits. Yesterday morning, the group discovered its trailer was stolen overnight in a residential neighborhood in Austin, Texas.
See also: Tour Van Break-Ins Return to St. Louis After Brief Reprieve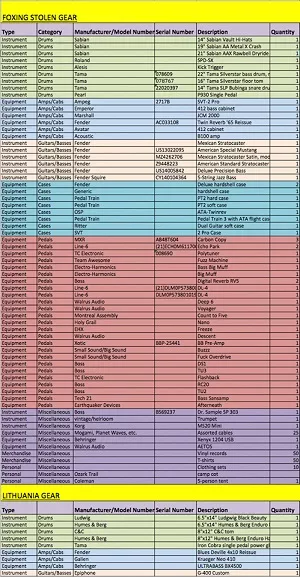 A list of all the gear and belongings that were in the trailer. Click to enlarge.
Foxing is currently on a national tour as direct support for mewithoutYou, and this theft serves as an enormous momentum killer, resulting in cancelled appearances and a scramble to replace the stolen goods. The trailer contained the entirety of the band's equipment and merchandise as well as personal items and equipment belonging to the tour's opening band, Lithuania.
"I wish we didn't have to cancel any shows, but there's no way," bassist Josh Coll says via phone, minutes after filing a report with the Austin police. "If we were a three-piece punk band or something, it'd be no problem. We could borrow stuff and be on our way. But we have samplers, synthesizers, trumpet. We have to get some gear, but obviously we're going to need to find another trailer too."
The band was aware of the potential for theft and took precautions accordingly.
"We have three top-of-the-line locks on our trailer," Coll says. "We broke a key inside of one of these locks a while ago, and it took us four days to find somebody who could get it open. We saw some of the rubber casings from those locks on the ground, so we know they tried to get in that way. We also have the trailer hard-locked to the hitch, and they popped that lock. They must have lifted it -- which is insane -- and moved it to their vehicle to drive it off.
"When somebody wants something that's yours, if they really want it bad enough, they're going to have it," Coll continues. "The most you can do when you're on the road is make it harder for them to take it. In a way we succeeded -- they couldn't get into the trailer, so they took the whole thing."
Although this is the first time Foxing has been personally targeted, theft has affected its tours in the past. The band was on the road with Mineral last year when thieves cleaned out the Texas band's van in a secured parking lot outside of Flamingo Bowl in St. Louis. The incidence was suspected to be a case of thieves following a band from the venue and waiting for an opportunity to strike.
See also: Tour Van Break-Ins Have St. Louis in Music-Industry Crosshairs
Josh Coll is not sure if this theft was planned or improvised.
"Maybe we're getting conspiratorial, but we talked about the potential that somebody saw us in the parking lot of the venue and it was obvious that we were band dudes and gal [the band is currently touring with Rats & People violinist Emma Tieman] and they might have followed us," Coll says. "It's really hard to speculate. Our heads are in a million different places. It's also possible that somebody just drove by, saw a parked fifteen-passenger van with a trailer and figured us out. There was a show poster in the van that had our name on it, so I guess they could have looked us up. At the same time, we had a Harley Davidson decal on the trailer so they might have thought it was full of motorcycles."
In the wake of this setback, Foxing has received an enormous amount of support. A "Foxing Recovery Fund" set up by band manager Joseph Marro via GoFundMe passed the suggested $5,000 goal in less than four hours last night and continues to climb. However, with the losses estimated at over $30,000, a full bounceback is not expected anytime soon.
"The silver lining of everything is the kindness of strangers and love that people have for hard-working musicians," Coll says. "Right now it's so raw. We're trying to process and part of me wants to be bitter and pessimistic. I think it's really easy to get calloused about it but on the other end, immediately there's been a huge outpouring of support and kindness, and I think that's really heartwarming and affirming. It's been crazy -- one of the guys from the Shins apparently shared our Facebook post."
For Coll, getting back on the road is priority No 1. "I just wish we could continue with the tour," he says. "We just feel halted. Anytime something goes bad on tour, you just want to continue. There's a safety net in the continuity of being on the road and going to the next show. On the spectrum of what's important, we're talking about thousands of dollars of loss on our end, but I'm so upset that we might disappoint somebody who spent fifteen dollars or whatever for a ticket to one of these shows and wanted to see us, but we won't be there."
Foxing will be performing July 11 at Off Broadway with mewithoutYou; shortly afterwards the band is heading to Europe for three weeks supporting Tigers Jaw. Click here to donate to the Foxing Recover Fund.
---