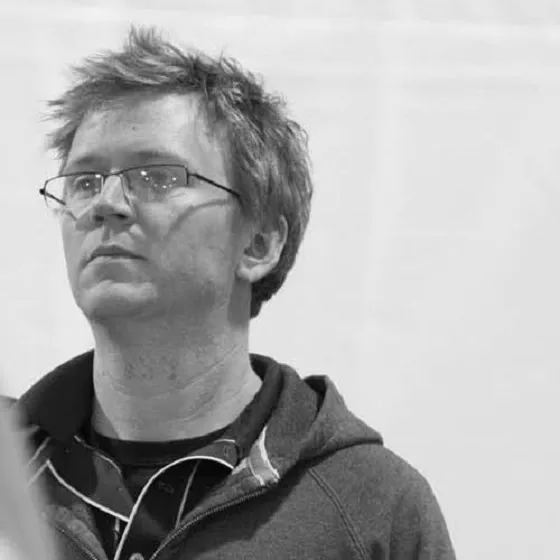 Patrick Lanham
Adam Frick, the man behind STL Vernacular.
In a small, glass-encased room at Shock City Studios, Em Piro, director of the St. Louis Fringe Festival, is discussing her event with host Martin Casas on his STL Swap Meet podcast. "It's an open market for creative work," says Piro, summarizing the two-week festival.
On the other side of the glass, Adam Frick -- the man producing the interview -- is attempting to set up the same kind of market for podcasts.
STL Vernacular, Frick's podcast network, launched on April 13. In addition to the three podcasts he manages -- STL Swap Meet, the comedy-based Would You Watch This and Married to Music -- Frick says he hopes the network will serve as a landing pad for all podcasts in the St. Louis area.
"The goal is," Frick explains, "If somebody in St. Louis wakes up and says, 'You know what, I've heard about these podcasts; I'd like to check some out,' that they know to go to STLVernacular.com. 'That's where I find podcasts in St. Louis.'"
A professional audio producer and professor for the subject at Webster University, Frick says his foray into the world of podcasting is relatively recent. Wes Hoffman, host of the Treehouse Lifestyle podcast, asked him to produce the show soon after Frick launched his audio production collective Hugmonster Sound in October of last year.
Soon after, a man named TJ Gaylord approached Frick with the idea for Would You Watch This -- a comedy podcast in which guests pitch ideas for television and movies. With two podcasts on his production slate, Frick began looking for a podcast hub in St. Louis before realizing no such entity existed.
"Well, if there isn't a place for podcasts in St. Louis," Frick reasons, "maybe there should be one."
Martin Casas, Frick's neighbor, was preparing to launch STL Swap Meet -- a collective of local businesses who gather every Sunday at the Lemp Brewery. Eschewing traditional advertising, Casas was looking for a new way to promote both the swap meet and its vendors -- the combination of which, Casas says, seemed a perfect fit for a podcast.
"I podcast to give more exposure to the vendors who participate in the St. Louis Swap Meet," he explains. "It's also a great way to let customers know what to expect at the market, and for us to talk about what it's like building a small business."
With Casas and Gaylord on as partners, Frick pitched the idea of Married to Music, a husband and wife music podcast, to KDHX DJs Steve and Cat Pick. Having three shows in his stable and a long time relationship with Shock City Studios, Frick was ready to launch STL Vernacular -- though he worried what veteran podcasters might think of the new kid on the pod.
logo by Adam Bertels
STL Vernacular
"There's the potential that we could be perceived as a threat," Frick says. "Any other podcast host in town that I've talked to or emailed with is like, 'Yes, great, we'd love to be a part of it. It's been a good community to suddenly be a part of.'"
One of those hosts, Shane Presley of Rock, Paper, Podcast, "loves the idea" of a local podcast network.
"I believe in strength in numbers," he says, adding, "It's cool that someone has finally started bringing this podcast community together."
Presley, whose show promotes local musicians and comedians, just celebrated the one-year anniversary of Rock, Paper, Podcast -- quite a feat in a genre where the allure of easily accessible materials (a microphone and a computer) can dull quite quickly in the face of monotonous production and promotion duties. It is this technical hurdle Frick hopes STL Vernacular can help aspiring podcasters clear.
"We're looking for the in-betweens," he says. "Maybe we do promotion, maybe we do release. [The network] is looking to take a load off where your interest isn't."
Frick also welcomes submissions from local podcasters who enjoy doing the production and promotion themselves -- a group that includes Presley and one of the area's best known shows, The John and Kane Show.
Described by its hosts as a "hybrid radio show/podcast," a new episode of John and Kane is released each weekday under the show's Indio Radio banner and then later saved as a podcast. Though it is produced independently, host John Launius says he sees the communal benefit of having the show also be listed as part of the STL Vernacular network.
"[A network] for local programs in St. Louis will demonstrate a unified front for the content creation coming out of St. Louis," he says. "If you are a listener who is interested in St. Louis-sourced shows, you will have everything available to choose from in one place."
Though much of the success of John and Kane can be attributed to its hosts' extensive backgrounds in radio and television, the show has also benefited from the support of local sponsors. According to Kane, their "commitment to the small business community in St. Louis has allowed us to have many sponsors and believers in what we do."
Frick is also searching out these local sponsors. Looking for "unique, creative, risk-taking businesses," Frick said the goal is to find business owners that understand the potential of podcasting -- specifically the targeted audience not necessarily found in traditional forms of advertising.
"We believe that if I've got 250 downloads of an episode," he says, specifically referencing the Married to Music show, "those are 250 real people who care about music in St. Louis, and they want to listen to it for an hour. That's a very defined audience. Of those 250 people, 225 are probably willing to click through and go and visit those sponsors."
---