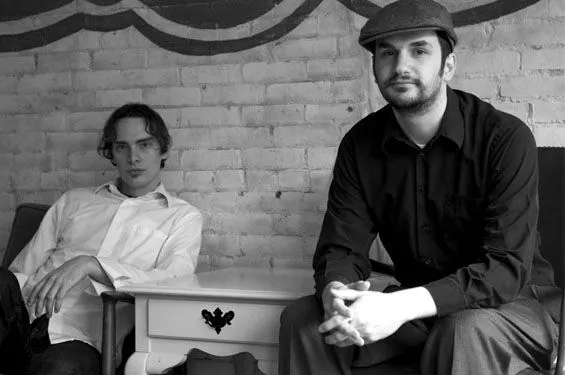 Yankee Racers brings its Americana music to Off Broadway for one final show this Thursday.
2014 was a big year for local musician Curtis Brewer. Not only did he publicly propose to his girlfriend in music video form (spoiler: she said yes), his flagship group Kentucky Knife Fight split after serving up great rootsy rock for several years. The hits keep coming, for better or worse, and now his acclaimed project Yankee Racers has decided to hang it up. Join Brewer alongside his band and opening act Brotherfather for a farewell gig this Thursday night at Off Broadway.
Alternatively, you could get sunburned (or whisked away by a tornado, if last night is any indication) at Fair St. Louis all weekend with Kool & the Gang, Blondie and many more. Grab a shovel St. Louis, there's plenty to dig all week long.
MONDAY, JUNE 29
Little Big Bangs w/ Rough Blush, Swear Beam, Skin Tags Monday, June 29 CBGB 9 p.m. | $5 By Christian Schaeffer From the RFT Music archives: One of the harrowing truths of the recent twentieth anniversary celebration/reissue campaign of Nirvana's In Utero (aside from the relentless march of time and the music press' fixation with fundamentally meaningless anniversaries) is that the current crop of twentysomething rock bands have never existed in a world without grunge. It has been such a part of the musical consciousness that Millennials regard it as "classic rock." All of which is to say: Little Big Bangs is not a grunge band by any stretch -- there's way too much pure-punk energy and rock & roll snarl to call it that -- but the early '90s are part of the DNA of a band whose members were literally coming of age in the early '90s. The band even haphazardly addresses its lineage in the sprawling "Basement," co-opting "Subterranean Homesick Blues" while name-checking Kelley Deal, obscure Sonic Youth songs and, yes, Kurt Cobain. It may be tongue-in-cheek, but you could pick a lot worse patron saints for your band.
TUESDAY, JUNE 30
Arabrot Tuesday, June 30 Fubar 7 p.m. | $10-$12 w/ Ghold, Buttercup, Van Buren, Planet Eater By Joseph Hess Melvins-esque is a haughty term to throw around, especially in the internet age where every new band ends up being some kind of homage. Nothing is original, eh? Well, the Art Council of Norway seems to think differently. Arabrot might be the only self-described "noise-metal-punk" band that is openly supported by a national arts organization. Those accolades don't come lightly, but the band's brand of sonic density feels especially distinct. Dynamic riffs flow through an ambush of low, warbling tones and taut drumming. Beats syncopate with a special depth, owing to a reliance on heavy downbeats that bring a big release after building tension. Musically, Arabrot serves in the court of King Buzzo but is a secretly a spy for the Crimson King.
WEDNESDAY, JULY 1
NOiSETTE w/ Brain Transplant, Beauty Pageant, Corrigan Brothers, Dave Stone, Janet, Jim Hegarty, NNN Cook, Wamhoda Wednesday, July 1 Foam 8 p.m. | free By Joseph Hess Guitar mangler Mr. Ben serves up his sequel to St. Louis' harshest concert series aptly dubbed NOiSE (all capitals with a lowercase i, very important). Earplugs are strongly suggested, but don't get the wrong idea -- few of these acts ever reach the kind of pulverizing volume that begs for protection. Some artists just sound better with that kind of safety barrier. After all, noise is a heavy word for a genre that includes ambient, electro-acoustic, free-jazz and other cross-pollinating oddities like experimental video and spoken word. And this event features all of the above -- all for the low, low price of zero dollars.
THURSDAY, JULY 2
Yankee Racers Farewell Show w/ Brotherfather, The Free Years Thursday, July 2 Off Broadway 8 p.m. | $7 Read more on Yankee Racers in our review of 2014's American Music: When Yankee Racers made its debut with 2012's Duologue, it felt like more of an amorphously defined "project" than a straight-ahead band. That was an intentional dodge, it seemed. The LP was written and composed by Curt Brewer and Nathan Jatcko but performed with the help of a coterie of south St. Louis' best musical talents -- members of So Many Dynamos, Old Lights, Bruiser Queen and the Blind Eyes contributed instrumentation and lead vocals -- so much so that Brewer, the band's ostensible frontman, was rarely heard on the disc. Couple that approach with Duologue's war-torn/post-apocalyptic arc, and it was a safe bet that if and when Yankee Racers released more music, it would be fundamentally different than what came before. Sure enough, for American Music Brewer and Jatcko strip back both the music and the overall approach, and while the album's name serves as a sleight of hand on the title track, it also defines the folk- and jazz-flecked approach to these acoustic songs.
Follow through for more great concerts all weekend long. FRIDAY, JULY 3
Everything Went Black EP Release Show w/ Fister, Big Blonde, Braddock, Blight Future Friday, July 3 The Firebird 8:15 p.m. | $8 By Daniel Hill St. Louis' finest metallic hardcore group, Everything Went Black, will release its new Night Terrors EP at this show, the band's first since 2013's Mosenthein on Encapsulated Records. EWB uploaded a preview track called "Two Thousand" to its Bandcamp page in late May that reflects the same intensity and heaviness fans have come to expect, but lead singer Brandon Hoffman insists, "It's pretty wimpy compared to the rest of the EP." That means you can reasonably expect that the other songs will pulverize your pathetic eardrums to a pitiable pulp. Night Terrors will be the first release on Hoffman's new Hrtwrk Collective label, which aims to put out limited runs of cassettes and more vinyl in the future.
SATURDAY, JULY 4
Fair St. Louis w/ Kool & the Gang, Blondie, Melissa Etheridge, Natalie Stovall and the Drive, Parmalee, Chris Young, MC Lyte, American Authors, Tony Toni Tone Thursday, July 2 through Saturday, July 4 Forest Park 6 p.m. | free By Daniel Hill In years past, Fair St. Louis' biggest hook was its price point -- at "free," the event really can't be beaten on that front. Artists such as Brett Michaels, one of the headliners in 2013, weren't exactly the most exciting for diehard music fans, but hey, it's an excuse to get out of the house, right? But all that changed with last year's move to Forest Park. The expansive space ramped up everything, including the lineup: This year's event includes the Mowgli's, Blondie, MC Lyte, Morris Day & the Time, Kool & the Gang and more, providing ample incentive beyond frugality to spend a day (or three) in the sun.
SUNDAY, JULY 5
Leggy w/ The Brainstems, Posture Sunday, July 5 Foam Coffee & Beer 9 p.m. | $5 By Joseph Hess A few fuzzy guitars over sticks and skins is beyond overdone, but the way those sounds come together in Leggy feels wholly distinct, like the group came up with this idea of a "rock band" all on its own. The simple formula for rock & roll involves any number of noises, but with Leggy, the listener gets a mainline to raw, visceral feelings without the heft of weighty pop songs. Simplicity is key, but the art of taking something so tiny, like a single melody, and making it feel bigger than the sum of its parts is a rare feat indeed.
Note: Though we wish we could, we can't feature every great show happening in town in just one post. Look for plenty more recommendations this Friday in our weekend shows post, peruse the St. Louis concert calendar for more ideas and let everyone know what else you're looking forward to seeing this week in the comments below. To be considered for coverage in RFT Music, submit show info online or drop us a line anytime.
RFT MUSIC'S GREATEST HITS
Remembering STLPunk.com -- How to View the Site Today and Find Your Old Profile Page "Where Did My Dick Go?" The Gathering of the Juggalos' Best Overheard Quotations The Ten Best Dive Bars in St. Louis The 15 Most Ridiculous Band Promo Photos Ever
---