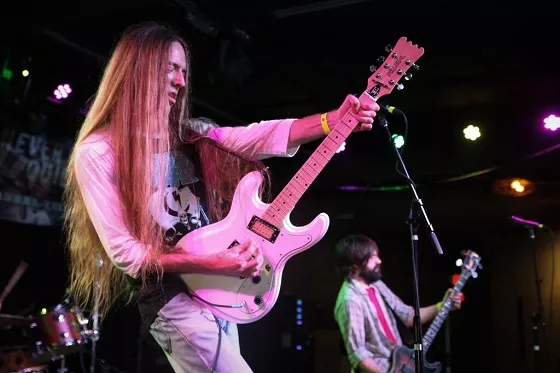 Derek Schwartz
Tok, seen here performing at this year's RFT Music Showcase, was voted Best Hard Rock band.
It was simply meant to be. After what felt like weeks of continuous rain in St. Louis, the clouds finally parted on Saturday, June 20, just in time for the annual RFT Music Showcase. Held for the second time in the Grove district of Manchester Avenue, this year's event saw record numbers in attendance and in performance, with nearly 90 acts sharing their art with St. Louis' most in-the-know music fans over the course of twelve hours. The sunshine, frankly, was just a bonus.
But we're not done yet. There's still the little matter of the RFT Music Awards, for which members of the public cast their ballots to support their favorite local artists. Thousands of votes later, the results are in.
See also: 20 Top Pics From the RFT Music Showcase 2015
Aside from a few instances of ballot-stuffing that we weeded out (tsk tsk, cheaters), this year's winners prove that you all have been paying attention, with many artists who have been making big waves in the last year coming out on top.
Lion's Daughter, which signed to the prestigious Season of Mist label in March, was voted Best Metal Band. Bruiser Queen, which has had a year of touring and pushing hard after signing with St. Louis' Boxing Clever Records, takes the top honors in the Rock category. Rapper Tef Poe, who has made quite a name for himself as a high-profile Ferguson activist, takes home the gold in the Best Hip-Hop (Solo) category.
Derek Schwartz
Mathias & the Pirates, who also performed at the Showcase, took top honors for Best Hip-Hop (Group).
But the winners weren't the only talented musicians on the ballot. After all, many of the acts that performed on Saturday didn't win their respective categories, but clearly they had the chops to show the masses a good time. In keeping, we are reprinting the entire list of 150 nominees this year. You will see the winners at the top of each category in bold -- tell them congratulations! Then go check out the ones that aren't in bold. We assure you, they are well worth your time.
See you all next year!
Americana Beth Bombara Brothers Lazaroff Cara Louise Band CharFlies Loot Rock Gang
Blues The Maness Brothers The Jeremiah Johnson Band Rich McDonough & Rough Grooves Rum Drum Ramblers Soulard Blues Band
Country The Hobosexuals Cree Rider Family Band Jack Grelle Old Salt Union Trigger 5
Cover Band The Town Drunks Diesel Island Jukebox Hooligans Queens Blvd We Bite
DJ Nappy DJ Needles Billy "Billy Brown" Brown DJ Boogieman DJ Crucial DJ Mahf
Electronic (Dance) Black James Abnormal D-M-Y Parisian Rai
Electronic (Eclectic) Hands & Feet 18andCounting .e Hylidae Syna So Pro
Emo I Could Sleep In The Clouds Carte de Visite Early Worm Foxing Old State
Experimental Demon Lover Darin Gray Eric Hall Travis Bursik Yowie
Folk Letter to Memphis The Aching Hearts Arthur and the Librarian Cassie Morgan and the Lonely Pine Grace Basement
More winners on the next page.
Hard Rock Tok Bug Chaser Fumer Hell Night I Actually
Hardcore Lumpy & the Dumpers Everything Went Black Life Like Q RUZ
Hip-Hop (Group) Mathias and the Pirates Domino Effect Doorway Jah Orah & KD Assassin M.M.E.
Hip-Hop (Solo) Tef Poe Arshad Goods Con Indiana Rome Tiffany Foxx
Jam/Dub Jake's Leg Fanny Pack The Schwag The Stone Sugar Shakedown Unifyah
Indie Pop Scarlet Tanager Dots Not Feathers The Educated Guess Spectator The Sun and The Sea
Indie Rock Sleepy Kitty Bear Hive Bo and the Locomotive Town Cars Whoa Thunder
Jazz Tommy Halloran's Guerilla Swing The 442's Animal Children Erin Bode Peter Martin Trio
Metal Lion's Daughter Black Fast Fister Path of Might Tropical Storm
New Band Traveling Sound Machine American Wrestlers Blank Generation Endora The Jockstraps
More winners on the next page.
Noise Ghost Ice Beauty Pageant Kevin Harris Kingston Family Singers NNN Cook
Pop Vanilla Beans CaveofswordS Jon Hardy and the Public Golden Curls Middle Class Fashion
Pop Punk Better Days Breakmouth Annie Facing Infamy Guy Morgan and the FT Crew The Haddonfields
Post Hardcore LifeWithout Laika Blight Future Jr. Clooney Mariner
Psych Magic City The Brainstems Kadu Flyer Mother Meat Strong Force
Punk Little Big Bangs Animal Teeth Antithought Maximum Effort Trauma Harness
R&B Love Jones "The Band" Aloha Mi'Sho Brian Owens Coultrain Theresa Payne
Rock Bruiser Queen Banks and Cathedrals Brother Lee & the Leather Jackals Cal and the Calories Shitstorm
Singer-Songwriter Emily Wallace Little Falcon Lizzie Weber Tawaine Noah Zak Marmalefsky
Soul/Funk Funky Butt Brass Band Al Holliday & the Eastside Rhythm Band The Jungle Fire Nikki Hill Rhythm Section Road Show
---