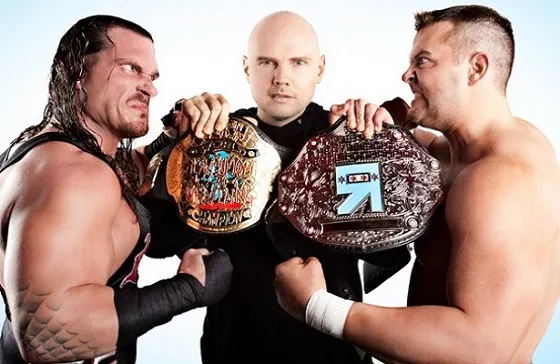 Decades after providing an avenue through which youth in the '90s could steer their angst, Billy Corgan has found a new group whose anger he's been hired to direct.
Corgan, whose Smashing Pumpkins will be appearing tonight, June 23, at the Pageant, announced earlier this year that he has joined TNA Wrestling as a senior producer, focusing on talent and development. A lifelong wrestling fan, Corgan is known to tweet frequently about the sport and in 2011 even founded his own Chicago-based wrestling company, Resistance Pro Wrestling.
From the Bears' Super-Bowl-Shuffling crew to Garth Brooks' appearance at San Diego Padres' spring training, the flirtation between music and athletics (and vice versa) is a frequent story in the history of the two pastimes. For some, however, this coquetry in another field became more serious -- occasionally creating a second career. With that in mind, here are eight surprising crossovers between music and sports.
Bob Mould (Husker Du, Sugar)
Much as Husker Du's heavily distorted guitars and angsty vocals served as a precursor for the Smashing Pumpkins, Husker guitarist Bob Mould also worked in the world of professional wrestling, years before Corgan. For a six-month period from 1999 to 2000, Mould was a creative consultant for World Championship Wrestling, pitching storylines to the likes of Hulk Hogan and Bret Hart.
It was also during this period that Mould, according to his autobiography See A Little Light, began using steroids to maintain the energy required to work sixteen-hour days.
"I took that pill," Mould writes about his first experience with Anadrol, "and within a few hours I was ready to fuck a Coke machine... I was better equipped for the job; the boys approved of my new attitude."
Unrelated to Mould's book: "Fuck a Coke Machine" has to be in the top-ten of song titles Fred Durst wishes he'd imagined.
Andrew Ridgeley (WHAM!)
With its combination of speed and danger, the allure of auto racing has drawn in adrenaline-fueled rockers including Stephen Pearcy of RATT, Vince Neil of Motley Crue and Andrew Ridgeley of WHAM! Yes, the man best known as George Michael's day-glow-clad sideman attempted a career as a Formula Three race car driver once Michael left the band.
Unfortunately, Ridgeley's time as a driver was brief and he crashed multiple cars, having trouble finding sponsorship. He would also hit a wall creatively as his solo album Son of Albert would fail to attract fans in the same numbers Michael's Faith did. Don't feel too bad for Ridgeley though -- the man who once played second banana to Michael ended up marrying Bananarama's Keren Woodward.
Wayman Tisdale (Basketball)
Tisdale, a twelve year NBA veteran, might be the only person to be honored by both a sports and music hall of fame. In 2009, the former Oklahoma power forward was inducted into the College Basketball Hall of Fame. Three years later, he was awarded the Legacy Tribute Award for his bass playing by the Oklahoma Jazz Hall of Fame.
The second overall pick in the 1985 NBA draft, Tisdale would see his first album Power Forward released a decade later on Motown Records. He retired from basketball in 1997 in order to focus all his energy on his musical career -- a decision that would bear fruit when his 2001 album Face to Face reached the top spot on Billboard's Contemporary Jazz chart.
Bruce Dickinson (Iron Maiden)
The more one learns about Bruce Dickinson, the more it seems he should be the one smiling smugly in the Dos Equis ads as "The Most Interesting Man in the World." The Iron Maiden frontman, in addition to hitting glass-shattering high notes on songs about ancient warfare, is also a commercial airline pilot and at one point in the '80s was ranked as one of the top ten fencers in Great Britian.
According to the website Bookofhours.net, Dickinson moved to Bonn, Germany, after the band recorded Seventh Son of a Seventh Son in order to train at the West German national fencing center. Two years later, his fencing club would represent Great Britain in the European Cup -- though unfortunately the site does not mention if they were all allowed to compete in Eddie costumes.
Continue to page two for more.
The Baseball Project (R.E.M., Minus 5, Dream Syndicate)
Following R.E.M.'s induction into the Rock & Roll Hall of Fame in 2007, Scott McCaughey of the Minus 5 and the Dream Syndicate's Steve Wynn began discussing a band that would record only "baseball songs." With the addition of R.E.M.'s Peter Buck and Wynn's wife, former Zuzu's Petals drummer Linda Pitmon, the strangest supergroup of all time was formed.
More than just a one-off joke, the band has released three albums of all baseball-themed material and added Buck's R.E.M. counterpart Mike Mills to the fold. On the off chance a group that's written tunes about everyone from Dock Ellis to Dale Murphy doesn't carry enough sports cred, they also bring Fenway Park organist Josh Kantor along as a keyboardist on live dates. So suck on that, John Fogerty.
Shaquille O'Neal (Basketball)
For all the NBA stars that threaten to release rap albums (Allen Iverson) or those that actually do (Metta World Peace), the gold standard of the basketball/hip-hop hybrid would have to be the career of Shaquille O'Neal. With one gold album and another platinum, Mayor McShaq's foray into the world of rap is notable for both his success and longevity.
Beginning with a verse on Fu-Schnickens' single "Can We Rock? (What's Up Doc?)," O'Neal would release four albums and a best-of disc, and collaborate with noted artists such as Michael Jackson, the Notorious B.I.G. and Method Man. Refusing to contain his musical talents to hip-hop, Shaq also conducted the Boston Pops Orchestra in late 2010. Oh yeah, and he's also a genie named Kazaam that lives in a boombox.
Bob Nastanovich (Pavement)
The goofball foil to Stephen Malkmus' artsy, pretentious stage persona, Bob Nastanovich was the closest thing '90s indie-rock had to a hype man -- part percussionist, part "guy that runs around and screams a lot." So it may come as some surprise that the man whose frenetic stage presence was said to inspire the "Woo-Hoo" in Blur's "Song #2" has found a second career in the tranquil world of horse racing.
In addition to being a horse owner since 1996, Nastanovich has worked as a clocker, chart caller, reporter and columnist for various racing outlets, according to an interview he did with America's Best Racing last month. He also lists "data collection" -- a position with which he has some background, having previously served as Malkmus' "Fact Checking Cuz" on matters related to Geddy Lee's speaking voice.
Macho Man Randy Savage (Professional Wrestling)
If there was ever a prime example of "Macho Madness," it might be this 2003 rap album from the two-time WWE Champion. Savage's guttural rasp -- imagine the sound of a chain-smoking lion -- is sped up and set to a backbeat, making the words even more indecipherable as he drops lyrical powerbombs on Hulk Hogan ("Be a Man") or spits a heartfelt (though super misguided) eulogy for Mr. Perfect ("My Perfect Friend").
Taken in the context of all the ricockulous testosterone-driven rap-metal so prevalent in the early 2000s, this album isn't as terrible as it seems upon first listen. That said, it's also not likely to be considered for a 20th anniversary box set re-release either. It's Randy Savage. Rapping. For an entire album.
Snap into it; oohhh yeah!
---