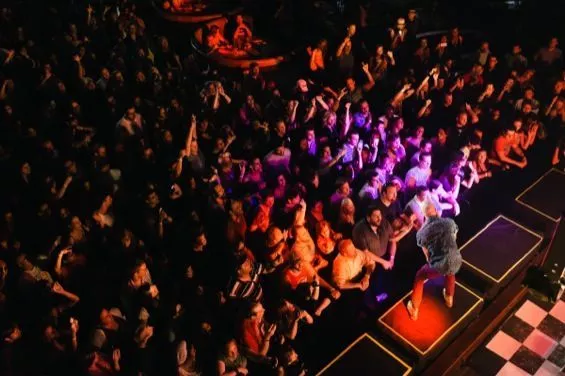 Neon Trees returns to St. Louis tonight at the Ready Room. Photo by Bryan Sutter. See more photos from the band's show last year at Ballpark Village in RFT Slideshows.
After spending a full 24 hours recovering from the 2015 RFT Music Showcase, we're just barely ready to brave the week ahead. But really, we want to thank everyone who came out to support local music and the musicians who lent their talents to make the event such a roaring success.
While this past weekend was one for the record books, great music still goes down in St. Louis every single night of the week. Trust us, we've done the research and are here to report our findings below:
MONDAY, JUNE 22
Neon Trees w/ Yes You Are, Alex Winston Monday, June 22 The Ready Room 8 p.m. | $25 By Scott Heisel From the RFT Music archives: No matter how maligned the genre may be today, one thing remains true: Ska brings people together. Take genre footnote Attaboy Skip. The fledgling Las Vegas ska-punk band would be completely relegated to the black-and-white checkered history books had it not been for one key fact: Drummer Ronnie Vannucci went on to join the Killers. Now, another former Skipper, bassist Branden Campbell, is making progress in the dance-punk realm with Provo, Utah's Neon Trees.
TUESDAY, JUNE 23
Smashing Pumpkins: In Plainsong - An Acoustic-Electro Evening w/ The Eeries, Katie Cole Tuesday, June 23 The Pageant 8 p.m. | $45-$55 By Joseph Hess Billy Corgan, of all people, has perfected human cloning. How often he has to step in and replace worn-out clones, is another story. If that sounds a little far-fetched, then try to explain how Corgan has the time to run a tea shop in Chicago, work as a senior producer for TNA Wrestling and perform eight hour pieces of noise music. Oh yes, he also leads a small traveling band called the Smashing Pumpkins. The concert proper is sold out but the Pageant is offering a number of VIP packages, including a private early show for those select few who are willing to shell out the extra dough. "In Plainsong - An Acoustic-Electro Evening" comes off a bit pretentious, but let's be real, we prefer our alt-rock frontmen to be exploratory, as opposed to burnt out and washed up.
WEDNESDAY, JUNE 24
Rodrigo y Gabriela w/ Madisen Ward and the Mama Bear Wednesday, June 24 The Pageant 8 p.m. | $30-$32.50 From this 2010 concert review by Keegan Hamilton:
The two of them stride out onto a dark stage, strap on their nylon-string acoustic guitars and began slowly, playing their unique, vaguely Spanish rhythms. He finger-picks a scale of high notes and she taps the body and muted strings of her guitar with her fingertips to keep time. It builds gradually for maybe 30 seconds or a minute until -- whoosh -- it is breathtakingly fast.

Rodrigo strikes a sculpted rocker pose, closes his eyes and plucks his guitar with a style that is driving, relentless, masculine. Gabriela bobs slightly to the beat that she drums with her fingers and palms on her guitar while she simultaneously shreds the rhythm chords with a whirl of strokes and finger-picking.
THURSDAY, JUNE 25
Sloan Thursday, June 25 Blueberry Hill 8 p.m. | $15 By Roy Kasten Having twenty years, a dozen albums, some 30 singles and a small library of critical praise behind you does tend to cloud the judgment. But who was going to tell Sloan a double album, with four sides evenly split between the band members, wasn't exactly a next-level maker? As it turns out, Commonwealth is like a greatest-hits collection with no hits, packed with the Toronto (by way of Halifax, Nova Scotia) band's bracing, near-synthesis of psychedelia, power-pop and evocative balladry -- and a single side that stretches to eighteen minutes of jamming abstraction (the drummer's concept). It's been far too long since Sloan has played St. Louis. Seize the night.
Follow through for more great shows happening this weekend. FRIDAY, JUNE 26
Darius Rucker w/ Brett Eldredge, Brothers Osbourne, A Thousand Horses Friday, June 26 Hollywood Casino Amphitheatre 7 p.m. | $74 By Ryan Wasoba From the RFT Music archives: Much to his own chagrin, Darius Rucker has been consistently stigmatized by the owl-ish nickname "Hootie," as in his band, "and the Blowfish." This magically changed with a 2005 Burger King commercial in which Rucker donned a ten-gallon hat, strummed an acoustic guitar and sang a Western ditty in his signature, Eddie Vedder-meets-Johnny Cash baritone. What felt like absurd shock value (or a knowingly ironic move) now documents the birth of an unlikely top-40 country solo artist.
SATURDAY, JUNE 27
S.L.U.M. Fest 2015 Saturday, June 27 2720 Cherokee Performing Arts Center 1 p.m. | $10-$13 By Daniel Hill The St. Louis Underground Music Festival -- also known as S.L.U.M Fest by acronym aficionados -- really should require no explanation at this point. Now in its sixth year, the event is the largest hip-hop festival in the region, with over 70 performers celebrating all four elements of the genre in a twelve-hour time span. Yeah, that's right, four elements -- graffiti artists will be doing live displays and breakdancers will be tearing up the dance floor alongside the event's emcees and DJs, making for an all-inclusive affair.
SUNDAY, JUNE 28
Weird Al Yankovic Sunday, June 28 Peabody Opera House 7:30 p.m. | $26-$56 By Daniel Hill It seems crazy to think that Weird Al is presently at the top of his game -- the celebrated parody performer is usually thought of as an '80s relic, albeit a beloved one. But at age 54, just shy of 40 years into his career, the man born Albert Matthew Yankovic just released his first No. 1 album, July's Mandatory Fun. A deft marketer and skilled director, Yankovic achieved this feat thanks in part to a well-received viral campaign in which he released eight music videos in eight days, proving that his chops are just as sharp and relevant today as they ever were.
Note: Though we wish we could, we can't feature every great show happening in town in just one post. Look for plenty more recommendations this Friday in our weekend shows post, peruse the St. Louis concert calendar for more ideas and let everyone know what else you're looking forward to seeing this week in the comments below. To be considered for coverage in RFT Music, submit show info online or drop us a line anytime.
RFT MUSIC'S GREATEST HITS
Remembering STLPunk.com -- How to View the Site Today and Find Your Old Profile Page "Where Did My Dick Go?" The Gathering of the Juggalos' Best Overheard Quotations The Ten Best Dive Bars in St. Louis The 15 Most Ridiculous Band Promo Photos Ever
---