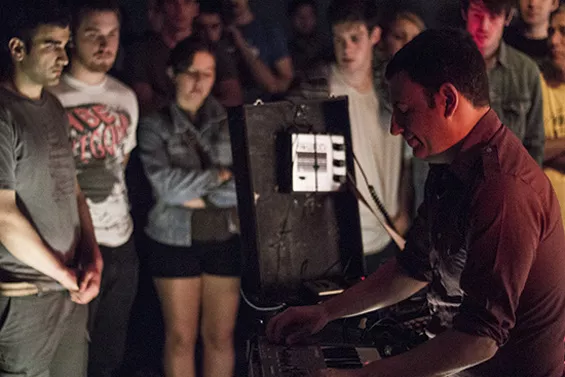 Photo by Mabel Suen
Jeremy Kannapell performing as Ghost Ice.
His one-man project Ghost Ice is nominated for a Music Award under that troublesome "Noise" category (more on that later), but Jeremy Kannapell's contributions to the St. Louis music scene extend far beyond his increasingly frequent live performances. In his words, he has become a "coordinator" — not a booker or promoter — for all manner of experimental shows, whether in DIY spaces or staid concert halls. Think of him as a kind of switchboard for progressive music, connecting artists, venues and audiences, and helping foster a supportive scene for outside-the-box musicians.
Just don't expect him to take any credit for it.
See also: Noise: Meet the 2015 RFT Music Award Nominees
In his typically soft-spoken and self-effacing fashion, Kannapell, 37, explains away his role with the flick of a wrist. He's the program coordinator for the New Music Circle, an avante-garde music presenter that just wrapped an ambitious 56th season featuring Matthew Shipp, Roscoe Mitchell and Tim Berne's Snakeoil. In that context, he says, he's part of a "democratic process" in staging top-tier experimental music and forward-thinking jazz.
Some of that work is public-relations wrangling — an offshoot from his days as show-poster artist nonpareil. (His warped, colorful, boundary-bursting posters garnered him the nod for Best Poster Designer from this publication's Best of St. Louis awards in 2014.) On social media, Kannepell is constantly alerting showgoers to what he calls "underground or 'outer limits'" performances, many of which would have otherwise skipped St. Louis if not for his shepherding.
"I just try to coordinate it and hopefully let people know — and not just people I personally know," says Kannapell. "I hope to get the word out in some form — and this can be a stretch sometimes — where people who are unfamiliar with the music are interested in checking it out."
See also:
New Music Circle Offers "Struggling Music Lover" Prices for Upcoming Concerts
Outside of his work for the circle, the Dogtown resident has coordinated shows for acts such as Circuit des Yeux, Joe McPhee, Heatsick and Daniel Higgs of Lungfish, staging them at Foam, Schlafly Tap Room, the Stage at KDHX, the Luminary Center for the Arts and more. He's quick to credit the spaces and artists for doing the heavy lifting. "When the venues themselves, or the billing itself, can extend out into audiences I don't know, it's amazing to me, because I've seen a lot of new faces at shows that I coordinate, and that's super encouraging," Kannapell says.
He's particularly happy with the group's reach this past season. He doesn't hesitate to name his personal highlight: "Roscoe Mitchell for sure, who was part of the Art Ensemble of Chicago and spearheaded the AACM — Association for Advancement of Creative Musicians — which is in Chicago and just celebrated his 50th year," he explains. "The organization says something that we can both bring in people who have been pioneering different types of music for over 40 or 50 years as well as emerging people who are on the fringe or are just starting their history. People like Eli Keszler or Rashad Becker from Germany."
He adds, "That's something that I personally feel strongly about — having both [young and old] elements represented there. It's great to do both under the same banner, within the same series. They're all important, and hopefully it raises some awareness when you see Roscoe Mitchell's name next to somebody you haven't heard of yet."
It's not just fans who appreciate his efforts. Darin Gray, the experimental bassist whose work with the Dazzling Killmen has long since passed into canon, praised Kannapell in an effusive Facebook post on May 5. That was one day after Gray had played a special Vintage Vinyl in-store as part of Wilco leader Jeff Tweedy's solo act, Tweedy, as well part of a Kannapell-coordinated show with drummer Tyler Damon at the William A. Kerr Foundation.
"I had all but given up playing in the place that I live," Gray wrote, "and Jeremy more than any other person set me straight, shined a light, and throughout these last few years has helped me create opportunities for myself that have brought out the best performances of my life, right here in my hometown of St. Louis."
Kannapell is typically sheepish in his response. "That was incredibly sweet of him to say," he says. "I don't know if it's true or not."
Of Gray, Kannapell adds, "He's somebody I listened to as a kid growing up in Florida." He moved to St. Louis in 2003, but hasn't forgotten the way Gray sparked his curiosity about the city: "It put some kind of visual analog in my mind for St. Louis and left a curiosity for me, personally: What is going on in St. Louis and the Midwest? What's that dynamic that I'm hearing in this music? Darin is someone who it has been an honor to partner with even in booking."
Kannapell's partnerships extend beyond his seemingly nonstop gig coordination. Ghost Ice has been the aegis he's worked under for years, using an analog Roland synth and some pedals to build rhythms and sculpt sounds.
"I don't think of it really as 'noise,'" he says of his music, "which sort of a loaded, confusing term at this point, even though I love a lot of that. To me I always thought if it as better described as 'electronic,' because it's pretty much what I'm working with."
Lately Kannapell has taken to working alongside musicians such as synthesist Joseph Raglani (as Skull's Mind) and drummer Louis Wall for on-the-fly live compositions.
"I totally love and appreciate opportunities to do collaborations and throw your course off a little bit — my own personal course of sounds and approaches that I'm used to doing," he says. "It reconfigures the brain quite a bit trying to improvise with somebody. It's a learning experience in real time."
---