The 2015 Riverfront Times Music Showcase is set to be the biggest local music festival in St. Louis history. On June 20, nearly 100 local bands will play across ten venues in the Grove Neighborhood, including just about every genre possible, sans polka. From now until the showcase, we will supply you with the lowdown on every act nominated for an RFT Music Award, so you can be in the know with regards to your vote. Read on and get familiar with your local scene. And don't forget to mark your calendar for June 20!
See also: -- The Complete 2015 RFT Music Showcase Schedule -- Vote Now For the 2015 RFT Music Awards
---
Banks and Cathedrals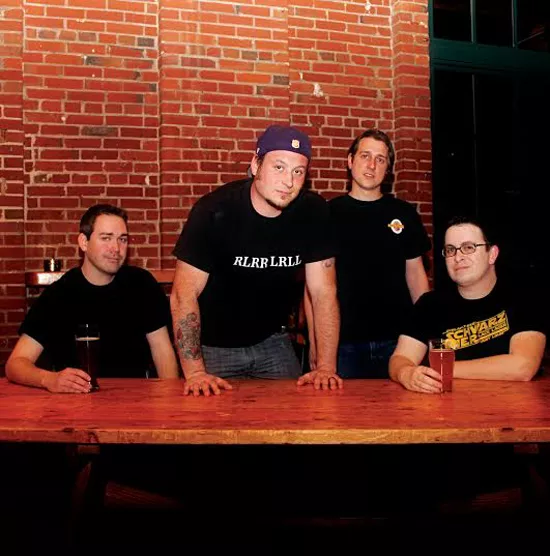 Christian Knobloch (Guitar, Vocals) Bruce Allman (Guitar) Eric Tiemann (Bass) Matt Seidel (Drums)
Facebook | Reverb Nation | Soundcloud
---
Brother Lee and the Leather Jackals
Photo provided by band.
Catch Brother Lee and the Leather Jackals at the 2015 RFT Music Showcase: The Gramophone at 10 p.m.
Josh Eaker (Guitar, Vocals) Danny Blaies (Drums, Vocals) Sean Kimble (Bass, Vocals) Stephen Baier (Guitar)
Read more about Brother Lee and the Leather Jackals in our 2014 interview:
Brother Lee and the Leather Jackals make the kind of music dads perform dashboard percussion to. En route to the nearest golf course, on the way to work, dragging an unwilling son or daughter along for what will eventually be called "some of my favorite moments with Dad." Anywhere, really.

Except it isn't going to be just any dad zooming up I-40 all hollers and hysterical finger piano pyrotechnics. It will be one who burrows in the basement to meet friends late into the night. He already reeks of dope and brought the bourbon. That cat that never gives a shit, but somehow keeps a job. He goes to local shows and touts the badassery of bands like Brother Lee and the Leather Jackals. And that child in the front seat of his future will be mortified.
---
Bruiser Queen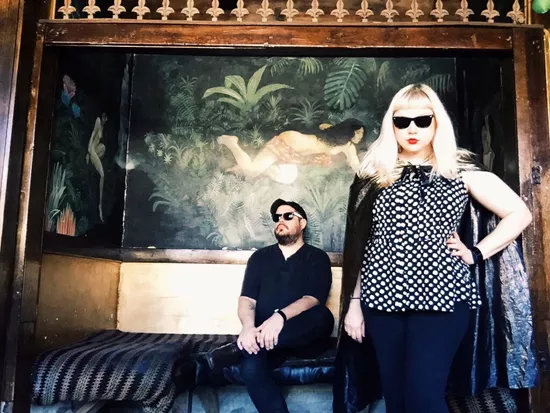 Morgan Nusbaum (Guitar, Vocals) Jason Potter (Drums, Vocals)
Official Website | Bandcamp | Facebook
---
Cal and the Calories
Martin Meyer (Everything - live band is a rotating cast)
---
Shitstorm
Photo by Lindsay Cranmer.
Catch Shitstorm at the 2015 RFT Music Showcase: Layla at 10 p.m.
Matt Stuttler (Guitar, Vocals) Karl Frank (Guitar) Aaron Stables (Bass) Dave Laws (Drums)
Read more about Shitstorm in our 2014 interview:
Matt Stuttler makes St. Louis a better place to love live music. While booking for local venues Heavy Anchor, Plush and, as of this week,the Firebird, he's brought a quality ethos to an industry that likes to play favorites. Through his own music label Eat Tapes, Stuttler helps finance and promote independent bands by releasing cassette tapes, a format that's all but dead among collectors and analog purists.

Stuttler wears many hats, but he's a musician first and foremost -- never mind the hours he spends helping others. As Shitstorm, Stuttler is a total force of lo-fi rock 'n roll and he does it alone by playing to -- you guessed it -- a cassette.

Instead of hauling around a drum machine, he jams to pre-recorded backing tracks. As is the nature with tapes in general, natural degradation occurs, but that's part of the charm with Shitstorm. But that's not to say Stuttler eschews the idea of a live band altogether.

"Shitstorm will always just be me, but I do pick up people for shows and recordings. Sometimes I still play solo, but lately I've at least been playing with a drummer," Stuttler adds. He's called in players from garage rock favorites Bruiser Queen, Wild Hex and the Brainstems to fill out the sound. The revolving door of superlative players makes each show feel distinct and different from the last.

"I didn't go into Shitstorm looking for a particular sound, and I don't think I'll ever settle on that. It's more of a moniker that I can just use for whatever I'm working on. The first dozen shows or so I used a cassette player to play a tape of a beat I recorded off an old thrift store organ. I would just start the tape and play one song after another, no wasting time," Stuttler says.
Previously: - Americana - Blues - Country - Cover Band - DJ - Electronic (Dance) - Electronic (Eclectic) - Emo - Experimental - Folk - Hard Rock - Hardcore - Hip-Hop (Group) - Hip-Hop (Solo) - Indie Pop - Indie Rock - Jam/Dub - Jazz - Metal - New Band - Noise - Pop - Pop Punk - Post-Hardcore - Psych Rock