Photo by Corey Miller
Five of the six members of MME -- a hip-hop collective making big waves through its music in the post-Ferguson era.
The lights are dimmed at the Luminary on Cherokee Street, where roughly 200 hip-hop fans have gathered for a special event showcasing the work of St. Louis' MME collective, a tight group of local artists who have been making big noise in the last year. Photos from a recent West Coast outing hang on a wall close to the front of the building, and a stash of merch sits in plain sight for anyone walking through the door. But no one is interested in any of that right now. It is the end of a long night, and the focus is on the stage.
The June 4 show kicked off this year's LAB series at the Luminary, a multimedia affair that pairs live performance with video projection. Each member of MME — Dante Wolfe, Mir, Lyrique, Con, Ciej and Mvstermind — has already performed individually before joining forces à la Voltron to close out the show with a group set.
See also: St. Louis Hip-Hop Trailblazers MME Get a Showcase at the Luminary
As they prepare to perform the final song of the night, the group's de facto leader, Mvstermind, looks sweaty but determined. "We gotta do this shit for this city, man," he says. "Keep cultivating."
The opening strains of "#OPFERGUSON WAVE2" rise over the sound system as someone grabs a mic, shouting a phrase that has become all too familiar for anyone living in the St. Louis area.
"Rest in peace Mike Brown!"
The crowd erupts into cheers.
In the ten months since Michael Brown was shot to death by then-Ferguson police officer Darren Wilson, St. Louis' hip-hop scene has been at the forefront of artistic dissent in the region. Sharp criticism of the state of policing has led to protest-style lyrics and musical rallying cries, bringing international attention to a community that hasn't seen a breakout commercial act in years.
Some artists, including Tef Poe and T-Dubb-O, have attracted new audiences by setting their music to the side and picking up protest signs and bullhorns instead. Their frequent interviews with international media organizations and appearances at the White House and the United Nations have revealed the folly in dismissing a hip-hop artist as "just a rapper." In fact, the genre's street-level view and relative agility serve as its greatest strengths, enabling artists to react quickly to issues of social injustice.
"#OPFERGUSON WAVE2," for example, was written and released in one day — a day that began when MME's members attempted to participate in a more traditional form of protest.
At a Clayton rally a few days after Brown's death, Mvstermind explains, "We got a chance to talk on the megaphone and everything. But I swear, people were just driving by, some people wasn't even looking, some people might honk the horn and yell some cuss words. And I was just like, 'What the hell? The purpose of this is not working — for me at least.' So I was like, 'Yo, let's go hit the lab, y'all; let's go and knock this track out.'"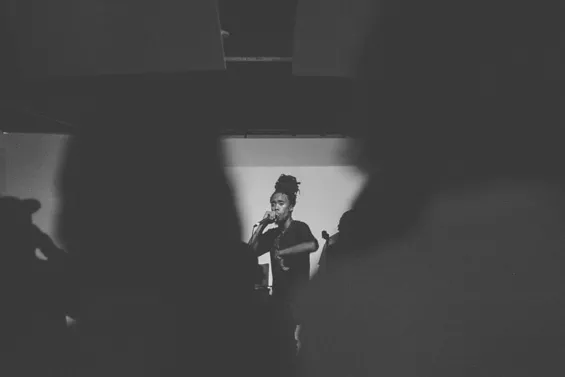 Photo by Brea Photography
Mvstermind, performing at The Luminary.
Back in the studio, he had one overriding impulse: "Whatever we do, we gotta release this track today."
Artistic expression wound up being a much better fit for the group.
"We ended up just writing that song on the spot and releasing it hours later," Mvstermind says.
See also: St. Louis Hip-Hop Artists Prince Ea and MME Release New Pieces Inspired by Michael Brown
The powerful track is rooted deeply in current events, with "don't shoot" repeated again and again as its closing lyrics. The group released a video for the song, shot by Mike Roth of Louis Quatorze video production, which features Mir, Con and Mvstermind. Each rapper delivers one verse, starting in the street and walking toward the camera before arriving at his home and posing with his family. The overall message: Behind every kid on the street is a life and a group of people who love him. These young men aren't an anonymous "other" — they are us.
The video was released on September 24. Two weeks later, on October 8, eighteen-year-old Vonderrit Myers Jr. died in a shootout with an off-duty police officer in south St. Louis. The incident brought the Ferguson protests to St. Louis proper, with already-high tensions and distrust of the police narrative fueling participants' anger.
Myers' death took place ten minutes after he purchased a sandwich at the Shaw Market, located at the corner of Shaw Avenue and Klemm Street. By coincidence, that corner also happens to be the same spot where the "#OPFERGUSON WAVE2" video opens, with Mir rapping in the street, the corner store visible behind him.
"I was trying to interpret it in so many different ways. Like, what did that mean?" Mvstermind says. "To me personally, I feel like the universe has its ways of just showing how everything is connected, you know what I mean? I'm not exactly sure what is the deeper meaning, but I know that that wasn't just no pure coincidence."
MME wasn't the only local hip-hop group to respond in the early days of the Ferguson unrest. Souls of Liberty released "Stay Alive (RIP Mike Brown)" just two days after Brown's death. Prince Ea filmed a spoken-word piece at the burned-out QuikTrip, "Michael Brown, Same Story," which has garnered nearly 100,000 views since it was uploaded on August 13. Mathias & the Pirates, Chris Grindz, Jah Orah & KD Assassin, Bo Dean, Domino Effect, Arshad Goods, TheBlackBruceWayne, members of the FarFetched collective, Doorway and seemingly countless others would each offer a take as the months wore on. For these artists, music served as an outlet, a way to work through the emotions of a very difficult time.
Next: Rapper Tef Poe becomes a national figure through activism -- to the detriment of his music career.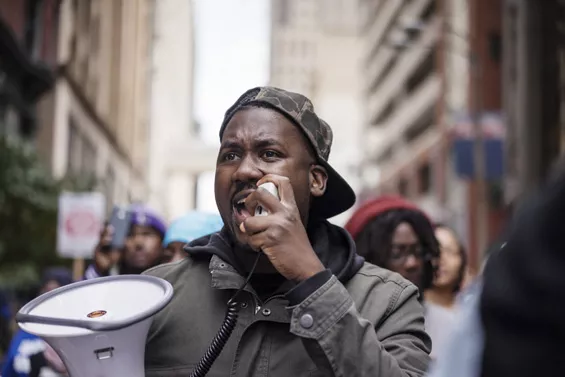 Photo by Barrett Emke
St. Louis rapper and activist Tef Poe leads a march through downtown St. Louis on October 11, 2014.
And then there's sometime RFT contributor Tef Poe, St. Louis' most visible underground rapper.
On the night Brown was killed, Tef was slated to perform at a party at Blank Space on Cherokee Street. Before the show started he went to Instagram to post a flier. That's when he first saw photos of the slain Ferguson teen.
"From there I was drawn into the situation," he explains. "I knew I would be involved to some level, but I didn't honestly think this deeply. But I don't think any of us really knew that this was going to become what it became."
Tef grew up in the Ferguson/Dellwood area; his mother still lives there. For this to be happening in the place he played as a child was surreal.
"I remembered growing up and standing at the corner of West Florissant and Chambers, and I would watch all the cars go through the intersection as I tried to cross the street," he says. "And I would stand there and think, 'This is the center of my universe.' I don't know what the center of the universe looks like for anyone else, but for me at that time, growing up — that was it."
See also: Tef Poe On Ferguson, His Hometown: "The Mike Brown Rebellion Has Begun"
Before going to Blank Space that night, Tef and his manager, Jay Stretch, went to Canfield Drive to take in the scene.
"At that time, nothing was really happening; there wasn't any violence going on," Tef says. "The community was just out standing around, trying to grieve and trying to figure out what was happening. When I left, that's when I saw maybe 30 cop cars swarm into Canfield and get out with their dogs.
"It felt like we were living in a small town, somewhere deep in Georgia that nobody knew about," he continues. "You would have thought Ferguson was Jena [Louisiana] — like it was going to be the next Jena Six or something."
Throughout the show, Tef couldn't help but think about what he had witnessed, even as social-media feeds filled with images from the increasingly tense scene. He went home, slept, and then went to the Ferguson Police Department the next day to protest.
In the months since, he has become one of the most recognizable faces on the ground in Ferguson, helping to organize sit-ins and protests all over town, penning pieces for publications including Time, Huffington Post and Riverfront Times, being interviewed by CNN, MSNBC, BBC and BET, and even flying to Geneva, Switzerland, with Brown's parents to address the United Nations.
See also: Tef Poe Honored By National Association of Black Journalists for RFT Music Column
But it hasn't been all green rooms and high-profile bylines.
"I've honestly damaged my career more than I've helped it with the Ferguson situation," he says. "Some people have forgotten that I was a rapper to begin with. I've lost some of my core white fans because they take some of the things I said the wrong way. The pressure of being an artist and an activist in this situation — I wouldn't wish that upon anyone."
Beyond that, he adds, "In the midst of all this, I really didn't have time to focus on rap records."
Tef finally broke his musical silence on November 12 with "War Cry." Billed as a "Jay Nixon Diss Record," the track lays into many politicians and public officials who were involved with the situation in Ferguson. The profanity-laced song has the feel of a battle-rap record. At one point, Tef raps, "The system's full of snakes; the governor can't fix it/With every breath of my body it's fuck Jay Nixon."
See also: Four Public Officials Tef Poe Motherfucks in New Diss Track "War Cry"
The song was inspired in part by a speech Nixon gave announcing the formation of the Ferguson Commission, which the rapper watched on TV.
"He quoted something that I had said in the speech. He said, 'As one protester said, "This is not your father's civil-rights movement."' That's basically a direct soundbite," Tef recalls. "So everybody that I was with, we all started looking at each other like, 'What the hell, man? Really, Jay Nixon? For real?'"
Tef was unimpressed with the governor's plan; Nixon had "dropped the ball," he says. In an interview with MSNBC, the rapper pointed out that "all types of commissions" were started by officials after the civil-rights movement of the late '60s. This was just more business as usual.
"So with that being said, I felt obligated to respond to that," Tef continues. "I'm a rapper, so my response was a rap record."
Now ten months removed from the height of the unrest, Tef has gotten back to the business of creating music. Through the protests he got close to another local rapper, T-Dubb-O, who also spent considerable time on the frontlines. At one point the two were slated to meet with President Obama, though flight delays caused Tef to miss the opportunity: "By the time I got to D.C., the meeting was already over."
Since getting to know each other in Ferguson, the two emcees have forged a musical partnership. T-Dubb-O is part of the recently launched Delmar Records label, alongside St. Louis artists Indiana Rome, Legend Camp, James K, Tech Supreme and Average Jo. Tef, who serves as the label's president, says that their shared experiences strengthened their ties.
"I've always wanted to align myself with T-Dubb; I've always respected his talent and I see a lot of myself in him," Tef explains. "So when everything pops off in Ferguson, I was with him every day — we've gotten to know each other really well. In the midst of that we decided to form an independent label, primarily because we were both starting to look at the challenges that we are going to face being so connected to the Ferguson uprising."
While the Ferguson connection may bring obstacles, it has already resulted in passionate music from artists all over the St. Louis area, and Tef's upcoming War Machine 3 and T-Dubb's upcoming The Drop that Spilled the Cup will assuredly broach the subject in unique ways.
As for Mvstermind, he hopes the tragedy will birth some groundbreaking art in the St. Louis region.
"I've seen some folks in St. Louis just make some good-ass music that wouldn't have came without this situation allowing people to tap into different areas, different emotions," he says. "Any turmoil can turn into artistic triumph, you know what I mean?
"When you have the world pressing against you, it makes the most beautiful diamond."
See the rest of our Music Issue:
How the Grove Became the City's Hottest Neighborhood for Live Music
A Thriving Studio Scene Is Giving St. Louis Musicians More Options Than Ever
---