The 2015 Riverfront Times Music Showcase is set to be the biggest local music festival in St. Louis history. On June 20, nearly 100 local bands will play across ten venues in the Grove Neighborhood, including just about every genre possible, sans polka. From now until the showcase, we will supply you with the lowdown on every act nominated for an RFT Music Award, so you can be in the know with regards to your vote. Read on and get familiar with your local scene. And don't forget to mark your calendar for June 20!
See also: -- The Complete 2015 RFT Music Showcase Schedule -- Vote Now For the 2015 RFT Music Awards
---
CaveofswordS
Photo provided by band.
Catch CaveofswordS at the 2015 RFT Music Showcase: Outdoor Stage (at Atomic Cowboy) at 10 p.m.
Sunyatta McDermott (Bass, Keys, Vocals) Eric Armbruster (Bass, Guitar, Keys) Zagk Gibbons (Drums, Electronics) Kevin McDermott (Guitar)
Official Website | Bandcamp | Facebook
Read more about CaveofswordS in our preview of Sigils, released earlier this year:
When CaveofswordS releases its sophomore album this Friday with a show at the Demo, the local four-piece will play its latest set of dark-tinted, beat-driven songs. The band is powered by the twin engines of married duo Sunyatta and Kevin McDermott -- she supplies trance-like lyrics and delivers them with a clarion call while he handles programming, spy-movie guitar lines and intricate production. While CaveofswordS has grown into a formidable live act in recent years with the addition of bassist Eric Armbruster and drummer Zagk Gibbons, the band has its roots in studio tinkering and its albums are where CaveofswordS makes its cleanest mark.
---
Golden Curls
Photo by Noah Blackwell.
Catch Golden Curls at the 2015 RFT Music Showcase: Taha's Twisted Tiki Bar at 8 p.m.
Sarah Downen (Beats, Vocals) Noah Blackwell (Guitar, Vocals)
---
Jon Hardy and the Public
Photo by Anthony Gaddis.
Catch Jon Hardy & the Public at the 2015 RFT Music Showcase: The Ready Room at 8 p.m.
Jon Hardy (Guitar, Vocals) Glenn LaBarre (Guitar, Vocals) Kevin Bachmann (Bass, Vocals) Mike Schurk (Drums)
Official Website | Bandcamp | Facebook
Read more about Jon Hardy and the Public in our review of 2014's Restless City:
Jon Hardy had already decided that his band's new album, its first full-length in seven years, would be called Restless City well before Ferguson and the rest of the greater St. Louis area became an international flashpoint for civil unrest. The title track itself is a tour of our town and its many scars; gunshots disrupt a summer's revelry, and a mother grieves over her gunned-down son in a lyric that is both oddly prescient and sadly evergreen. But Hardy has always been a songwriter blessed with empathy and devoid of much ego, and even when covering big issues (violence, decay, recessions), he favors the personal over the political.
---
Middle Class Fashion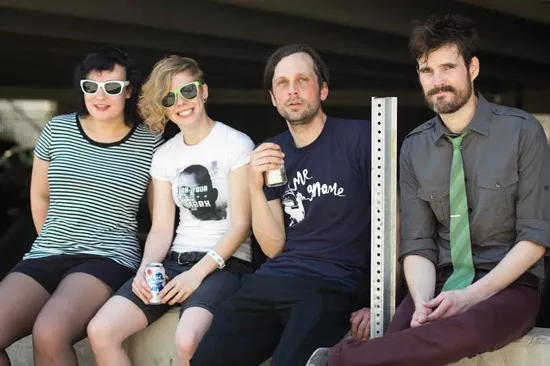 Photo by Jess Luther.
Catch Middle Class Fashion at the 2015 RFT Music Showcase: Layla at 9 p.m.
Jenn Malzone (Keys, Synth, Vocals) Katie Lindhorst (Keys, Synth, Vocals) Brian McClelland (Bass, Vocals) Brad Vaughn (Drums, Synth, Vocals)
Official Website | Bandcamp | Facebook
---
The Vanilla Beans
Photo by Stephen Houldsworth.
Catch the Vanilla Beans at the 2015 RFT Music Showcase: HandleBar at 6 p.m.
Ani Kramer (Keys, Vocals) Todd Anderson (Guitar) Andrew Garces (Guitar, Vocals)
Read more about the Vanilla Beans in our review of 2014's FFFF:
Somewhere along the line, amid a flurry of releases and a steady stream of gigs on local stages, the Vanilla Beans became St. Louis' best electro-twee band. And that's not as narrow of a genre as you might think -- the group marries simple pop dynamics (boy/girl harmonies, sing-song lyrics) with digital drum beats and burbling synth. It's a mix that's modern and timeless, befitting a band that reportedly bonded over a shared love of Daniel Johnston, but also quickly advanced past any kind of faux-naïveté -- you don't write songs this catchy on accident. Last year the band issued its second full-length, the sixteen-track Don't Think It's Weird, as well as a split with Superfun Yeah Yeah Rocketship. For FFFF, Vanilla Beans issues a scant four tunes; luckily, they're all bouncy, danceable winners.
Previously: - Americana - Blues - Country - Cover Band - DJ - Electronic (Dance) - Electronic (Eclectic) - Emo - Experimental - Folk - Hard Rock - Hardcore - Hip-Hop (Group) - Hip-Hop (Solo) - Indie Pop - Indie Rock - Jam/Dub - Jazz - Metal - New Band