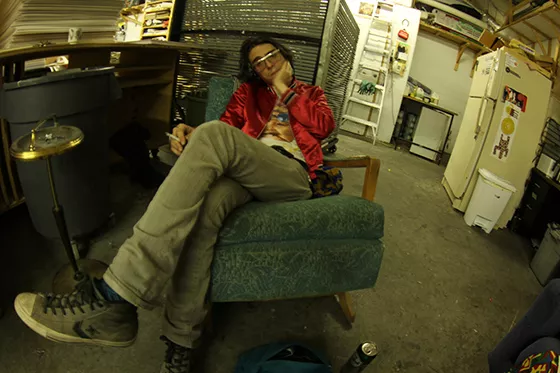 Photo provided by Strange Victory Touring
Drainolith performs a free, all ages show at the Schlafly Tap Room on June 18.
Summer is here, for real. Tyler, the Creator's show at the Pageant is sure to be a meat grinder come Saturday night. Fresh off an opening slot at this year's SXSW, desert punks Destruction Unit play the Skatium on Monday alongside four other bands (plus a secret guest, we're told). Of special note is Drainolith, the solo project from Alexander Moskos, guitarist of the now-defunct but influential noise-rock group AIDS Wolf. Bring a towel -- you're going to get wet.
MONDAY, JUNE 15
Destruction Unit w/ Breakout, Rüz, Swear Beam, Soda Boys, Secret Guest Monday, June 15 St. Louis Skatium 9 p.m. | $10 By Joseph Hess The middle-ground between punk and psych-rock is a hot, barren desert and Destruction Unit is full of mystic sand-dwellers. Few bands take on the kind of volume that feels oppressive, but one minute in and this becomes evident: earplugs are not a crutch, but required, and these songs were built with either muffled or blown-out eardrums in mind. The band stretches simple riffs like taffy over ten tons of bass and drums, breaking the beat only to drown in heavy feedback. This night is densely packed with hardcore outfit Breakout (by way of Austin, Texas) along with a tape release by Soda Boys. Arrive on time for Swear Beam, the latest from members of the Funs, Rip-Rap and Trauma Harness. True to its name, the Skatium allows for skating all night long -- even during bands' sets.
TUESDAY, JUNE 16
July Talk w/ Bo and the Locomotive, Purple Off Broadway 8 p.m. | $10 By Christian Schaeffer All the great pairs of long-time duet singers -- be it Porter and Dolly or Serge and Jane -- have songs that chart a relationship from nervous beginnings to soul-deep love to bitter dissolution. That arc gets compressed and confronted on July Talk's 2013 self-titled album, which finds Peter Dreimanis' deeply barked growls countered by Leah Fay's soft-touch vocals in these kitchen-sink dramas. The band's acid-blues heaviness and stark new-wave slashes help amplify the emotional brutality, and a series of dramatic black-and-white videos seals the overall aesthetic.
WEDNESDAY, JUNE 17
The Cave Singers w/ We Are Warm Wednesday, June 17 The Demo 8 p.m. | $12 By Christian Schaeffer From the RFT Music archives: If you needed more proof that bucolic folk music remains a dominant strain of modern indie rock, look no further than the chameleonic career of Derek Fudesco. After helping form the shit-kicking garage-rock band Murder City Devils and dance-punk stylists Pretty Girls Make Graves, the guitarist and bassist went in a grainier, quieter direction with the Cave Singers. The trio welds stripped-down, acoustic folk melodies with Pete Quirk's well-worn but emotionally resonant vocals.
THURSDAY, JUNE 18
Drainolith w/ Ghost Ice, Demonlover Thursday, June 18 Schlafly Tap Room 8:30 p.m. | free By Joseph Hess As Drainolith, Alexander Moskos drops the tiniest strands of sound into jagged patterns where melodies collapse on scattered beats. With a disparate voice that tends to peak through only on occasion, Moskos lends his sharp, heady lyrics amid dense loops. Songs here feel cyclical but never too predictable thanks to his own brand of musical misdirection. But nothing is discrete -- every scattered sound eventually wraps around some discernible beat, making for an anchor among dark hysterics.
Continue for more great shows happening in and around St. Louis this weekend. FRIDAY, JUNE 19
John Moreland w/ John Calvin Abney, Chris Porter Friday, June 19 Off Broadway 8:30 p.m. | $12/$15 By Roy Kasten "Nobody Gives a Damn About Songs Anymore" is John Moreland's definitive statement about being John Moreland. It's a slice of self-pitying life, sure, but it's hard not to feel for the Oklahoma-based troubadour every time you turn on a country or alt-rock or whatever station. Voices and arrangements abound, but songs as something more than disposable commodities are as rare as the talent that Moreland undeniably possesses. With a voice as rough as a prairie fence post and a class-conscious streak as deep as folk music ever gets, he will impress anyone who has worn out their Townes Van Zandt and Steve Earle records, in search of another songwriter's songwriter fix. The FX series Sons of Anarchy featured three of Moreland's songs, jump-starting his career before just about anyone knew his name.
SATURDAY, JUNE 20
Tyler, the Creator w/ Taco Saturday, June 20 The Pageant 8 p.m. | $25-$27 By Daniel Hill Odd Future is no more. The fourteen-member rap collective that gave us Earl Sweatshirt and Frank Ocean -- as well as the comeback of snap-back hats and tall socks -- hasn't released an album as a group since 2012's The OF Tape Vol. 2, so that should come as a surprise to exactly no one. But it still took a recent series of Tweets from de facto leader Tyler, the Creator to finally cement that fact. Worry not, though: There is still plenty of music coming from individual members of the camp, including Tyler himself, whose Cherry Bomb was released to critical acclaim in April and features high-profile guest verses from the likes of Kanye West, Lil Wayne and Pharrell Williams. Despite the considerable musical growth between his last album, Wolf, and his new one, Tyler still peddles in shock and controversy. He hasn't stopped with the use of offensive slurs, though he still maintains he is not homophobic. Those offended by offensive things may want to sit this one out.
SUNDAY, JUNE 21
Dawes w/ Langhorne Slim Sunday, June 21 The Pageant 8 p.m. | $25-$27.50 By Christian Schaeffer The evolution of the California roots-pop quartet Dawes has been suitably mellow and organic. Acolytes of the folkier end of Laurel Canyon and, to underline the band's commitment to that sound, one time backing band for Jackson Browne, Dawes pushes into slightly more modern-rock territory with this year's All Your Favorite Bands. Singer and guitarist Taylor Goldsmith still writes songs around the small graces and seismic shifts that make up everyday life: The chorus to lead single "Things Happen" -- which states that "Things happen -- that's all they ever do" -- is either trite, or a Zen koan, or both.
Note: Though we wish we could, we can't feature every great show happening in town in just one post. Look for plenty more recommendations this Friday in our weekend shows post, peruse the St. Louis concert calendar for more ideas and let everyone know what else you're looking forward to seeing this week in the comments below. To be considered for coverage in RFT Music, submit show info online or drop us a line anytime.
RFT MUSIC'S GREATEST HITS
Remembering STLPunk.com -- How to View the Site Today and Find Your Old Profile Page "Where Did My Dick Go?" The Gathering of the Juggalos' Best Overheard Quotations The Ten Best Dive Bars in St. Louis The 15 Most Ridiculous Band Promo Photos Ever
---