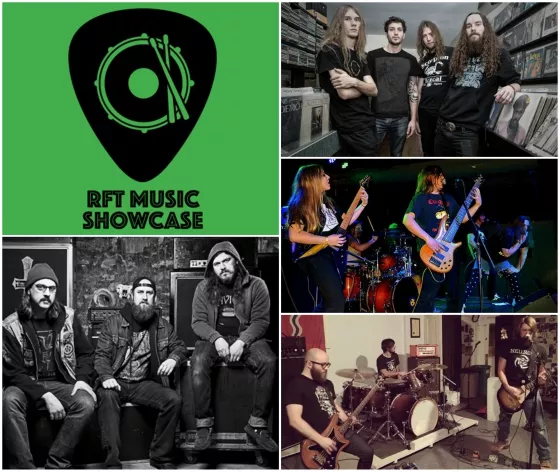 The 2015 Riverfront Times Music Showcase is set to be the biggest local music festival in St. Louis history. On June 20, nearly 100 local bands will play across ten venues in the Grove Neighborhood, including just about every genre possible, sans polka. From now until the showcase, we will supply you with the lowdown on every act nominated for an RFT Music Award, so you can be in the know with regards to your vote. Read on and get familiar with your local scene. And don't forget to mark your calendar for June 20!
See also: -- The Complete 2015 RFT Music Showcase Schedule -- Vote Now For the 2015 RFT Music Awards
---
Black Fast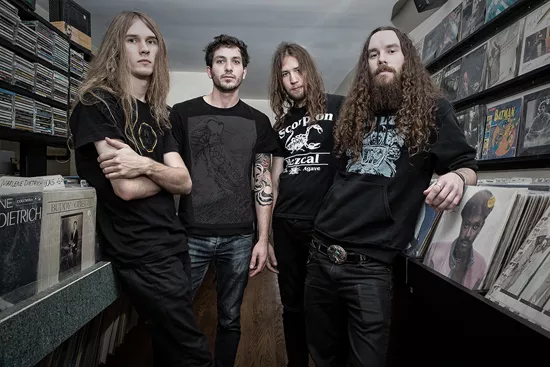 Photo by RKN Photo.
Catch Black Fast at the 2015 RFT Music Showcase: The Demo at 9 p.m.
Aaron Akin (Guitar, Vocals) Ross Burnett (Drums) Trevor Johanson (Guitar) Ryan Thompson (Guitar)
---
Fister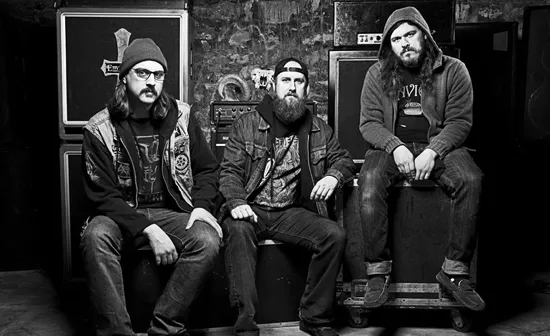 Kenny Snarzyk (Bass, Vocals) Marcus Newstead (Guitar, Vocals) Kirk Gatterer (Drums)
Read more about Fister in our article on the thriving St. Louis metal scene:
A crowd of roughly 100 people has gathered at the Fubar lounge in midtown to hear local metal band Fister debut its newest material -- a single 44-minute composition entitled IV. No one in the band says a word before it launches into music that pulverizes the audience.

The volume is so menacing, you can feel the distorted down-tuned notes of bassist Kenny Snarzyk and guitarist Marcus Newstead rumbling your internal organs. Yet the tempos are slow enough for drummer Kirk Gatterer to occasionally pick up his PBR, take a sip and put it back down without missing a single cymbal smash.

The indecipherable screams emitted by Snarzyk and Newstead contain an intensity that recalls someone vomiting during a peyote trip, as if releasing the bad spirits from within in order to achieve transcendence. Heads in the crowd bang in slow motion, and after a few minutes, the relentless repetition becomes hypnotic and transformative. By the time the last chords cut off sharply, it feels like Fister has only been playing for five minutes -- even though it also kind of feels like the audience just finished a marathon.
---
The Lion's Daughter
Rick Giordano (Guitar, Vocals) Erik Ramsier (Drums) Scott Fogelbach (Bass)
Read more on the Lion's Daughter in our recent interview on the band's signing to metal label Season of Mist:
St. Louis' own Lions Daughter has inked a deal with France-based metal label Season of Mist, home to extreme metal acts including Mayhem, Morbid Angel, Saint Vitus and more. The band is slated to enter the studio this spring, aiming for a late 2015 release date for its debut with the label.

"It's crazy as fuck that they'd want to work with us," vocalist/guitarist Rick Giordano tells RFT Music. "They put out albums by Deathspell Omega, Drudkh, Nightbringer -- shit that's truly a higher level of artistry than I can even wrap my head around. They are undoubtedly the best label a band like ours could ever hope to work with, and we consider it the highest honor."
---
Path of Might
Photo provided by band.
Catch Path of Might at the 2015 RFT Music Showcase: The Demo at 3 p.m.
Spencer Medley (Guitar, Vocals) Derek Rife (Bass) Adam Lucz (Drums)
---
Tropical Storm!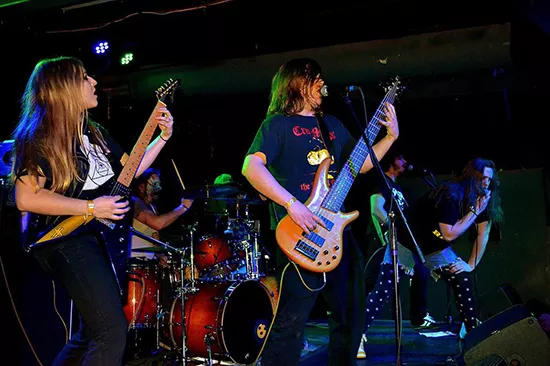 Photo provided by band.
Catch Tropical Storm! at the 2015 RFT Music Showcase: The Demo at 8 p.m.
Justin Poole (Vocals) Lauren Gornik (Guitar) Chuck Scones (Guitar) Harry Larrigan (Bass) Kyle McNiel (Drums)
Previously: - Americana - Blues - Country - Cover Band - DJ - Electronic (Dance) - Electronic (Eclectic) - Emo - Experimental - Folk - Hard Rock - Hardcore - Hip-Hop (Group) - Hip-Hop (Solo) - Indie Pop - Indie Rock - Jam/Dub - Jazz