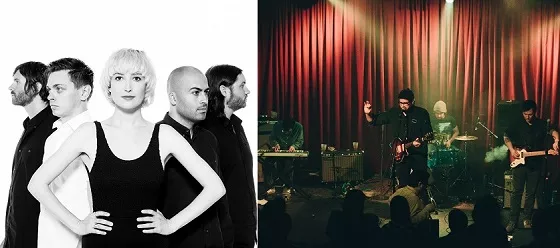 July Talk photo provided by the band, Bo & the Locomotive photo by Abby Gillardi
July Talk, left, and Bo & the Locomotive, right, will perform together Tuesday, June 16 at Off Broadway.
This upcoming Tuesday, June 16, St. Louis' Bo & the Locomotive will perform a co-headlining bill with Toronto, Canada's July Talk, an appropriate pairing of two excellent bands at the top of their respective games. RFT Music's own Christian Schaeffer had the following to say in a critic's pick for the show:
All the great pairs of long-time duet singers -- be it Porter and Dolly or Serge and Jane -- have songs that chart a relationship from nervous beginnings to soul-deep love to bitter dissolution. That arc gets compressed and confronted on July Talk's 2013 self-titled album, which finds Peter Dreimanis' deeply barked growls countered by Leah Fay's soft-touch vocals in these kitchen-sink dramas. The band's acid-blues heaviness and stark new-wave slashes help amplify the emotional brutality, and a series of dramatic black-and-white videos seals the overall aesthetic.

Quintet Bo & the Locomotive, whose It's All Down Here From Here is one of the best local releases of 2015 so far, will open the show.
We thought it would be fun to have the two bands -- who have never met in person -- ask each other some questions via email to preview the concert. And away we go!
Here are the questions from Bo & the Locomotive to July Talk:
Bo Bulawsky: If you only had one album to listen to in the tour van for the rest of your tour, what album would it be?
Peter Dreimanis: Oh man! We would drive each other crazy, because our music taste is pretty diverse and we have annoyingly loud opinions. I guess the band we all consistently agree on is Spoon. I think we could listen to Kill the Moonlight for a good hundred times in a row without gauging each other's eyes out. They really invented a style of minimalism on that record that we reference all the time when we write.
Give us some sweet bands from Toronto to check out that we don't know about.
Forgive us if you've already heard of any or all of these bands: Lowell, Born Ruffians, Pup, Weaves, METZ, Cancer Bats, Shad (who makes amazing hip-hop and now also hosts a radio show called "Q" on CBC that features in-depth interviews with just about anyone doing anything cool who passes through Toronto).
You're from Canada. Do you think your band would beat our band at hockey?
Because we're from Canada we are too polite to say "yes"... So, "maybe"?
What's the best thing about America and what's the worst thing about Canada?
From the perspective of a touring band, an amazing thing about America is how close together all the cities are. And how almost all of them seem to be legendary, to some extent. Places like Nashville, New Orleans, New York City and Springsteen's sprawling and vast Nebraska all automatically put a sound and an image in your head -- and that's just the letter "N!" Americans move from rural parts to big cities and from those cities back to rural areas like anywhere else in the world, but there seems to be romance in the way it's all done down here. The highways, diners, culture hubs and the magnetic pull of certain towns that artist types and runaways seem to fall into and never leave. We absolutely love touring Canada, as it has taught us everything we know about being a band, but you can drive anywhere between nine and 26 hours between gigs.
Based only on our band's names, do you think we could pull off an unrehearsed cover of "Suspicious Minds" by Elvis? If so, should we do it? Ha! If you learn to play it, we'll come up and sing it with you! We never play covers, so it would be definitely be special for us! Let's see what happens!
Here are the questions from July Talk to Bo & the Locomotive:
Bo and the Locomotive - In the Water from Bo and the Locomotive on Vimeo.
Peter Dreimanis: Favorite Saturday night house party record and why?
Bo Bulawsky: Depends on the party. But you can put on This is Happening by LCD Soundsystem and everyone usually starts moving. Either that or like, The Chronic. That's pretty much automatic too.
What makes St. Louis a unique music scene?
A lot of very hard-working and great bands that go completely unnoticed outside of the region. Maybe that's our own fault. We have had our select few be plucked into the semi-mainstream, but I've been around long enough to see so many more bands work to the point of deserving that outside recognition and never getting it, and falling apart. There's never been that mass exposure of the scene here that everyone seems to be waiting for. I'm sure that feeling is not necessarily specific to St. Louis, though. Another thing is, I'd say we have some of the best venues in the country, sound-wise, space-wise and people-wise. Our show with you is at Off Broadway -- that's one of them.
How do you cope with the southern heat?
It's funny to think of St. Louis as southern. I think most people here would deny us being either southern or northern, but we are totally southern to Canadians and totally northern to ya know, southerners. It does get damn hot in the summer though, which is why we're all always completely nude.
What's your favorite music book and why?
This must be another Canadian thing. I don't know what that is. Unless you really just mean a book about music, in which case my favorite is Killing Yourself To Live by Chuck Klostermann. How Music Works by David Byrne is good too.
What makes this upcoming show on June 16 exciting for you guys?
Meeting you guys for the first time, while at the same time attempting to cover "Suspicious Minds" with you!
July Talk and Bo & the Locomotive 8 p.m. Tuesday, June 16. Off Broadway, 3509 Lemp Avenue. $10. 314-773-3363.