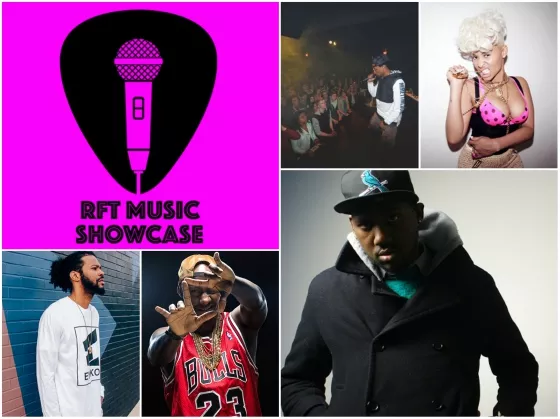 The 2015 Riverfront Times Music Showcase is set to be the biggest local music festival in St. Louis history. On June 20, nearly 100 local bands will play across ten venues in the Grove Neighborhood, including just about every genre possible, sans polka. From now until the showcase, we will supply you with the lowdown on every act nominated for an RFT Music Award, so you can be in the know with regards to your vote. Read on and get familiar with your local scene. And don't forget to mark your calendar for June 20!
See also: -- The Complete 2015 RFT Music Showcase Schedule -- Vote Now For the 2015 RFT Music Awards
---
Arshad Goods
Photo by Steven Roach.
Catch Arshad Goods at the 2015 RFT Music Showcase: The Bootleg at 12 a.m.
Read more about Arshad Goods in our review of Black Sunday:
On his debut LP, Black Sunday, University City native Arshad Goods is a man divided. Over nine tight, soulful tracks, Goods presents myriad versions of himself with any number of knowing contradictions: a hedonist with a higher calling, a status seeker who rejects the material world, a college-educated African American man in a city that will always see him as a black boy.

Closing track "Marginalized Man" serves as a mission statement for everything that precedes it and ends the album on a note of soul-searching uncertainty: "Sometimes I wanna rap about money and bitches instead of saving the world," Goods delivers in a dry croak.

He does both on Black Sunday, and that duality, among others, serves as the engine for Goods' pinpoint lyrics as he examines the external and internal. The hard-hitting 90-second title track opens the album with a critique of hip-hop tropes, some of which he'll deploy later in the album. Even the simple, arresting album cover offers no easy answers: Goods' body dangles from a noose made from a mic cord -- was this self-inflicted, or a modern update of "Strange Fruit"?
---
Con
Photo by Cory Miller.
Catch Con at the 2015 RFT Music Showcase: SoHo Lounge at 11 p.m.
Read more about Con in our review of 2015's She EP:
When we last heard from Con (a.k.a., north-side native Malcolm Chandler) this past September, he had just dropped Solstice Part 2 (Dreams from a Snow Globe). That album attempted, in part, to encapsulate some of the rage and sorrow surrounding post-Ferguson St. Louis, and Chandler and his crew were some of the first voices to go on record when the eyes of the world were on our region. That album was one of St. Louis' best releases last year -- not only for Con's deft handling of the political commentary, but also for his strong, clear-eyed verses on all topics, placed alongside smart, soulful grooves. His latest EP, the eight-song She, shows similar range and more robust backing tracks, thanks to Michael Franco's production. Con's political consciousness is still engaged, as evident on the generous sample of Gil Scott-Heron on opener "Them Negus," and the larger message of black unity is introduced in Heron's words and underlined in Con's verses. The message here is less immediately topical but potently evergreen.
---
Indiana Rome
Photo by Gary Martin.
Catch Indiana Rome at the 2015 RFT Music Showcase: Outdoor Stage (at Atomic Cowboy) at 7 p.m.
Official Website | Facebook | Soundcloud | Youtube
---
Tef Poe
Photo provided by Tef Poe.
Official Website | Bandcamp | Facebook
Read more about Tef Poe in our review of 2014's Cheer for the Villain:
If you've shown even the faintest interest in local hip-hop in the past few years, you have come across Tef Poe. Maybe you've heard one of his many mixtapes, or watched him at last year's LouFest, or seen him on 106 & Park. And if you've read his regular column for RFT Music, you know Tef to be a searcher, a deep devotee of his art form, a cultural critic fond of real talk and an artist perennially preparing for his breakout moment.
---
Tiffany Foxx
Previously: - Americana - Blues - Country - Cover Band - DJ - Electronic (Dance) - Electronic (Eclectic) - Emo - Experimental - Folk - Hard Rock - Hardcore - Hip-Hop (Group) - Indie Pop